Sustainability is an essential pillar of Sika's Strategy 2023. Thanks to its innovative products and solutions, Sika is a clear driver in its key markets, enabling sustainable construction and sustainable mobility. In 2020, the company made significant progress in the implementation of its sustainability strategy.
Sika's overriding goal is to emit 12% less CO2 per ton of products sold by 2023. In 2019, an average of only 27 kg CO2 per ton sold was released as part of the manufacturing process of Sika products, which is a
very low figure compared to other companies in construction-related industries.
Innovative strength more sustainable, more performant products
When developing new solutions, Sika teams around the world consistently pursue the approach of combining innovation with sustainability and performance. According to internal estimates, over 70% of Sika products have a positive sustainability effect for customers, particularly energy consumption, air quality, health, safety, or water quality. By 2023, the company aims to achieve 25% of sales with products released in the past five years. Every new Sika solution therefore must add value for customers with improved environmental impact. Sika products offer many sustainable benefits and have a positive effect on the clients' entire value chain, from material sourcing, product formulation, and manufacturing to the recycling of used materials.
Reduced cement consumption thanks to new technologies
For example, the production of two new, cement-reduced tile adhesives in China alone will reduce annual CO2 emissions by more than 79,000 tonnes. In addition, a lot of material will be saved in construction by using leaner components and high-strength systems, which makes a significant contribution to reducing the CO2 footprint of buildings. The Sika ViscoCrete® technology enables for example up to 40% reduction of water content in concrete. Subsequently, the products also offer improved adhesive performance, durability and workability.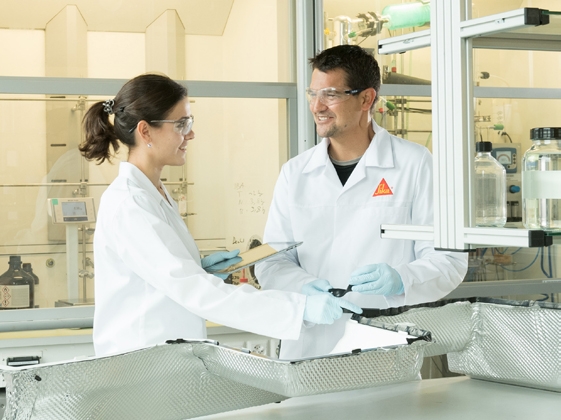 Environmentally-friendly vehicles with Sika solutions
In the automotive sector, SikaPower®adhesives – just to mention one product line – use a combination of high strength and elasticity to ensure vehicles can be designed and manufactured using a variety of materials. The right combination of materials reduces the weight of the vehicle by up to 50%; as a result, fuel consumption is considerably lower and CO2 emissions dramatically reduced. Furthermore, Sika helps to support the safety and longevity of e-motors and batteries with a range of heat-conductive adhesives and materials.
Sika is leading the industry by pioneering a comprehensive portfolio of customer-focused solutions, combining both higher performance and improved sustainability. These efforts pay off. The company has been awarded a Gold medal in recognition of its EcoVadis CSR (Corporate Social Responsibility) Rating. EcoVadis provides solutions for monitoring sustainability in global supply chains. Using innovative technology and sustainability expertise, the organization strives to engage companies and help them adopt sustainable practices.