Sikasil Bridge Tape-300 system used to repair waterfront skylights
When the management of the Victoria and Alfred (V&A) Waterfront in Cape Town identified the need to repair their leaking glass skylights, a Sika South Africa product saved the day. Sikasil Bridge Tape-300, a preformed silicone-profile tape, was used for the first time in this type of project in South Africa to help repair the 4 600m tall project.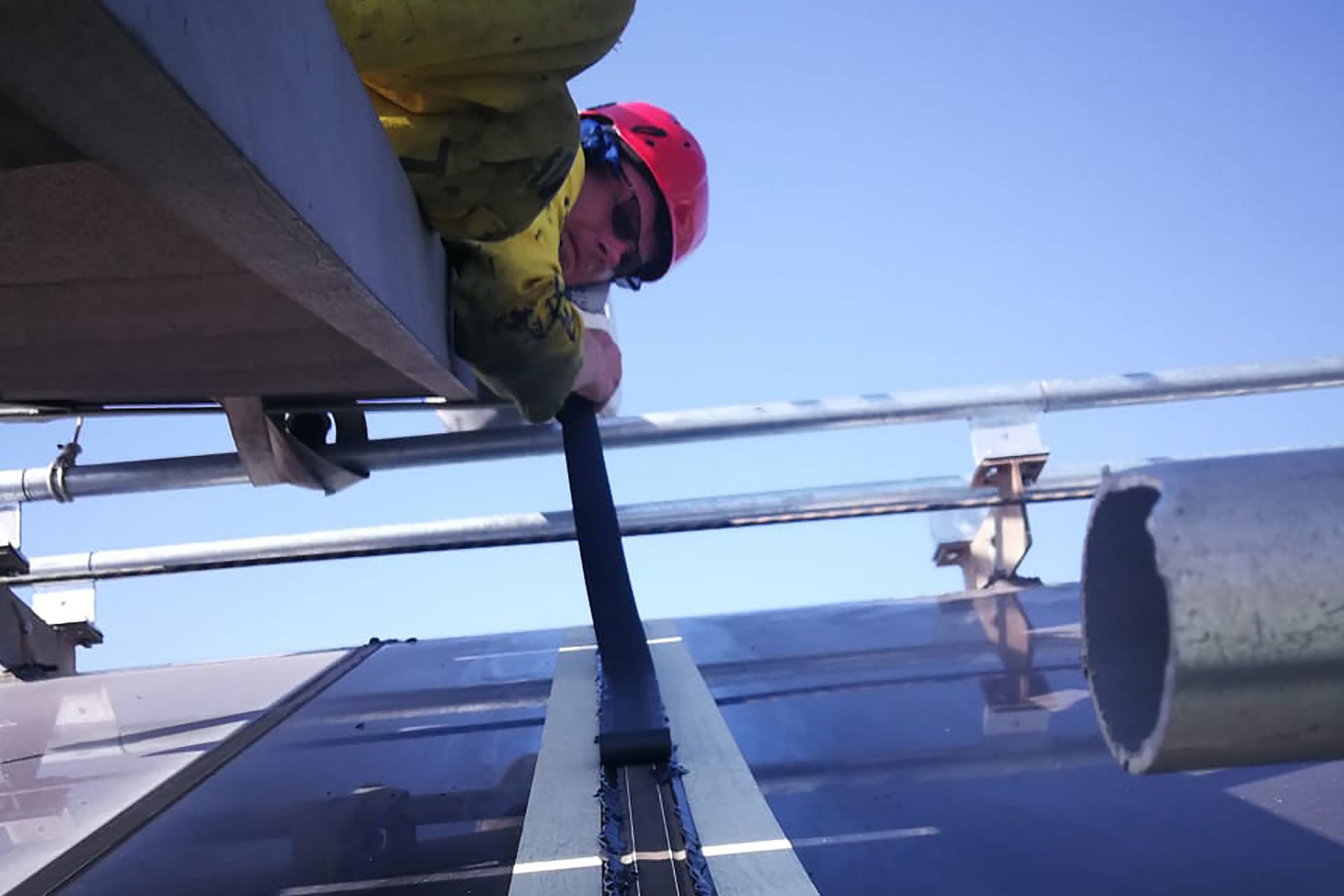 Chris Sharpe, Sales Representative at Sika South Africa, says the revamp of the skylights began in July 2019. It was decided that the method of over-sealing the glazing joints would be used. She says that the Sikasil Bridge Tape-300 system was placed over the original sealant to seal all existing joints, fully waterproofing the skylights.
Sikasil Bridge Tape-300 system was used because it is an ultra-low modulus silicone tape that is an economical alternative to cutting out the existing failed joints in the skylights. Some advantages of this tape include high tear resistance, resistance to corrosion and ultraviolet (UV) resistance.
According to Sharpe, Sika South Africa also initiated training to ensure that the job was done in the correct way. Other products by the company used in this unique project included Sika Aktivator 205, an adhesion promoter, SikaHyflex-305AP as the adhesive for the silicone tape and Sika Clean-Glass, which left all glass surfaces meticulously clean.
"The V&A Waterfront is one of the most visited tourist destinations in Africa, known for beautiful architecture, heritage sites and attractions, so it is imperative that this gem is maintained year-round. Sika South Africa is proud to have been part of such a prestigious project; and is glad that the waterfront could benefit from their products and methods," says Sharpe.
Products used:
Sikasil Bridge Tape-300
Sika® Aktivator-205
SikaHyflex-305 AP
Watertight admixture advances level of waterproof concrete for SANCCOB
Drawing on the latest admixture technology to adapt to changes in the cement industry, the innovative Sika Watertight Concrete system not only increases the use of replacement materials but allows the use of a wide range of aggregate types. Here is a prime case study of how Sika WT-200 P helped protect the newly constructed exercise pools for SANCCOB.
Southern African Foundation for the Conservation of Coastal Birds (SANCCOB), operating in Table View for 33 years and having treated nearly 100 000 seabirds, SANCCOB (Western Cape) was in desperate need of new modern facilities. Over the years, it has become synonymous with the conservation of the endangered African penguin and is a leader in seabird rehabilitation, chick-rearing, veterinary care, as well as contributing to ground-breaking research. This meant the organisation's capacity needed to increase to save more birds, improve the standard of care and educate more people about seabird conservation.
Even good quality concrete will allow water to permeate the surface; thus the need for a good waterproof concrete mix that safeguards the exercise pools from damp and water leakage. The application of concrete supplied contained Sika's watertight solution, Sika WT-200 P, to provide a durable, watertight finish. The volume of capillary pores provides a pathway for water on one side of the structure and air on the other. The volume of capillary pores in the concrete matrix is proportional to the water/cement ratio. Understanding and controlling water/cement ratio is the basis of concrete technology and, as well as permeability, how it affects the strength and durability of concrete. In addition, the special formula and ingredients of Sika WT-200 P enhances the self-healing properties of concrete and will improve the ability to heal concrete cracks.
The newly constructed exercise pools were completed to the client's full satisfaction and meant Sika's watertight concrete solution played a major part in providing SANCCOB with the reassurance of watertight protection, ensuring its stability and performance for many years to come.
Refurbishment of Mamba Cement Silo
Koedoeskop, a farm located near the small town of Thabazimbi, in the Limpopo Province, is a remote bushveld environment with a rich mining history. Despite being from a small town, our client, Mamba Cement, was the first cement company in Africa to possess an on-site waste heat recovery system – indeed, an innovative way of doing business. Teichmann Contractors and BSM Baker Architects were selected to repair one of their silos. Lasting only a month, the project that started in November 2019, was completed by the end of December.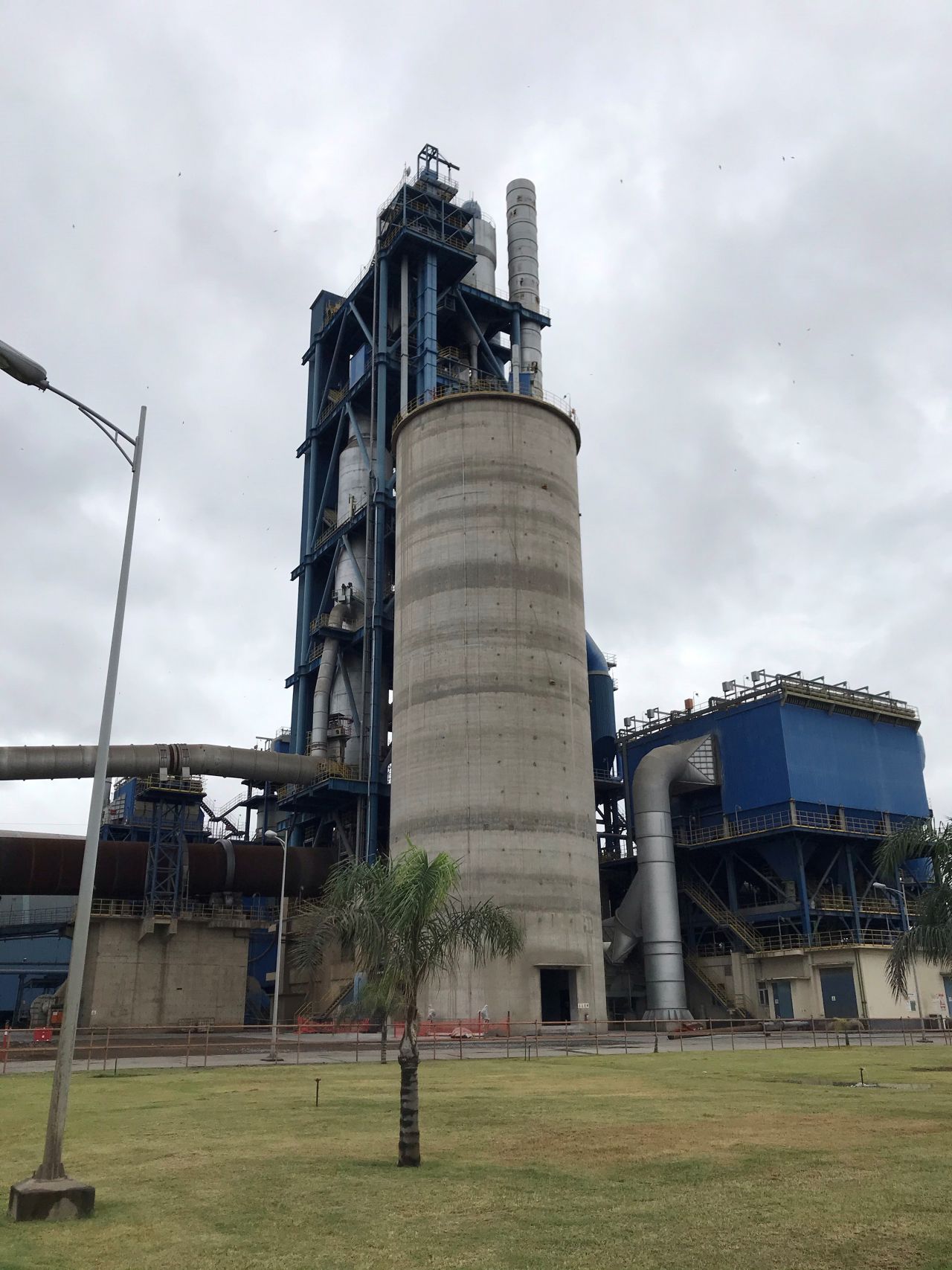 Although the project duration was short, the weather provided prohibitive challenges. Extremely heavy rains, experienced during the project, made both site access and operations difficult at times. Consequential delays in the work necessitated the contractors to fill in lost time, which may have resulted in a higher final cost to the project. Given their ability to resist and withstand bad weather, the use of Sika products to repair the silos was definitely a good choice!
Where defective concrete was encountered, structural repairs were done using the Sika Monotop®- 412 NFG. This product is ideal for restoration work, suitable for structural repairs, as well as preserving or restoring passivity to the rebar. Ninety-four metres of cold joints and cracks on the structure were repaired by means of crack injection, using a low viscosity epoxy Sikadur®-52 ZA. The advantages of using this product is that: it has shrinkage-free hardening, suitable for both dry and damp conditions; is solvent-free and can be used at low temperatures. Finally, the top of the Silo was waterproofed with the reputable Sikalastic®- 152 and a 4mm x 4mm alkali-resistant coated glass mesh fabric, to add resistance to moving cracks. Sikalastic®- 152 affords an extremely easy application process, and is a flexible, durable, and aesthetically appealing waterproofing product.
This was the first major repair project done on the relatively new, one-of-a-kind plant. Given our high-quality products and reliable service, Sika can confidently state that it will be a repair that will stand the test of time.
Products used:
Sika MonoTop®-412 NFG
SikaDur®-52 ZA
SikaWrap®-230 C
Sikalastic®-152
Royal Show Ground Quarantine Site
The Royal Show Grounds in Pietermaritzburg, site of the annual Royal Agricultural Show, were earmarked to become a KZN quarantine facility for housing suspected COVID-19 patients. As mentioned by Minister Patricia De Lille: "One of the key tasks for the Department of Public Works and Infrastructure, has been to identify state-owned buildings which could possibly be used as quarantine sites in all 44 districts and eight metros." The use of this space in Pietermaritzburg would allow for an estimated availability of 2,141 isolation beds, and an approximate 479 beds for quarantine purposes.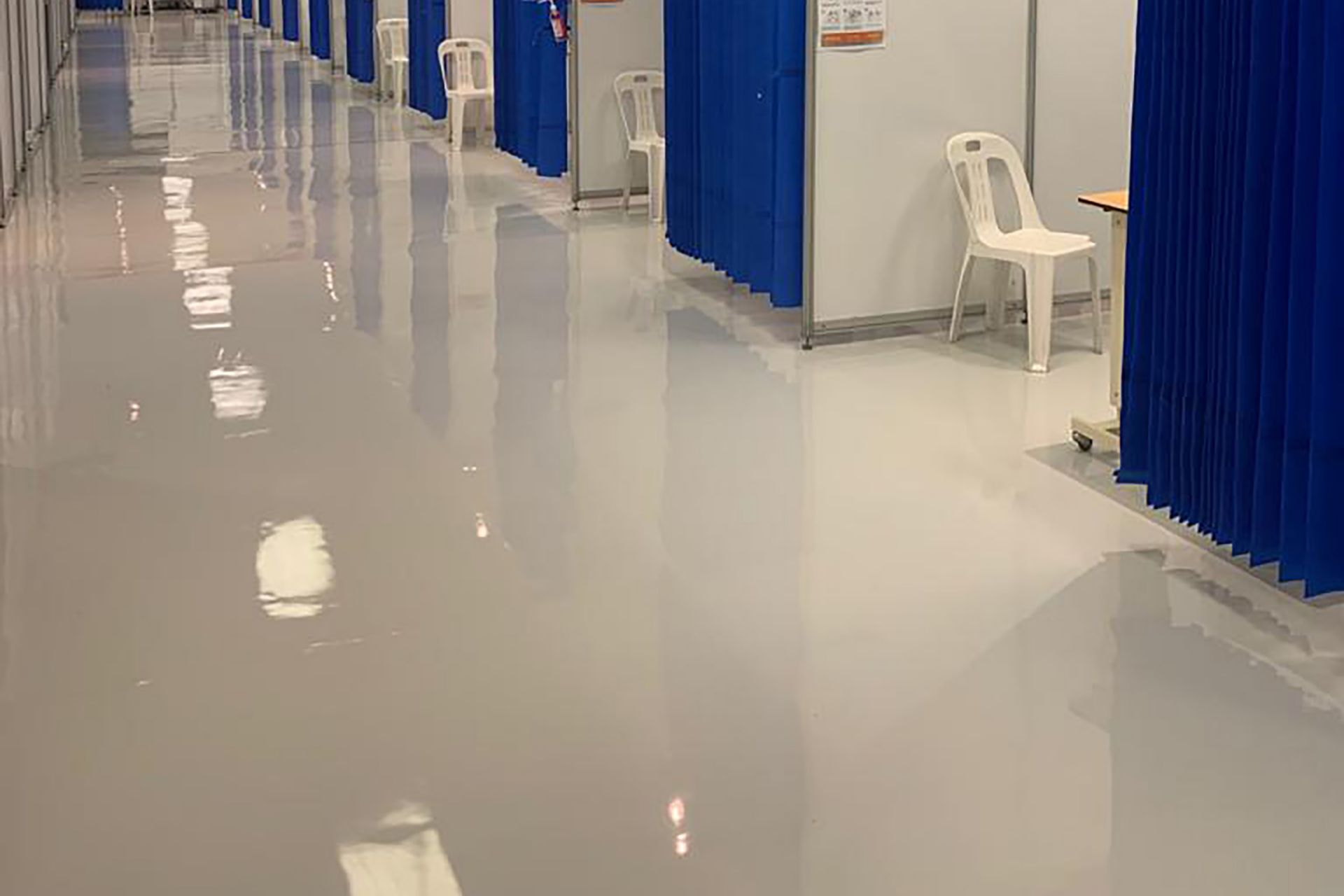 It has been stated on numerous occasions, by President Cyril Ramaphosa, that the health and safety of South Africans is the number one priority. The purpose of this site is to serve as a "stepping-stone" – a space where suspected COVID-19 cases from congested communities can be tested, and if necessary, isolated pending their results.
Four of the existing halls within the show grounds were selected for the project, but they all required a revamp in preparation for the intended use. Sika's Regional Sales Manager, Mervyn Naidoo, specified Sika products for the project, which were accepted by the KZN Department of Health. So, it was with great pride and pleasure that Sika were able to join forces with the Department of Health, and West Side Trading Contractors, to be involved in such a project. Sika was tasked with the responsibility to provide the relevant products to redo the floors. They had to be flawlessly smooth and in meticulous condition to cater for the beds and specialised health care machinery.
Contractor West Side Trading's focus area was the actual revamping of the floors within the halls, using the Sika products. The revamp had to be done within a limited time frame to make the space available soonest. The halls required 4,600 m2 of a 2mm self-levelling epoxy floor coating, and Sikafloor®-263 SL ZA, in light grey, was used. It is a solvent-free, epoxy resin-based floor coating with the intended purpose of self-smoothening floors. Additional floor repair required the application of Sikafloor®-200 Level, a self-levelling cementitious screed with both waterproofing, and a high level of hardness and strength qualities. As the floors were required to be seamless, the expanded joints were covered with the specified Sikagard-720 Epocem. Thereafter, in order to build ramps to level the floor, Sikadur®-43 ZA, a three-component repair and filling mortar was applied.
On conclusion of the project, President Ramaphosa took a 'walkabout' at the Royal Show Grounds and was more than satisfied with the results. The KZN MEC shared his sentiments and was furthermore most pleased that said results were achieved in only 12 days. To initiate and develop a project of this magnitude proves that our government cares, and every citizen should too. We need to work together to preserve the lives of our fellow South Africans. It was an honour for Sika to be a part of this project. Sika definitely cares.
Products used:
Sikafloor®-263 SL ZA
Sikafloor®-200 Level
Sikagard®-720 Epocem®
Sikadur®-43 ZA