A wide range of Sika concrete repair and protection products were used in the Cornelis River Dam project, which needed major refurbishment in order to implement a sustainable regional bulk water supply scheme in the Phumelela Local Municipal area, prioritising Warden.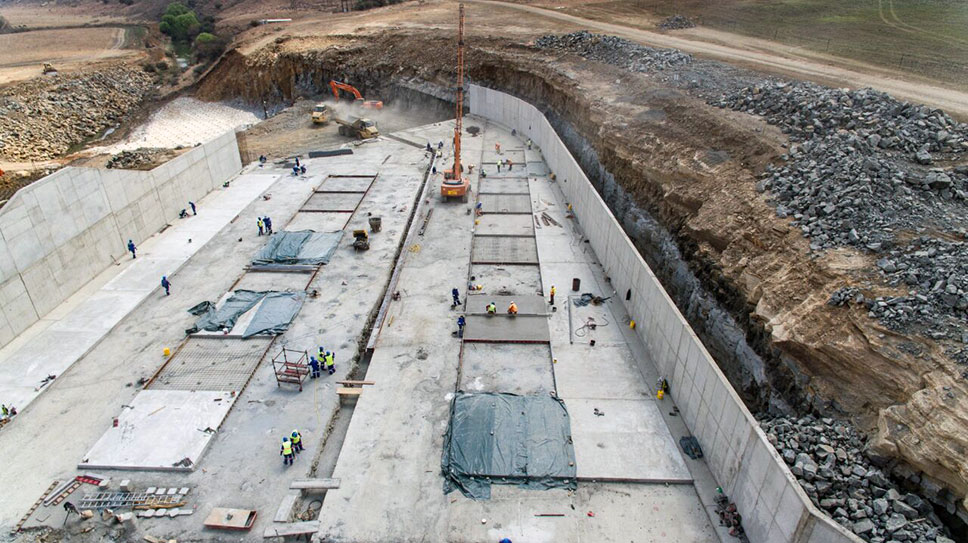 The Phumelela Local Municipality is currently experiencing severe water shortages and is considering options to ensure the provision of a sufficient and sustainable potable water system for the future for both the short and longer term.
Water usage has been restricted throughout the past years, but water quality deteriorates on a daily basis. The high rural to urban migration and changing water use pattern, mainly as a result of the introduction of water borne sewerage systems under the bucket eradication program, place additional stress on existing infrastructure and resources. The final objective of this project is to implement a sustainable regional bulk water supply scheme in the Phumelela Local Municipal area, prioritising Warden.
The Cornelis River Dam, situated in the Free State between Johannesburg and Durban, 56 km North of Harrismith had undergone major refurbishment. The project commenced in June 2017 by contractors Raubex, and is scheduled for completion in May 2018. Sika's reputable range of concrete repair and protection products were the top choice of specified products by project managers, Rudnat Projects CC.
BHM Readymix from Harrismith supplied all the concrete with SikaPlast V220 and Stallion 2 admixtures.
In order to grout the anchor rods into the rock, before pouring the concrete, to create the steps Intraplast-Z was used, an grout admixture that is designed to introduce micro bubbles into the grout mix, thereby creating wet volume expansion and to increase fluidity without segregation.
As a curing agent to prevent premature water loss, Sika's Antisol E was sprayed onto areas of mass concrete. Forming a thin film barrier, this ready to use liquid curing compound does not disturb the normal setting action of concrete which is then allowed to cure and achieve maximum properties.
Separol-GU, an oil based release agent was used to provide easy release properties to the formwork and permitting a high quality surface finish of the dam wall. Sika micro fibres were specified to be used in the spill way concrete as well as in the concrete mix of the dam wall to reduce any crack tendencies in early-age concrete.
The structure was primed with Sikagard-550 W Primer, prior to the application of Sikagard-550 W Elastic, an acrylic based emulsion, high build, protective coating providing a durable covering with excellent resistance to weathering.
As a surface hardener for concrete, Sikafloor CureHard-24 was used in the spillway concrete. This easy to apply compound reduces dusting of concrete floors as well as improves chemical and abrasion resistance compared to untreated concrete.
The concrete wall was repaired using Sika MonoTop-610, an easy to apply cementitious, polymer-modified, one-component slurry. This high quality primer provides excellent bond for Sika MonoTop-612 a high strength repair mortar containing silica fume and synthetic fibre reinforcement. Providing excellent slump resistance, it is particularly suitable for application on overhead and vertical surfaces.
Sika Waterbar Type O-20 was centrally placed in all the expansion joints. Manufactured from virgin thermoplastic PVC for strength and flexibility and easy, on-site welding, internationally tested Sika-Waterbars are used to seal construction and expansion joints in all water retaining structures. They are designed to withstand high water pressure and are supplied in rolls of various widths and types
Used as admixtures for the structural concrete and blinding concrete, Sika Plast Stallion-2 and Sika Plast V220 were used as multi-purpose water reducers and superplasticizers, utilizing Sika's 'ViscoCrete' polycarboxylate polymer technology. Its higher ultimate strengths allow for greater engineering design, flexibility and structural economies.
Two main challenges faced during this project were to drill 21m into the ground and create a grout wall, before starting with the actual wall, as water kept rising when drilling into the ground. Drilling into the rock for the anchor rods was also another challenge due to the rock being so hard, which in turned caused the drill bit to break off or go blunt.
Regardless of these challenges, it is expected that this project will be completed in 18 months. The aim of the project was to refurbish 5000m² of concrete however it is assumed that the area will increase on completion of the project.