The World Environment Day on June 5 urges all of us to protect our natural surroundings. This day encourages worldwide actions.
Sika has been committed to sustainable development by offering sustainable solutions for energy-efficient construction and innovative vehicles. The company implements numerous projects and measures that maximize the value of its solutions and contributions for all stakeholder groups, while simultaneously minimizing the risks and resource consumption associated with value generation.
Click here to view Sika's Sustainability Strategy.
Sika has aligned with various international principles and initiatives such as:
Carbon Disclosure Project
UN Sustainable Development Goals
UN Global Compact
World Business Council for Sustainable Development
View the full list here.
Clean water is one of the most critical resources in life and supplying drinking water to a globally growing population is one of the greatest challenges. The demand for drinking water and wastewater treatment facilities is increasing rapidly. Sika has innovative solutions to protect the water quality in these facilities – for new construction and maintenance.
More Value – Less Impact
As the enabler of sustainable construction and transportation Sika pursues the overall goal to reduce its CO2 emissions per ton sold by 12% until 2023. With the Sustainability Strategy "More Value – Less Impact", Sika concentrates on six strategic target areas, focusing on sustainable solutions, climate performance, community engagement, energy, waste/water, and occupational safety.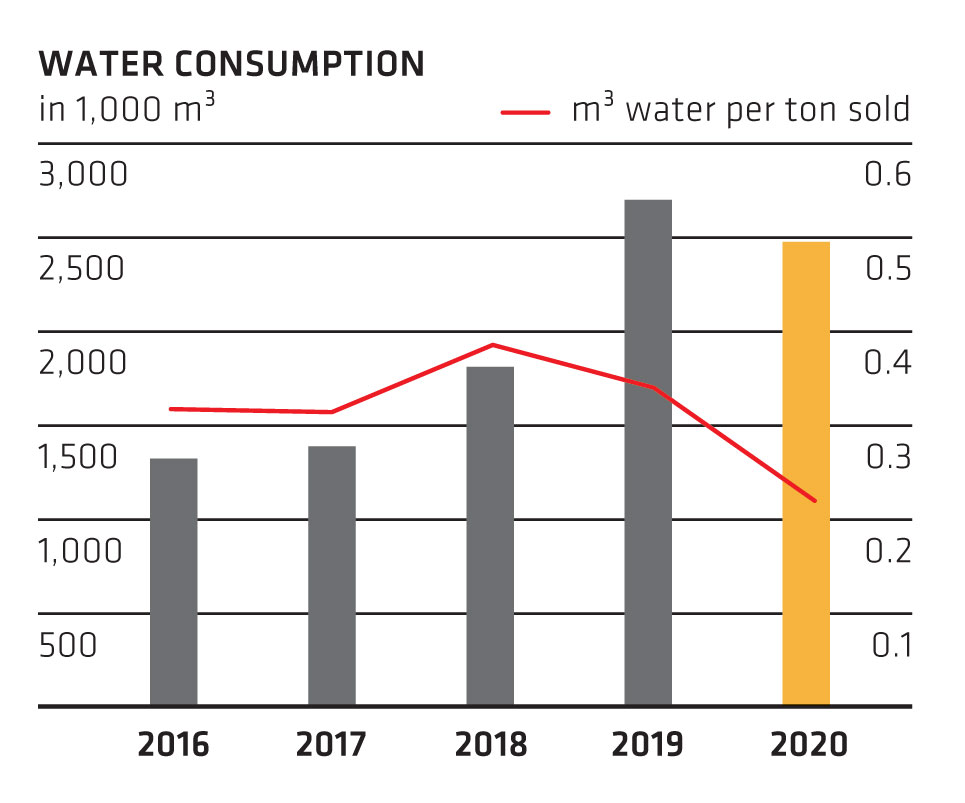 Sika takes measures to use water economically by reducing consumption, treating water or using lower-grade water qualities when possible, especially in geographies with water scarcity. In 2020, Sika used approximately 2.5 million cubic meters of water (the previous year: 2.7 million cubic meters). The water consumption per ton sold was around 0.22 cubic meters (the previous year: 0.34 cubic meters). This decrease is mainly due to the acquisitions completed since 2019 and the initiatives implemented by the countries. Efficient production projects have been implemented using closed-loop cooling, cooling towers, and switching from public to groundwater. In Spain for example, production process optimization allowed to reduce water consumption by 7,000 cubic meters.