Incorporate various styles in your kitchen by using Cemcrete products as a unique alternative
Cemcrete has a wide range of concrete products for the kitchen. Concrete floors and coated walls styled with cement countertops in kitchens is a unique alternative to regular materials.
Casted concrete countertops and countertop coatings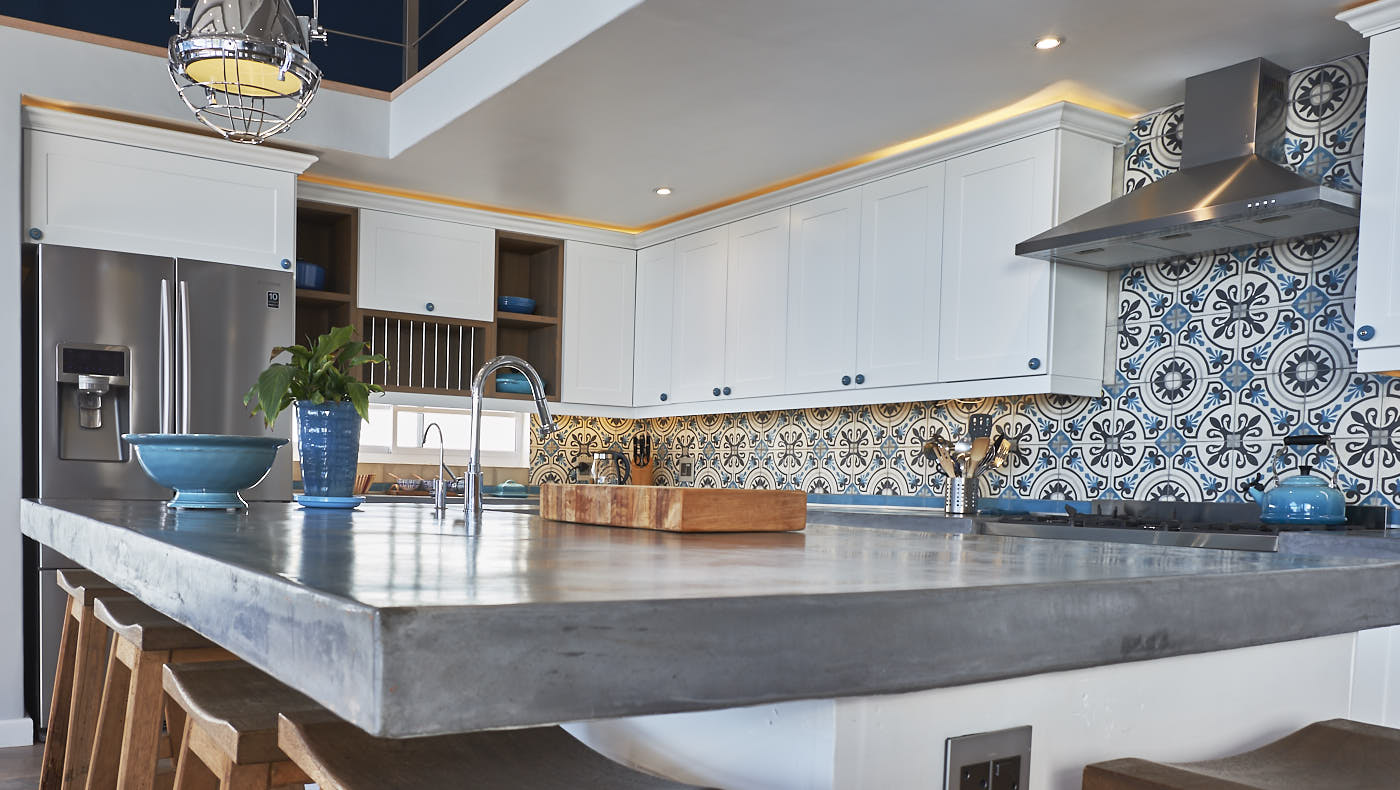 Countertop Mix is a 3 component pre-casting mix that contains a proprietary blend of cement, and other admixtures to produce a high strength countertop.
Suitable for use in commercial, residential and restaurant use

Fully customisable to your specific requirements such as size, colour, shape, built-in features, etc.

Produces a high-strength countertop

Fully customisable casting mix i.e. can use a variety of aggregates to change the appearance

Can cast counters according to any mould

Unique cement counter and not premanufactured
Cast into mould made from wood (melamine) or rubber. All seams must be tight to prevent seepage of the Countertop Mix using silicon & a caulking gun. If caulk or any other fillers are used on the mould they must be fully hardened and dry before Countertop Mix is poured. Picks up the finish of the mould. Can be diamond pad polished to expose aggregate. Add any stones that are dense enough to polish and when using glass, it should be tumbled otherwise the glass might not bond sufficiently with the cement.
Dry-shake screed floor finish
Strong flooring in the kitchen is achieved with colour hardener. A granolithic concrete material that is floated into fresh screed or concrete which colours, strengthens and creates durable surfaces for the concrete floors. It is a special blend of cement incorporating very hard-wearing aggregates, light fast pigments and additives which set rock-hard.
Can be used for interior & exterior floors

Suitable for domestic or commercial projects

Colours concrete to a depth of 2 – 3mm

No risk of colour being rubbed off or abraded

Extremely durable (but is dependent on screed mix and curing)

Can be used in conjunction with SuperScreed (10 – 20mm) where there are height restrictions

Can be imprinted with patterns 
Use Colour Hardener Stone counter and floor in the kitchen. If cracks appear, reminder that hairline cracking is normal, by nature cement is not flexible, so movement and temperature variances causing expansion and contraction and shrinkage may cause fine hairline cracks. This is part of the natural element of a cement finish and adds to the unique look and feel. However the correct preparation and application processes are vital to avoid bigger cracks from appearing. Also adding expansion joints, dividing your cement floor into big blocks, can help to allow for movement and could prevent larger cracks from appearing.
Thin skim-on floor coating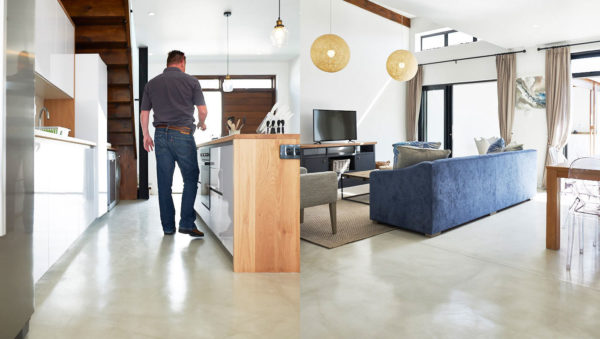 Floor coating Cretecote can also be used on vanities and countertops. It is a coloured, thin film cement-based floor covering which is versatile and durable. It is a two coat system which produces a 1.6mm smooth decorative finish ideal for internal domestic renovations. Comes complete with powder and catalyst as a twin-pack.
Thin skim-on coating perfect for renovations

Interior use only

Application with a steel trowel

Versatile application – can be used to coat counters & vanities

Reaches a compressive strength of 35MPa after 28 days (this is solely dependent on the substrate)
CreteCote can be applied over tiles as long as the necessary preparation steps are followed to ensure adhesion to the tiles. Any glazed tiles need to be sanded or ground to remove the glazed surface. Tiles such as slasto and clay should not be coated due to their friable and flaky nature. The first and best option is always to remove the tiles. NOTE: If the tiles were to come loose it will damage the CreteCote.
For a quote, please fill in the form below: