Winter Pole is a phenomenon well-known to all familiar with the preservative treatment of poles. However, some users believe that poles with a lighter surface colour are not treated correctly.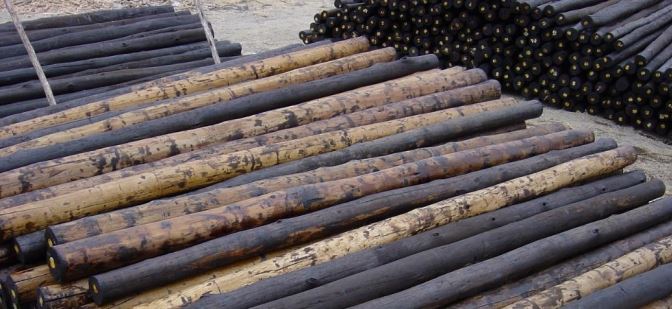 Winter pole is not only found on creosote-treated poles, which normally have a dark brown/black appearance instead of a lighter appearance as can be seen in the above picture. It is also found on poles treated with waterborne preservatives e.g., CCA, borates, etc, but it is not as obvious since waterborne preservatives are usually not associated with a very dark colour.
So why or what causes the phenomenon even though the poles are put through the same pressure treatment process. The answer is simple, it's seasonal and totally dependent on conditions the poles are exposed to after being harvested and
debarked; prior to processing, including preservative treatment. Whether the trees are harvested in the rainy warmer summer, or drier colder winter periods are the main contributing factor. Poles harvested in the drier winter months,
when precipitation and sap movement is at their lowest, are less prone to surface oxidation while lying in stockpiles.
Oxidation causes the darker surface appearance and if there is less or no oxidation because of the drier conditions, the pole surface appears lighter. When these poles are treated, they remain light in colour and are referred to as Winter Poles. However, they are properly treated and not of inferior quality.