When it comes to achieving a sophisticated and well-designed bathroom, the choice of fixtures plays a pivotal role. Among these, the wall-hung WC stands out as an essential element that not only enhances the visual appeal of your space but also offers practical advantages.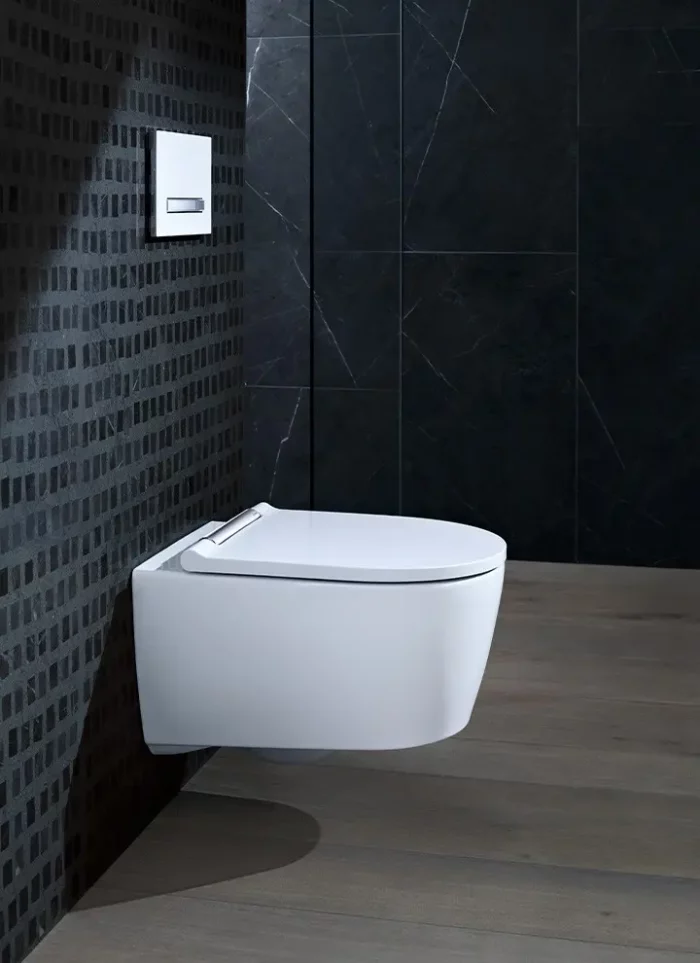 Embracing minimalism: The beauty of a wall-hung WC
Discover the elegance of a wall-hung WC for your bathroom. Opting for a wall-hung WC brings forth an air of elegance and charm to both your bathrooms and guest washrooms. By choosing this sleek fixture, you effectively create an atmosphere of refinement and sophistication.
Streamlined and chic: Redefining toilet design
Selecting a wall-hung WC means concealing the cistern behind your bathroom wall, allowing you to shift your focus towards the exquisite design of the toilet itself and the accompanying actuator plate. Within the comprehensive Geberit product range, you'll find an array of toilet shapes, each boasting a unique design that seamlessly integrates with your bathroom's overall aesthetic.
Form meets function: The perfect fusion
Uniting form and function with the wall-hung WC. A remarkable benefit of installing a wall-hung WC is the creation of additional floor space underneath it. This clever utilisation of space not only imparts a sense of spaciousness to your bathroom but also simplifies the cleaning process. Elevating the experience further, incorporating a touchless actuator plate alongside the wall-hung WC elevates the design, enhances hygiene standards, and simplifies maintenance.
Unveiling a timeless gem: The wall-hung WC
Did you know that the wall-hung WC is a timeless masterpiece in modern bathroom design? Geberit, a pioneer in bathroom solutions, has been delivering exceptional quality with its wall-hung WC solutions for over half a century. The ingenious integration of a load-bearing frame within the wall and the toilet itself grants remarkable stability, supporting weights of up to 400 kg. Moreover, Geberit cisterns are meticulously blow-molded as a single unit, rigorously inspected multiple times for leaks before departing the factory.
In conclusion, the wall-hung WC is not just a mere fixture; it's a statement of refined taste and functional innovation. Its ability to transform your bathroom into an elegant haven while optimizing space usage and hygiene makes it a must-have for contemporary living. With Geberit's legacy of quality and style, embracing the wall-hung WC means embracing a new dimension of bathroom luxury and convenience.