a.b.e. Construction Chemicals waterproofing systems for parking decks – one of the most challenging processes in waterproofing – have proved highly successful in several high-profile installations in recent years.
a.b.e., with head office in Boksburg, is part of the Saint-Gobain Group.
a.b.e.'s Regional Sales Manager, Warren Trew, says apart from preventing water ingress, a parking deck waterproofing system must also protect against wear and tear by natural forces, vehicles and pedestrian traffic as well as the movement of expansion joints. "Parking decks must be durable, resilient, elastic, skid-resistant, and aesthetically designed. a.b.e.'s extensive and proven range of waterproofing systems fulfill all these requirements," Trew says.
"Parking decks are costly to build, repair and replace. To have a durable deck, water management is vital. Designing, installing and then testing waterproofing systems are the keys to diverting water from the structural elements. Water is the major cause of concrete deterioration and steel corrosion. The quality of the waterproofing membranes is critical and the waterproofing system should only be specified after consideration of the type of the finished wearing surface. The specification could call for traditional waterproofing systems or new developments, all of which are provided for by a.b.e. waterproofing systems," he adds.
The waterproofing of parking decks should only be specified after consideration on the type of the finished wearing surface required. All substrates – post-tensioned or coffered – should be cast or graded to fall to outlets, and should be smooth and free of voids or protrusions.
"Whether choosing a blacktop or premix that can be hot or cold applied, or brick pavers and interlocking blocks, a double-layer waterproofing system is recommended. This usually comprises an application of a.b.e.'s Index 3mm membrane followed by an Index 4mm membrane, laid with staggered side laps and end laps. The 3mm membrane should be fully sealed by torch fusion to the primed substrate and overlaying 4mm membrane.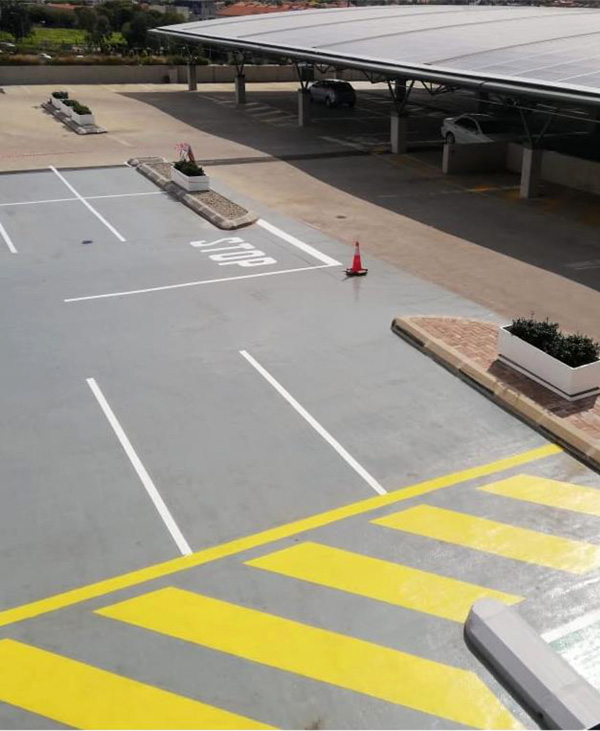 When employing a double layer membrane system essential practice includes:
* Correct installation of concrete and screeds to falls;
* Correct detail regarding the dampproof course to upright structures (upstand);
* Priming of the surface both on the prepared screed and upstand;
* Attending to the gusset, using either a.b.e. Testudo waterproofing membrane or a.b.e. Index Fidia 4mm membrane, both manufactured from a compound of bitumen and polymers, also fully bonded to the primed horizontal surface;
* Fully-bonded a.b.e. Unigum 4mm waterproofing membrane applied to the vertical face, finished off with a.b.e.'s super laykold bitumen rubberised waterproofer, and super laycryl bitumen/ acrylic emulsion, over the top of the upstand to ensure the system is fully waterproofed; and
* Then installing abedrain G geotextile membrane as a drainage layer, followed by a layer of sand and pavers to complete the system.
"For the waterproofing of the full-bore outlets before installation of the clamps and grating sections, correct torching of the Index Fidia 4mm into the primed throat of the unit should be done, followed by the application of the Testudo membrane. The throat of the outlet should then be overcoated with a.b.e super laykold membrane and all exposed plain surfaces coated with a.b.e. silvakote reflective aluminium paint for UV protection," Trew explains.
He says another acclaimed option for parking deck waterproofing now available from a.b.e. is a polyurea coating, the VIP Quickdeck system, which was most effectively used by approved a.b.e. applicator, Sanika Waterproofing Specialists, to waterproof over 2 500m2 of parking deck at the Eastgate Shopping Centre in Johannesburg.
Suitable for both outdoor or internal parking areas as well as ramps, the system comprises the application of QuickPrime 2K SF epoxy resin primer followed by 3mm Quick Spray industrial coating incorporating a fine aggregate to create a non-slip texture, and then sealed off with an aliphatic UV-resistant topcoat in the colour specified.
Trew says Sanika was extremely impressed with the VIP Quickdeck system and lists among its many advantages:
* High anti-skid and anti-slip properties;
* One application process: rapid curing makes one-day applications possible;
* Ready for foot traffic in 30 minutes and vehicular traffic in only six hours;
* No excess aggregate is produced, saving clean-up and aggregate recovery time.
* Exceptionally strong adhesion to concrete;
* Superior crack-bridging abilities, even at low temperatures;
* High flexibility, tensile strength, and abrasion resistance; and
* Environmentally free as the system components are solvent and VOC-free.