The school shared the Upper Orange Field with Good Hope Secondary School for nearly a decade. Plans submitted to the City of Cape Town to upgrade the field. The project entailed replacing the existing surface with synthetic grass commonly referred to as Astroturf.
St Cyprian's applied to lay a Hockey 20 ND sand-based Astroturf. Each potential location is thoroughly researched by Synsport, synthetic sport surface specialists. Based on geotechnical details particular to the Upper Orange Street site, the turf was installed on top of a sealed slurry base.
The boundaries of the field proved too narrow to allow for any sloping around the field. Getting a level surface was unobtainable using cut to fill methods.
The project technical details
Lucas Stiger, Civil Engineering Technician, Isidima Civils, a Cape-based civil engineering firm and empowerment vehicle of Martin & East Group says, "The job required us to build a concrete block wall at heights anywhere between 2m and 5m at angles ranging from 65 to 85 degrees. The retaining wall would need to retain 1900 tons of G7 fill so that the last 30 meters of the field could fit within the boundaries and have no forms of slope failure or settlement as the field tolerance was only 6mm".
Terraforce, as a proven and eco-friendly earth retaining system was specified. Isidima provided the earth retaining measure for the resulting steep slopes. "Terraforce walls are cost-effective and if built right, structurally sound. The client was required to design the field with heritage aspects and feel, which was achievable due to the many options Terraforce can provide.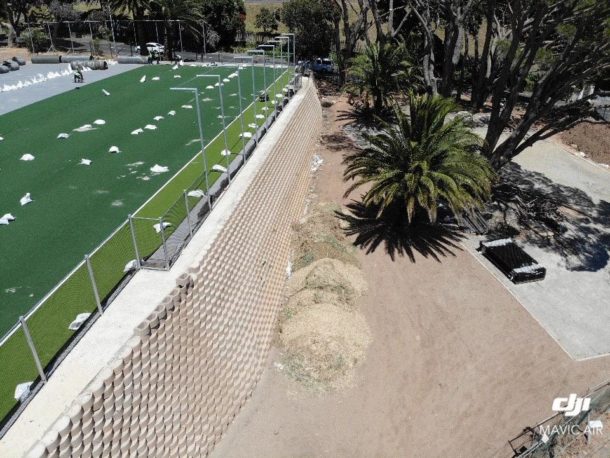 Stiger adds: "to begin the installation, we cast a base of 25mpa and backfill with G7 in layers behind the blocks. Every second or so layer required geofabric cut to approximately three meters. Behind the wall, outlet pipes were installed every two meters apart and wrapped with bidim. The walls transitioned to 85 degrees, required to backfill the blocks with concrete and fix steel within the blocks."
Isimida completed installation late in November 2019. The first few matches were successfully played at the end of the last school term. Marelize DeKlerk, Facilities Manager, St Cyprian's School says,
"We are very happy with the Terraforce wall, and the landscaping that will take place once schools reopen will finish it off beautifully, although, I do like the clean look too – it is growing on me! To me, it makes a statement of the enormity of that project and adds something special to the look and feel of the Astro!"
---
Project team
---
Engineer: Integrate structural and Civil Engineering
---
Quantity Surveyor: Zaandre Bredenkamp/ Lucas Stiger
---
Wall Design Engineer: Fred Laker, Icos Engineering
---
Main Contractor: Isidima / Martin & East
For a quote or consultation, please fill in the form below:
You may like: