What can we say about Quartzite? Well, it is a wonderful, hard and strong natural stone ideal for a variety of applications.
What is quartzite made from?
It is a hard, non- foliated metamorphic rock that was originally pure quartz sandstone.  Sandstone is converted into quartzite through heating and pressure usually related to tectonic compression within orogenic belts.  In other words, deep within the earth Sandstone adapts to the change in conditions by altering its texture and composition. Sandstone recrystallizes, fusing itself together and becoming a strong, granular rock formation.
Pure quartzite is generally grey and white in colour, however there are quite a few shades of pink.  Other colours found in quartzite are yellow, green, blue and orange – these are due to other minerals forming part of the composition.
Quartzite registers as a 7 on the Mohs hardness scale.
Quartzite is very resistant to chemical weathering and often forms ridges and resistant hilltops.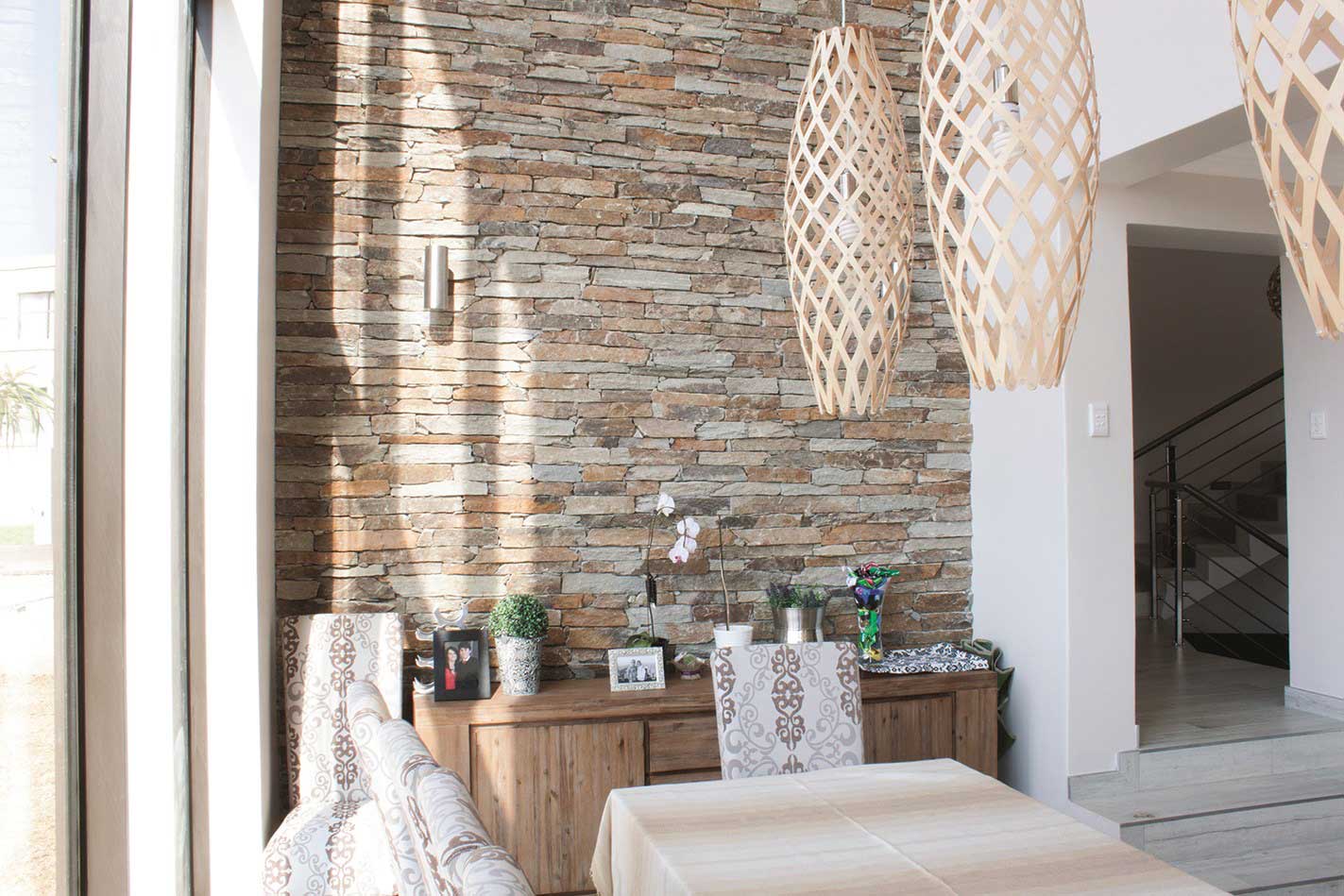 Design and application
Quartzite works wonders when applied to an area in your home that you want to stand out, be elegant and add a little twinkle.
With the right lighting, you can feature quartzite rivens as an entrance feature, outside, up the stairs, or above the fireplace.  The quartz gives a sparkle that has depth and smacks of good taste.
Besides the quartzite rivens, there are quartzite mosaics which come in a wide variety of styles, shapes and sizes.
Never put the tiles aside, they are gorgeous.  Such incredibly beautiful material is usually a little more fragile, but this is not the case with quartzite!
Union Tiles stock all of the above materials and are so fortunate to be in a position to showcase this to our customers in our showrooms throughout South Africa.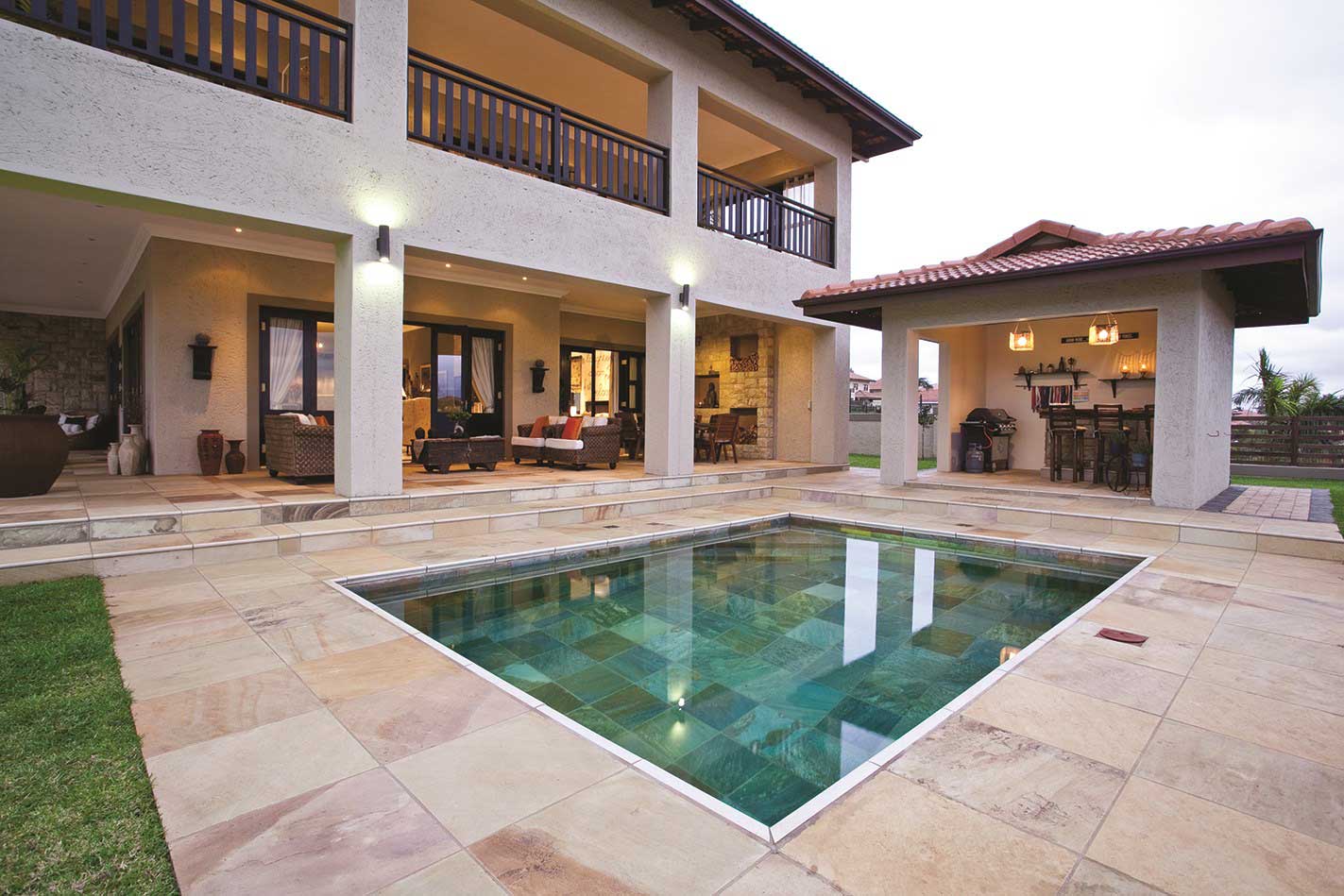 Quartzite is a wonderful application for outside and inside the pool.  If you would like a really natural looking pool, then tile it out with quartzite.
Quartzite is the one stone that can take some serious 'pounding' around public pools or add something spectacular to hotels that want an eye-catching effect inside their pools.
As usual I must emphasise that, when working with this product, as with all natural stone, make use of a reputable tiling company.
Enquire about the thickness differences.
Do not purchase the material from a sample; ensure you have viewed the current batch available.
Do a dry 'lay' before going ahead and tiling.
Seal the material with the appropriate sealer.
Use a minimum of a 5mm joint between the tiles.
DO NOT allow the grout to dry on the surface before wiping as this will make your cleaning very difficult.
Do not make use of acids during your cleaning process.
Ensure your tiles are dry before sealing.
Quartzite as a decorative material is a winner.  From a health and safety aspect it is a product that is not sufficiently used as it has a lovely 'grainy' feel to it and folk are less likely to slip.  The perfect product for public areas, hospitals and old age homes.  Durability on this product is fabulous so take that into consideration when purchasing the product.  In comparison to your other natural stone products, it is affordable. Think iron man – think quartzite!