Sandstone is generally formed from beds of sand below the sea or low lying areas.  As this bed of sand subsides into the earth's crust, usually pressed down by overlaying sediments, it is heated and compressed.  Water flows slowly through all these tiny grains, importing minerals.  Minerals crystallise around the sand grains and cement them together into sandstone.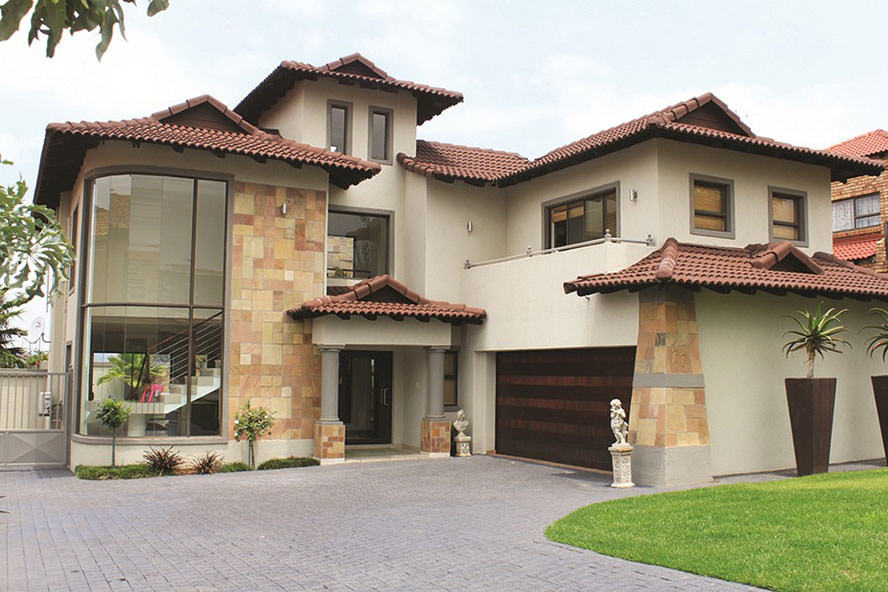 Sandstone is rich and warm in appearance.  It is warm to the touch and, when used outside especially near pools and ponds, it looks like beautiful beach sand.  Reds and gold shades give this stone its beauty and depth.  Certainly not a material that is as hard as granite or quartzite, but well worth investing in.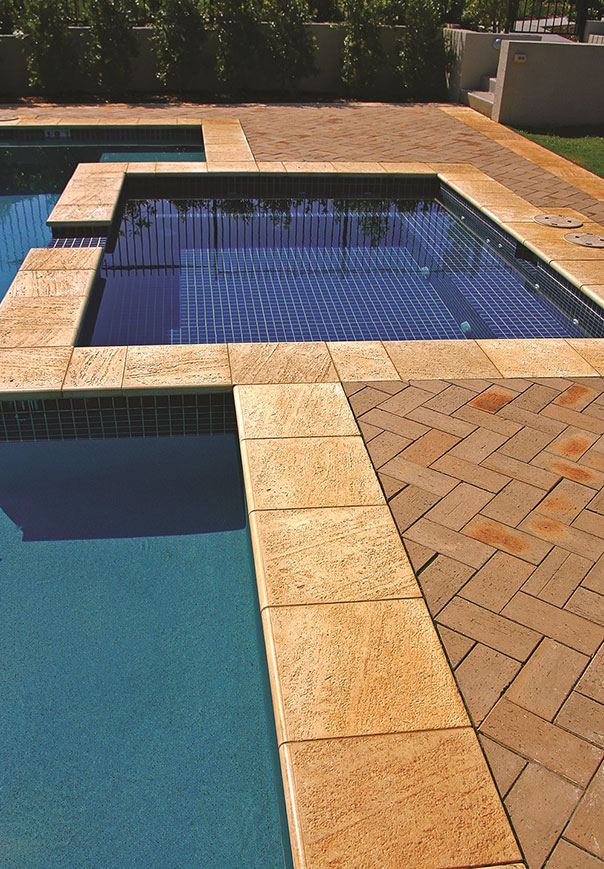 If deciding on using sandstone for a project ensure that you do the following:
Ask the sales person to show you what honed and natural sandstone looks like.
Take into consideration which texture you prefer and note that the natural texture may create a problem with your furniture inside, as the surface has different levels on one tile.
In addition, be aware and understand that the product must be sealed and after 2 – 3 years it would be wise to apply another coat or two.
Make sure that the tiler puts on sealer prior to grouting as this makes the cleaning process so much easier to deal with.
The 'honed' surface is level and smooth but still needs to be sealed.
The tile comes with thickness variation so be aware of the implications before buying.
The SQT range of products will allow you to have either a sleeker shinier finish or the natural rich look of natural stone.
Do not seal if there is any damp in the tile.
Use the appropriate adhesive – a Union Tiles team member will advise you on which to use.
Wash the tile thoroughly BEFORE SEALING.  No adhesive or grout residue must be visible on the surface.
Sandstone is used for a wide variety of applications.
It can be used as external or internal cladding for decorative purposes or to enhance certain aspects of a building.
It is also suitable for internal or external floors. Sandstone is very expressive with its tips of colour and, if you are really lucky, you might even get a couple of tiles that will have a leaf or twigs 'fossilised' into the surface.
Having said all of this, if you have a 'dead' wall on one side of your house or an external wall where the paint tends to fade quickly, buy SANDSTONE!