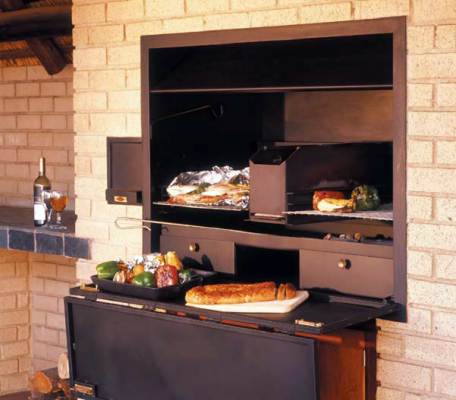 One of the best things about living in South Africa is the outdoor lifestyle that we can enjoy. And Jetmaster makes it so much easier with their range of outdoor barbecues, pizza ovens and portable braais.
Having a barbecue with friends or family is something we all love to do. Whether it's a Sunday get together for a lamb on the spit or a spur-of-the-moment lunch with sizzling burgers and steak rolls, barbecuing has become an essential part of our outdoor lifestyle.
Jetmaster barbecue units are easily installed in both new and existing homes. The wide variety of designs and sizes available enables you to choose the perfect model for your entertainment area and add an attractive, functional feature to your home. Best of all, there's no smoke.
You can choose between built-in models, all of which can be fitted with either a charcoal tray or a gas grill; a free-standing model also with a charcoal tray or gas grill, and a variety of Jetmaster portable gas braais.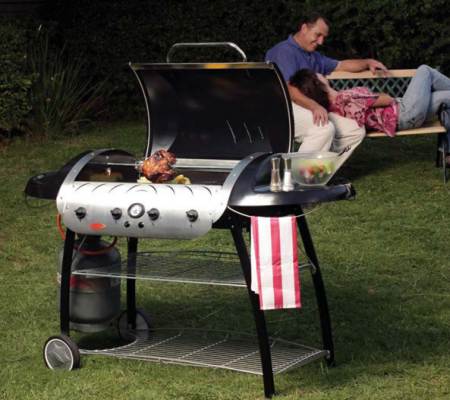 The 1200 and 1500 Dual units combine gas and cooking facilities within the same box. The dual unit has two separate doors that seal flush against the body of the unit. The two doors slide under the charcoal tray and gas grill, and can be used as a preparation counter.
The 1500 Dual Unit consists of a charcoal tray with ample braaing space. The 3-burner gas grill is designed with wide shaped burners to offer a consistent heat over both the grilling and the wok surface.
The Jetmaster Sports Braai is a portable barbecue unit that allows various methods of cooking such as grilling, frying and roasting. You can choose your own combination of cast iron and wire grids to suit your cooking preferences. Close the lid and control the temperature with various burner settings. The Sports Braai comes standard with a built-in rotisserie.
Another great entertainment unit from Jetmaster is their Pizza Oven, available in either gas or wood. The oven has a stainless steel door flap that is used to trap the heat inside while the food is baking. This can also function as a preparation counter. Both models are supplied with a pizza paddle used to load and remove food from the oven. The ultimate in outdoor entertaining, the Jetmaster Pizza Oven can also be used to bake different types of breads, lasagnes, and other Mediterranean dishes.
The Potjie Master is another great unit for your outdoor lifestyle.
The unique ash pan means it is very easy to clean and the triangle adaptor and stainless steel braai grill mean this unit can be used for many different functions.
You can use it to prepare your favourite potjie, baking bread in your flat pot, boiling water or even braaing meat.
Jetmaster has also launched its own range of strong and durable gas cages. These are available in two sizes — 1 x 48kg and 2 x 48kg. Durable and robust, these cages have been approved by the LPGSA.