Use free environmental heat from the air with heat pump technology for central heating and domestic hot water
If cars only had two operating modes, i.e. full power or full braking, that would be neither comfortable nor efficient. Conventional heat pumps still operate just like that, as they are either on or off. This is where STIEBEL ELTRON air source heat pumps with inverter technology come into their own. They always deliver precisely the output that is currently required. Not only is this more energy efficient, it also reduces noise emissions during spring and autumn. This is because the fan and compressor operate, on average, with a lower output and are consequently even more quiet than usual.
The air is full of energy
Outdoor air is supplied to the air source heat pump – installed either indoors or outdoors – via flexible hoses and a quiet fan. A heat exchanger extracts the latent energy from the air which is converted by the heat pump into useful heat for your home. Even at icy temperatures as low as –20 °C, the air source heat pump still operates efficiently and economically, all the while impressing with its very high COP. Very high flow temperatures can also still be achieved without backup from a booster heater.
A heat pump to suit any demand profile
Air source heat pumps require little installation effort – and this makes them more affordable to buy and more suitable to use when modernising an existing heating system. In new builds, too, this form of heating technology is highly desirable because of its efficiency, and it can be employed in low energy houses, for example.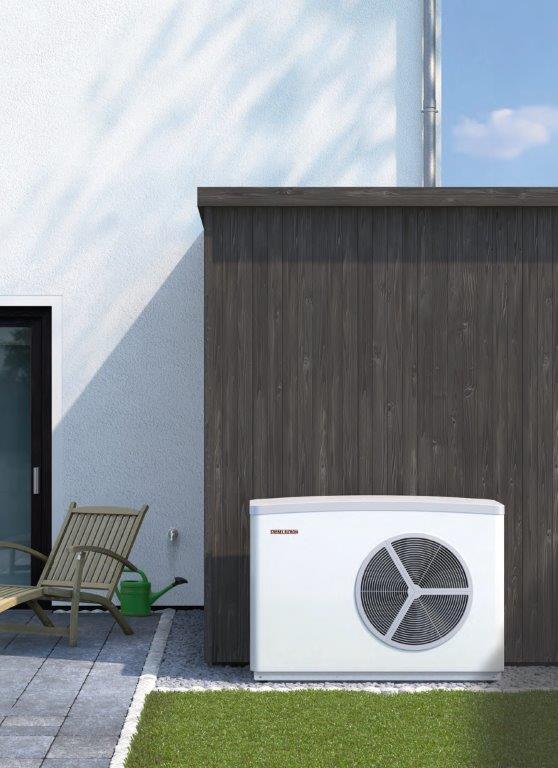 WPL A/AC/AS/ACS
The WPL 15/20/25 A/AC air source heat pump, designed for installation outdoors, delivers the first-class efficiency, even at temperatures significantly below freezing. Its high flow temperatures make the supply of classic radiators possible
Low noise – high efficiency – Low operating noise is of critical relevance for outdoor installations – particularly when considering neighbours. The more quiet a heat pump is in operation, the smaller the clearance required to the nearest building. If required, a cascade of up to six heat pumps can be installed for heating and cooling larger living areas.
Benefits for your home
Heat pump installed outdoors for heating and cooling
With energy-efficient inverter technology for high flow temperatures even on cold winter days
Suitable for densely built-up areas thanks to low operating noise
Particularly quiet night mode
High energy efficiency class A++, even at a flow temperature of 55 °C
WPL ICS/IKCS classic
With the WPL ICS/IKCS classic designed for indoor installation, STIEBEL ELTRON presents a system solution for the new build sector that is as elegant as it is efficient. Thanks to flexible air routing and pre-assembled air hoses, it can be connected almost anywhere, quickly and easily.
The excellent sound insulation of its air ducts makes this heat pump barely audible, even in closely built-up areas. In silent mode, the WPL ICS/IKCS classic is even quieter. You want to have energy efficiency – not hear it
Benefits for your home
Heat pump installed indoors for heating and cooling
Low energy spending through high efficiency (A++)
Operating noise barely audible from outside; further reduction possible with silent mode function
Quick to install thanks to the high level of integration

WPL 33 HT – clever choice for heating system modernisation
The WPL 33 HT was specifically designed for modernisation projects. High-grade technology achieves the flow temperatures necessary for radiator operation even when it's freezing outside. Thanks to advanced inverter technology, energy efficiency remains high, too.
The WPL 33 HT has been designed with maximum flexibility in mind, and as a result, it can adjust optimally to the most diverse requirements. It can be sited indoors or out and can be combined with other heat generators, such as a solar thermal system.
Benefits for your home
Heat pump installed outdoors for heating
Inverter technology matches the heating output to the actual heat demand
Ideal for use in older buildings
Very quiet operation
High DHW convenience
Suitable for smaller apartment buildings
These are just a few of the heat pumps available from Stiebel Eltron.