STAB-A-LOAD door solutions for Banana Ripening Rooms for a well-known Packhouse. Looking at Insulated Doors; to control the temperature within a few degrees; these rooms are airtight to prevent too much of the natural gas ethylene, from leaking out. Ethylene is a natural plant hormone used in agriculture to force the ripening of fruits.
STAB-A-LOAD offered their trusted Richard Wilcox Sectional Door. Thermatite Door Systems are built stronger with Neufoam™ technology – a continuous foaming process that renders cavity-free sections. No air pockets inside the panel ensure superior adhesion of our CFC/HCFC-free polyurethane insulation to the steel skin, preventing delamination and providing exceptional structural integrity.
The door has a higher strength-to-weight ratio, offers a better thermal barrier (higher R-Value) and resists deflection. Sections feature thermal breaks and two continuous replaceable seals to minimize airflow. Installed with our highest quality hardware components, Thermatite Doors are engineered to provide many years of worry-free operation and are suitable for a wide range of applications.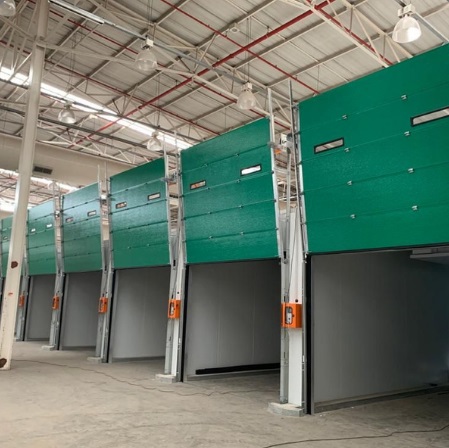 Stab-a-Load proudly partners with Richard Wilcox Sectional Overhead Doors based in Canada. RW insulated sectional doors achieve the highest thermal values and stability using HCFC free Neufoam polyurethane insulation. The sectional doors panel thickness ranges from 38mm to 76mm, ideal for warehousing, manufacturing, storage facilities, cold room warehousing, banana ripening rooms amongst many others.
Stab-a-Load RW Sectional Doors designed specifically for the agricultural sector and automotive industry would be the P175 Translucent polycarbonate sectional doors. The panel is constructed from a (16mm) triple-walled polycarbonate lightweight sheet framed by anodized aluminium for added strength and impact resistance. All Stab-a-Load Richard Wilcox Sectional Doors carry a limited 10-year warranty. Allumatite aluminium and glass sectional doors are ideal for fire departments and fire stations.