Conventional lane layouts are chosen for the effective use of the available space. But with a post-COVID-19 future, Gunnebo contemplates how access control can also change to adhere to social distancing recommendations. There are workable solutions to infection control efforts already considered.
Rethinking layouts within the lobby
A typical lane layout of access control systems is linear. This takes up the least amount of space available and the simplest arrangement as all lanes are positioned as if on one horizontal axis.
However, this arrangement is not compulsory and a discussion around formation of where each lane could be positioned as needed to be had, as the effects of Covid-19 and thereafter a lasting infection control narrative took a higher priority than unoccupied space within the building entrance.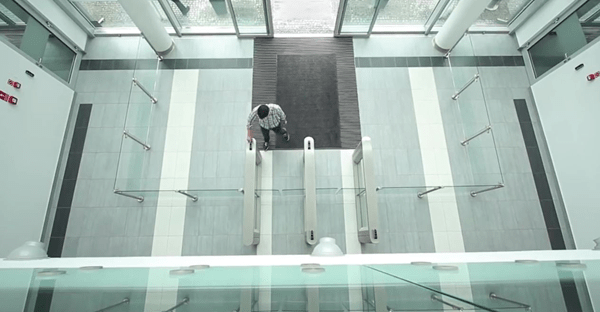 Our entrance gates already come with infrared sensors which detect if someone is too close behind a user who is already inside the badging area. This is a security feature already established and included in our speed gates as standard. It also serves another purpose when social distancing concerns come into play. The gates can detect using sensors if the person behind is standing too close the person in front, and therefore this single person detection can play a role in assisting with automated social distancing protocols.
As a result of continued research into how access control can adapt, as we future proof our products, Gunnebo employees came up with possible redesigns of access control lanes for our clients in order to help prevent any risks of infection within the building. Starting with the entrance within the lobby, the team examined how bank layout designs can assist in social distancing measures.
Traditional lane layouts
Whilst traditional layouts permit the freest space outside the access control area, since these lanes are all in line with the next, with minimal space between lanes, users travelling through the area have less space once inside the badging area. There is more likely to be accidental contact and social distancing may prove more difficult to accomplish.
As a high traffic area, the office lobby will see a lot of employees, visitors and personnel passing through the same area. Perhaps it would be necessary to contemplate how the redesign of bank layout would increase space between users, provide users with further peace of mind and help prevent accidental contact of users when using the access control banks.
Wide vs narrow banks
One way of reconfiguring the layout of access control lanes is to increase the separation distance between two active lanes which will permit more space between gateways.
This can either be done by installing a non-active lane which consists of a glass barrier rather than swing doors – which would simply separate two narrower active lanes.
Or a wider active lane can separate two narrower active lanes, which firstly assists in allowing more distance between lanes, but also allows for more lanes to be installed in the area, so could be a more attractive option than simply blocking the two active lanes.
Staggered lanes
A wider active lane can separate two narrower active lanes. Allowing more distance between lanes, but also allows for more lanes to be installed in the area, so could be a more attractive option than simply blocking the two active lanes.
By repositioning a badging area in front or behind of the next on an imaginary horizontal line that a conventional layout would normally occupy, the layout of these banks can be reimagined to allow more distance between two users, and prevent unnecessary contact by situating the place the user stands ahead or behind of the person to the side of them.
Social distancing is not only important in front and behind, but lateral distancing must also be considered if we are to truly instil a culture of distancing between agents in order to prevent the risks and spread of infection.
Staggered lanes take up the greatest amount of available footprint but allow the safest and greatest amount of distance between active lanes. As a result, staggered lanes should be considered for the intrusion preventative measures and distancing capabilities it offers – not only whilst inside the badging area, but also, as a user departs the lane, the space they occupy is staggered ahead from the next user's lane. At the point of exit, the two users are already further apart from each other, and users are more likely to maintain this distance as they move into the building.

Lanes which are placed perpendicular to each other act on the staggered lane principle already discussed.
However, they are placed in a concertina formation. By arranging the active lanes this way, the theory of staggered lanes can be applied, without occupying as much space within a given footprint as the staggered lane takes up.
Floorspace trade-off
When rearranging lanes from the conventional setup, there is a trade-off of floor space to distancing efforts between lanes. The available footprint will be affected as the more distanced lanes naturally demand more physical space when installing the entrance gates. As a result, there will not be a one-size-fits-all approach, but each of our customers will have their own requirements and various floor plans to accommodate.
The (re)arrangement of access control lanes was a topic of necessary research, and it is hoped that this idea will inspire building management to consider the ways that their own access control can assist in how to keep their stakeholders safe in the aftermath of Covid-19, by ensuring contemplations for strategies of investments are made in good time.
Access control layouts are just one area that could be an investment that continues to assist in infection control strategies long into the future. Our recent white paper investigates in finer detail what other infection control considerations can be made as employees begin to return to work in a post-COVID-19 World.
For a quote, please fill in the form below: