Sika's globally acclaimed concrete repair and protection systems were the first choice for consultants Naylor, Naylor and van Schalkwyk for 27 Wale Street, a prominent government building in the busy city centre of Cape Town. Commissioned by the Department of Transport and Public Works, construction company Indawo commenced the challenging project in March 2015; the scope of works included structural and spalling repairs, waterproofing and painting of the entire facade of the building.
Spalling repairs involved removal of all concrete and ribs until sound concrete was reached, when a coating of Sika FerroGard-903+ was applied. Designed for use as a surface-applied impregnation of steel reinforced concrete, Sika Ferrogard-903+ is a mixed corrosion inhibitor, based on organic compounds that penetrate the concrete to form a protective monomolecular layer on both cathodic and anodic zones of the reinforcing steel.
This exceptional product with its advanced formulation that delays the onset of chloride-induced corrosion in hardened concrete, meets numerous international standards.
Providing long-term protection and durability, Sika FerroGard-903+ is easy to apply, economical and can be applied where other repair or prevention options are not viable. Since Sika FerroGard-903+ does not alter the appearance of concrete, it is especially suitable for extending the service life of aesthetically valuable fair-faced concrete surfaces such as historic buildings and structures. A total of 5580m2 of concrete was coated with Sika FerroGard-903+.
Ground level concrete walls were coated with Sika Top Seal 107 ZA
The rib pattern of the facade was reinstated using a Cemflex modified stipple and Sika TopSeal-107. This is a unique application that Sika offered that was used to enhance the façade's aesthetic appeal. Sika's Cemflex is an acrylic-based emulsion that improves the water resistance and adhesion of Portland cement based composites. Added to a sand and cement slurry, it forms a bonding coat for plaster and render. It is non-toxic, oil resistant and UV stable.
Sika Top Seal-107 ZA, the second product in the specified Concrete Repair and Protection System, was applied to the restored concrete. A two-part, polymer-modified cementitious mortar slurry, Sika Top Seal-107 ZA comprises a liquid polymer and a cement-based mix incorporating special admixtures. It complies with the requirements of EN 1504-2 as a protective coating and is used for interior or exterior waterproofing and damp proofing of concrete, cementitious rendering, brickwork and blockwork. Sika Top Seal-107 ZA is suitable for protection of concrete against ingress and for moisture control. A number of sample patches were applied to the facade to ensure that slight colour variants of the product were kept to an absolute minimum. An area measuring 4730m2 was protected by Sika Top Seal-107 ZA.
Training supplied by Sika included three separate, on-site Hands on Training (HOT) sessions for over 40 of Indawo's specialist construction workers. This greatly benefitted the contractor whose staff received high quality training in the practical use of Sika products and systems. Approximately 12 of these staff were new, semi-skilled artisans who were trained to work under the supervision of skilled workers.
Due to the CBD location of the building and the fact that there were people working inside the building during the renovations, the smallest breaker was used to minimise impact and vibrations, as well as keep noise levels as low as possible. After hours' applications were carried out using larger breakers when necessary.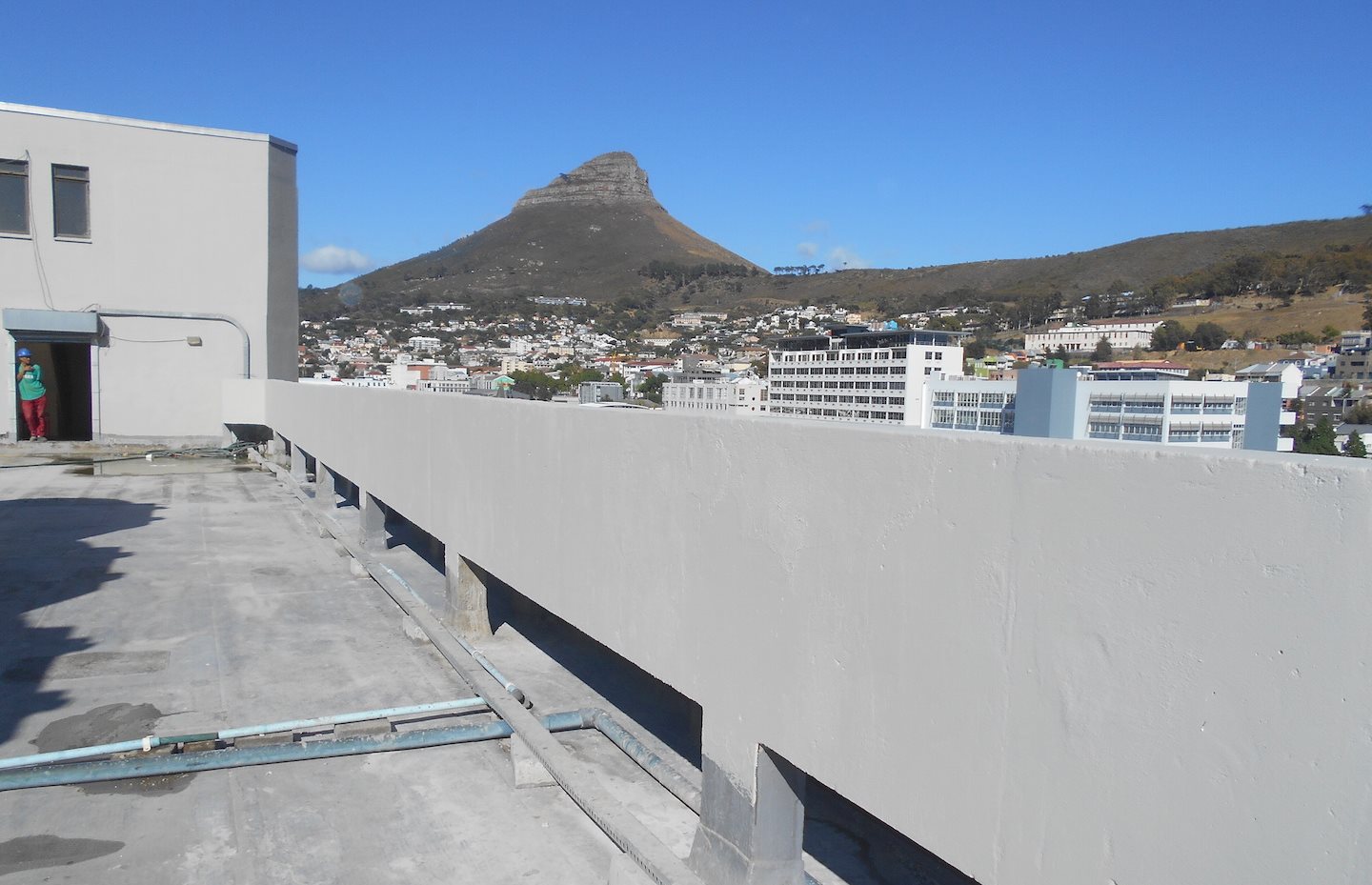 Sikagard 550w Elastic applied on the roof concrete balustrade walls
Potential pollution to the city was prevented by installing platforms with catch netting which served to catch rubble, product, or any other debris that might fall off the building, due to the work being carried out, and then disposed of in the correct manner.
External construction work on any building in a central business district (CBD) poses significant environmental and safety issues and when the building is in the centre of Cape Town, one of the world's top tourist destinations, these issues are exacerbated. The safety of all pedestrians, motorists, tenants as well as construction staff was of paramount importance. It was for this reason that all safety aspects of this high profile project were managed by Ingozi Management Safety and Health Consultants who ensured the contractor not only worked according to the strict guidelines of the Safety, Health and Environment (SHE) file, but according to safety regulations prescribed by law and the Building Industry Bargaining Council (BIBC). Construction was meticulously scheduled in order to ensure minimal disruptions to peak hour traffic while days of strong winds necessitated careful positioning of scaffolding.
Although a twenty-year guarantee has been offered, this tried and tested Sika Concrete Repair and Protection System can increase the service and maintenance life cycles of concrete by many years. Despite the various challenges encountered, the project was completed timeously.