Challenges achieving the smooth surface required of a dramatically undulating chapel roof were successfully solved by a high performance fairing coat from Sika. The site was the 185-hectare, newly created Bosjes Resort in the picturesque Witzenberg district of the Western Cape where the dazzling Bosjes Chapel stands proudly at the foot of the Waaihoek Mountain.
Architecturally designed, the cast-concrete roof of the 420m2 chapel has deep undulations dipping down to just above the water of its surrounding pools and then rising up to form huge wing-like structures above the four corners. Dissatisfied however with the lumpy finish of the roof, the associate architect approached Sika's representative, Anthony Webster for a solution.
After testing various Sika products, it was determined that Sika MonoTop-620 would achieve the desired effect of a smooth and seamless surface. Sika MonoTop-620 is a cementitious, polymer-modified, one component fairing coat mortar and pore sealer containing silica fume. After simply mixing with water to the required consistency, the product is hand applied or sprayable by the wet spray method and provides excellent adhesion to concrete mortars. With good freeze/thaw resistance, Sika MonoTop-620 provides high mechanical properties as well as good resistance to water and chloride penetration.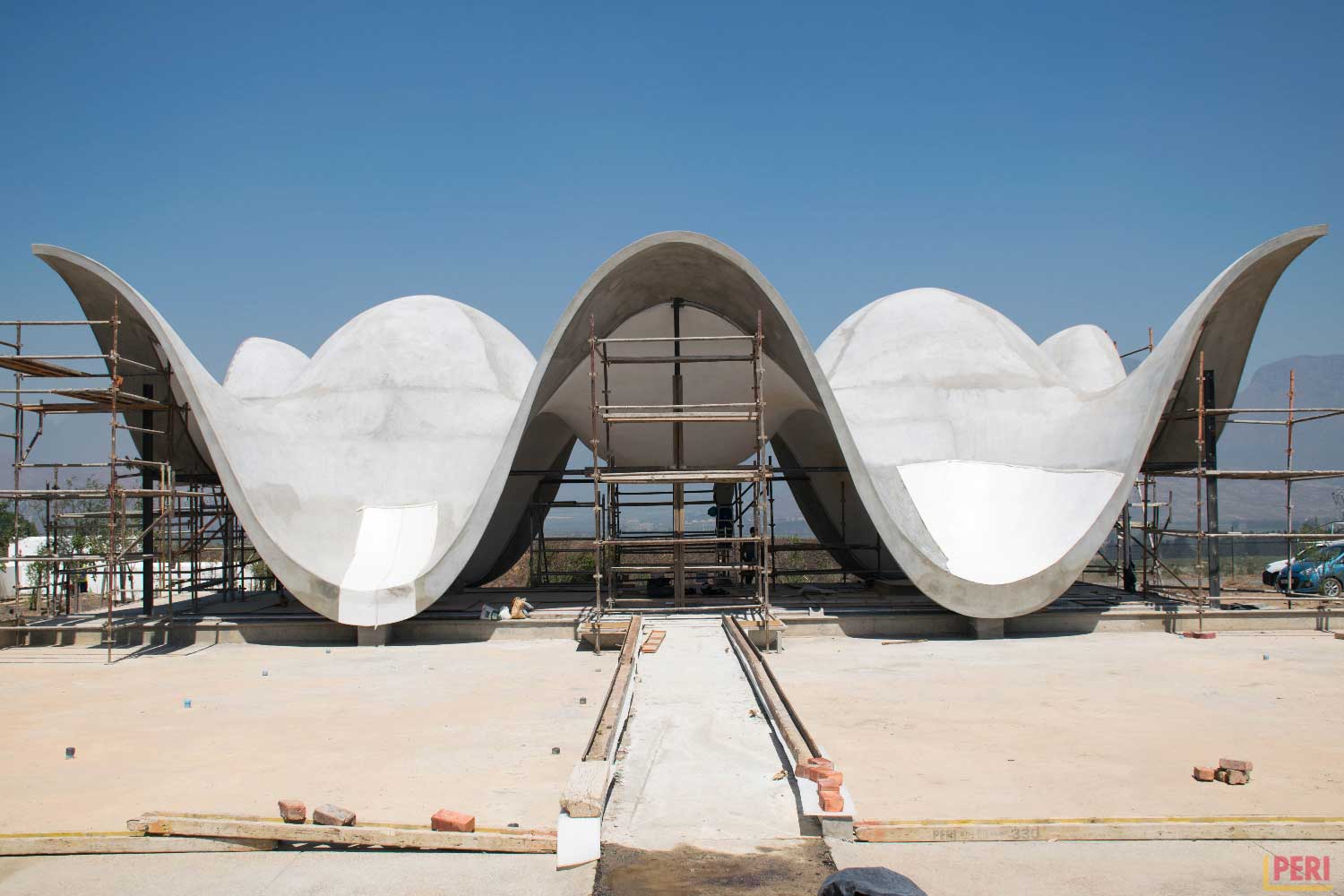 Although Sika MonoTop-620 provides an easy, user-friendly application, the highly technical application required for the chapel roof necessitated contracting Willy Bodenham of specialist contractor, Able Sealing. The challenge was to gain suitable access to the steep sloping curves so that an optimum finish could be achieved. Scaffolding was strategically assembled to almost 'float' above the structure thereby allowing application onto the many difficult-to-access areas.
No training was necessary for the easy, user-friendly application of the system that was skimmed and trowel-applied at 1.5mm to 5mm in thickness. Upon completion of the project, 350 x 25kg bags of Sika MonoTop-620 were used on the roof known as the Bosjes Worcester egg crate roof. A combination of input from Sika and the architect together with the skills and expertise of the contractor resulted in an outstanding smooth and seamless finish being achieved.
Surrounded by mountains and elevated on a plinth, the Bosjes Chapel with its spectacularly curved and flowing roof designed to pay tribute to the historic Cape Dutch gables of the area, will undoubtedly form a dramatic backdrop for many future weddings and special occasions.