Sikalastic-560 is a hybrid, economical and eco-friendly liquid applied waterproofing solution based on Sika Co-elastic technology (CET). This durable and versatile product is suitable for new construction and refurbishments on roofs.
Sika's Co-elastic technology combines the high performance of polyurethane dispersion with the well-known properties of an acrylic. This technology offers an overall improved performance compared to conventional acrylic dispersion. The product has higher elastic and crack bridging properties as well as colour stability for rooftop applications. Additional advantages include product durability and faster drying times, as well as several environmentally friendly components (see under Environmental).
Sikalastic-560 can be used for exposed waterproofing on roofs (non-walkable) and for external waterproofing under tiles (such as on balconies), and is also suitable for horizontal and vertical surfaces (walls). Sikalastic-560 is ideal for either new construction or refurbishment on roofs on both commercial and residential buildings.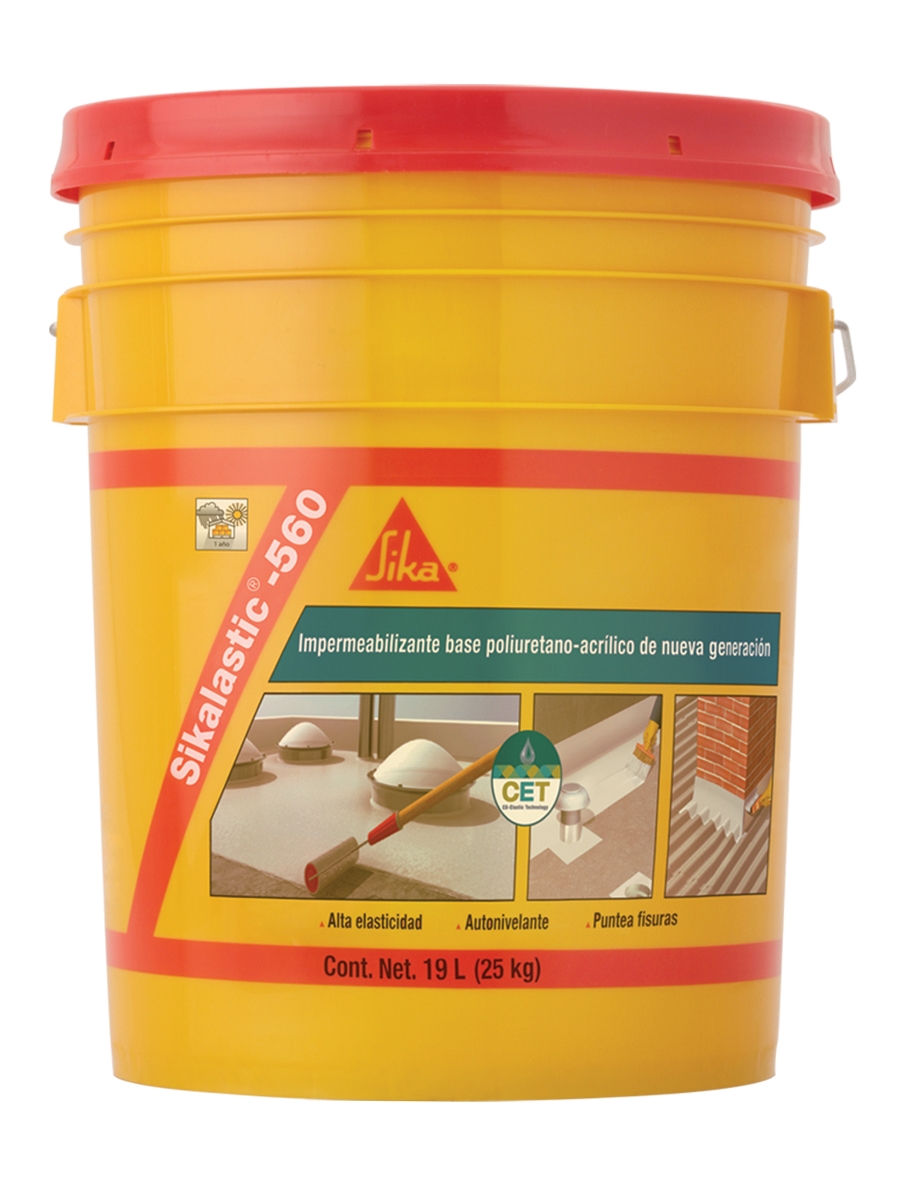 Ideal applications:
Waterproofing of new roofs – easy and safe
Refurbishment – for the life-cycle extension of old walkable roofs use Sikalastic membrane as reinforcement over specific substrates with high movements.
Various colours – white can be used as a reflective roof coating to enhance energy efficiency by reducing cooling costs. Use Sikalastic membrane as reinforcement on overlaps and joints.
Roofing – for roofs with many details and complex geometries, use Sikalastic membrane as reinforcement for detailing.
Characteristics:
Highly elastic & crack bridging results in no leaks.
Resistant to weathering so increases life expectancy.
Resistant to UV and Yellowing, which means no colour changing or chalking as well as reducing dirt pick up, even at high temperatures.
Completely seamless fully bonded system which reduces the risk of leaks that would result from failures of overlaps.
Water vapour permeable allowing the building to breathe.
Excellent adhesion on porous and non-porous substrates and also on bituminous products – one product for different solutions.
Fast drying – rain-resistant after 4 hours.
Different life expectations according to the customers needs.
Environmental:
Very low odour/ VOC free (Volatile Organic Compound).
Comfortable installation for user.
Usable in sensitive buildings such as hospitals and schools, air siphoning for ventilations and air conditioner etc.
1-component- ready to use.
Ecological, better for nature.
Tools can be easily cleaned with water.
Substrates
Sikalastic-560 can be applied to concrete, mortar, brick & stone, fibre cement, roof tiles, roofing felt, bituminous sheets and coatings, metal, wood, and tiles.
Substrates must be dry.