What's a perfect kitchen without a perfect sink? Franke understands how important sinks are to the overall flow and function of your kitchen. And that's why we offer a wide selection of sinks that come in a range of different materials. So you can enjoy your sink for years to come.
Premium quality and a perfect fit
From top-quality materials to exquisite craftsmanship, our sinks give you the quality you deserve. But what makes our sinks even more wonderful is the fact that we work with you to make sure you select the perfect sink for your home. How often do you cook? How much space do you have? How many people live in your home? This is the sort of detail we go into to ensure you find a sink that you'll love.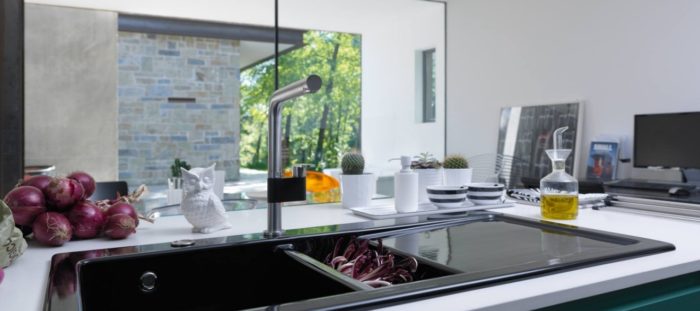 What makes a great sink?
It's when the right materials combine with the right features to perfectly match exactly what you want to do in your kitchen. Another factor is how easy the sink is to install. Discover how we bring all of these components together to create better sinks for you.
Materials
Each of our materials offers its own unique benefits. Whether you want durable steel or natural granite, you simply can't go wrong.
Stainless steel – a classic material that handles any temperature, is very hygienic and offers a timeless aesthetic
Fragranite – beautiful and durable. Handles heat and prevents bacterial growth.
Versions and dimensions
We offer our sinks in a variety of dimensions and configurations. Whether you want a single, double or triple bowl sink, we have a sink solution for every kitchen.
Advanced Waste Systems from the stainless steel basket strainer to low-profile waste kits that free up extra cupboard space.
Deeper stainless steel bowls made without any compromise to their strength.
Heat & sound insulation to reduce the sound of water running into the bowl and keep the water warmer for longer.
Push-button pop up waste – pop-up waste lets you empty the bowl without putting your hands into a sink full of dirty water.
Installation
With flexible installation options available, you'll be using your new sink before you know it.

Inset Sink Installation
This classic method of installation involves your sink being installed from above into a pre-prepared hole in your worktop.
It gives you the widest range of sink shapes, sizes and styles to choose from, so you can be sure that there is an inset style sink to suit your kitchen.
Undermount Sink Installation
Particularly pleasing when combined with granite, wood or solid surface worktops, undermount sinks allow for smooth, uninterrupted surfaces. Fitted underneath the work surface, it gives an edgeless finish that is easy to clean and is perfectly integrated into the kitchen environment.
Slimtop Sink Installation
The Slimtop design is installed just the same way as a traditional inset sink. Due to the slim profile of the ledge, it will have only a slightly elevated transition from the worktop to the sink.
Flushmount Sink Installation
The Flushmount design is very similar to the slim top profile with the difference of having the ledge even with the worktop. To achieve this, the worktop has to be milled out with the size of the ledge. The sink is installed so to cover the milled part. The two materials (sink and worktop) will meet at the same height.
To get a quote, please fill in the form below.