How a retail space makes you feel, in terms of comfort, has a surprising effect on how you spend and what you spend, and space designers are using this knowledge to create an environment that will maximise your experience.  
Noise and sound control in retail environments pose many challenges. Therefore, each application in retail buildings requires specific acoustic properties to prevent sound problems and create a comfortable environment for shoppers and workers. While many retailers invest in the physical design, fit-out and renovations of their stores, they also need to keep up with the reality of ever-changing technology whereby shoppers are increasingly shopping online.
With the continuing rise of online shopping and a shift in customer shopping behavior, retailers are having make adjustments taking the comfort of shoppers into account. This can include improving the acoustic properties of the shopping area and, in so doing, making the shopping experience more enjoyable for them. While visual aesthetics are usually the priority, acoustic performance plays a crucial and integral part in the creation of retail spaces. A well-designed ceiling enhances the way an outlet looks, feels and sounds, which can have a positive effect on occupant performance within that space.
Another consideration retail designers have taken into account, is that spaces now rarely have a single use but must be multi-functional, with several activities co-existing. Therefore, retailers should turn to the power of acoustics to create and reinforce their brand, keeping customers in-store for longer and influencing sales. Taking these elements into account will motivate shop-floor employees as well.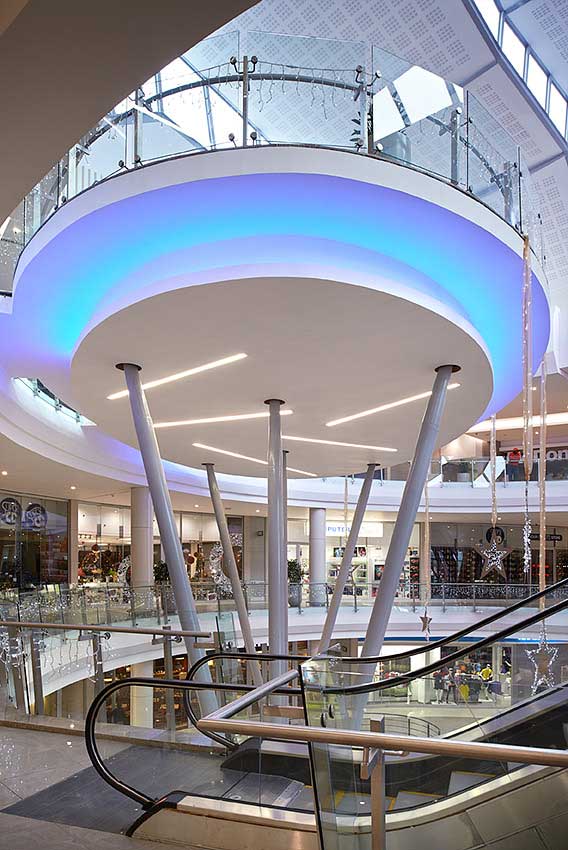 Saint-Gobain Gyproc acoustic ceiling solutions address the need for acoustic control in the design of retail spaces; which enhances comfort and increases the customer shopping experience. Gyproc's Gyptone® and Rigitone® ceiling products benefit from the natural properties of gypsum, a 100% recyclable material. Gypsum has inherent fire resistance properties and long-term robustness. It contains no environmentally hazardous or toxic substances, making it the truly natural choice for a sustainable building material. These acoustic products are intended to create a visually appealing aesthetic design and enhance acoustic control, due to unique environmental properties which result in excellent performance and durability.
For customers, noise and poor acoustics in the retail environment can be distracting and tiring – and the only thing a distracted, weary customer is going to do is switch off and head for the exit which is not the desired effect. Music, the sounds of foot traffic or road noise, loud customers, or even construction next door can distract customers
Music has a profound effect on those hearing it.1 It has the power to create and influence moods and emotions, alleviate boredom, facilitate concentration and motivation, and, according to DeNora (2000), to act as a force for social ordering as well as action, both at the level of the individual and collective. Music plays an important role in consumerism, not just the multi-million-rand industry it represents in its own right, but the increasing use of it in shops, bars, and restaurants, where it is intended to have beneficial effects on customers and their likelihood to spend. Consumer behaviour does appear to be manipulated and influenced by the presence of music. This is a recognised finding in early research in the area and has become an established "known" in the retail trade. For example, Gardner's (1985) review of the effect of mood on consumer behaviour found that music was a major influence for changes in buying behaviour. The ubiquitous use of music in retail outlets, restaurants, and bars would seem to indicate to an observer that the public appears to accept the presence of music, and that retailers recognised its use is required.
What's more is the current trend of video screens supplementing the in-store audio mix which is added distraction. Customers who have come into the store to lodge a complaint are already experiencing increased levels of stress and aggression, therefore noise and poor acoustics are more likely to intensify these feelings than alleviate them, making it harder for staff to resolve the situation to the customer's satisfaction.
For staff, it's not just how the customer reacts to sound that is important in running a successful retail store. While their priorities are different, staff are exposed to the good or bad acoustics of the store in which they work for much longer periods than a customer and can potentially have increased levels of discomfort. Staff on the shop floor are the public face of the retail company and will have varying duties depending on their level of seniority. However, they may well be required to interact with customers, take payment for purchases, carry out stock control, answer the phone and resolve complaints. Their concentration and efficiency at performing these functions can all be affected by the soundscape of the store they're working in.
Building services noise and the ever-developing multi-sensory retail experience suggest that in-store noise will continue to be a major factor for consideration when designing and fitting out a retail space. Retailers can work to improve the acoustics of their premises by seeking solutions that absorb reverberation.
Whether you're an Architect, Contractor or Project manager, Saint-Gobain Gyproc understands how crucial it is that your ceiling design is the best possible solution for the space you wish to create.
No matter how big or small a space is, Saint-Gobain Gyproc is committed to providing a tailored range of sustainable ceiling products that provide the perfect solution for the commercial and retail sectors. The systems give you virtually unlimited options for all applications, creating visually inspiring spaces with excellent acoustic performance, giving your customers the best possible environment for shopping, and providing your sales or service staff the best environment to engage with your customers.
To find out more about Saint-Gobain Gyproc solutions for the retail sector, contact our customer service centre on 0860 272 829 or visit www.gyproc.co.za
Gavin, Helen (2006) Intrusive music: The perception of everyday music explored by diaries.
acoustic ceilings
noise control
Rigitone
Saint-Gobain Gyproc
sound control