McDonald's creates the world's smallest McDonalds – McHives, aim to raise awareness about the world's decreasing bee populations.
The popular fast food eatery in Sweden is expanding to meet the needs of tiny clients that provide so much to the environment – honey bees. Sweden is currently running a country-wide initiative to raise awareness about the world's dwindling bee population.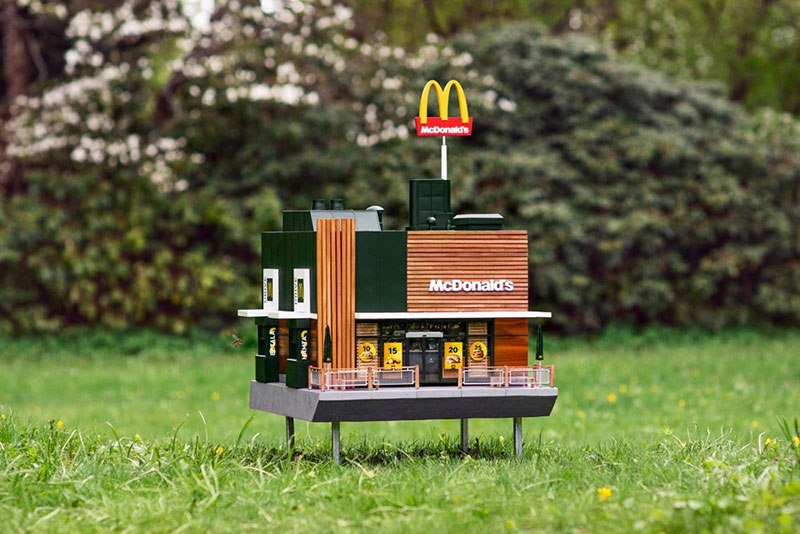 McDonald's franchises in Sweden are installing fully-functional beehives, known as McHives, on their rooftops and also planted bee-friendly gardens to give the bees a good supply of flowers.
Bee colonies are at a higher risk than ever before due to the overuse of pesticides, gas emissions, intensive farming practices and parasites from introduced species.
The creative agency NORD DDB, started the McHive initiative last year when McDonald's franchise owner, Christina Richter, decided to place a small beehive on the restaurant's rooftop. Now, in collaboration with McDonald's sustainability office in Sweden, additional franchise owners have decided to follow Richter's lead and install the 16-inch hives on their own roofs.
The innovative beehives were designed and built by award-winning set designer Nicklas Nilsson. Built to scale, the beekeeping box hives are remarkable in their realistic appearance, complete with the restaurant's signature Golden Arches.
Bees enter the structure through the main entrance and can even enjoy outdoor seating, or if they're really in a hurry, they can swing by the mini drive-thru.
There are currently five franchises with McHives on their roofs throughout the country, the first hive was recently auctioned for charity, raising more than $10,000 dollars for the Ronald McDonald House.
Christoffer Rönnblad, Marketing director of McDonald's Sweden, explained that the company was thrilled to join forces with the individual franchises in the name of sustainability. "We have a lot of really devoted franchisees who contribute to our sustainability work, and it feels good that we can use our size to amplify such a great idea as beehives on the rooftops," Rönnblad said. "This miniature McDonald's is a tribute to franchisee Christina Richter's initiative."