"Across the Board" is PG Bison's product and design catalogue which has recently been issued to all Specifile subscribers. Divided into three sections, "Across the Board's" first section offers a synopsis of who PG Bison is and what they do, while the second section provides a general guide to their panel and laminate product range. The third section presents PG Bison's extensive colour and design range in full colour life-size images.
Featured here is PG Bison's locally manufactured solid surfacing material, Surrino. Surinno Solid Surfacing is available in either flat sheets or moulded products. Offering a non-porous and hygienic surface, Surinno is also stain and chemical resistant. As a result of its solid, homogeneous structure, the appearance of Surinno will retain its original beauty for many years, requiring minimum maintenance.
High quality Surinno flat sheets provide fabricators the versatility of forming them into customised three-dimensional shapes. Using inconspicuous "seamless" joints to give the impression of solid, one-piece units adds to the product's hygienic appeal, as it provides no joints or gaps in which bacteria can flourish. The fabrications are mechanically finished to any surface texture. As it is a renewable product, it can be repaired and re-finished, should it show signs of wear and tear.
A Surinno worktop offers the choice of integrated sinks, splash backs, spill proof rims, integrated hob bars, draining board inlays and much more. Surfaces damaged through exposure to excessive heat can be repaired to their original look, as the colour and pattern runs through the entire thickness of the product.
Inlaying patterns, even corporate logos, provides another versatile aspect to this product, adding greatly to its aesthetic appeal.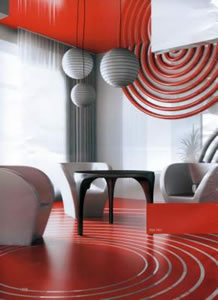 Surinno Solid Surfacing supplies a range of fully integrated bowls and basins to add a new dimension of shape and design to kitchens and bathrooms. They are specially moulded to be utilised in combination with Surinno flat sheet material. Integrated designs are achieved by means of under-mounting bowls to work surfaces, eliminating rims and edges which trap dirt and water, therefore requiring less cleaning than an ordinary sink or basin. This also adds to the longevity of the product as the seamless join protects against moisture ingress and potential damage. These bowls are available in various sizes in 4 plain colours: Glacier, Perlemoen, Eggshell and Dawn Grey. Surinno also offers a variety of custom moulded products such as vanities and shower trays.
Surinno Solid Surfacing is typically used in, but not limited to, the following applications:
Counter tops
Nurses' stations
Reception counters
Check-in counters
Vanities
Bumper rails
Window sills
Laboratories
Restaurant table tops