Enamelled steel panels tested for fire resistance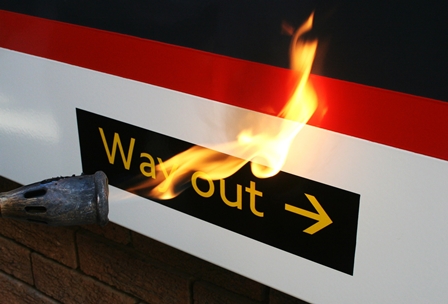 Vitraclad vitreous enamelled steel cladding panels manufactured by Vitrex have passed stringent fire tests with flying colours.
The company recently submitted a set of 13mm thick Vitraclad sample panels to Firelab in Pretoria for an assessment of their fire-resistant properties. The light gauge panels tested had a 0.7mm Vitraclad facing, 12mm thick calcium silicate core, and a 0.5mm galvanised mild steel backing.
Cristian Cottino, sales and marketing director for Vitrex, says the panels were tested in terms of: combustibility of building materials at 750?
C (SANS 10177 Part 5); surface fire index of finishing materials (SANS 10177 Part 3); and toxic levels of combustion gases (Naval Engineering Standards NES 731).
Firelab concluded: "The product evaluated would be regarded as non-combustible. The results of the SANS 10177-3 evaluation confirm that the system does not promote flame spread as classified for Class 1 which can be used in any location as a finishing material. The toxicity of the smoke, as determined in the NES 731 test, is very low. The Vitraclad product can therefore be used in all locations as a finishing material from a surface fire properties point of view."
Cottino says, "At Vitrex we felt it was important to obtain an independent evaluation of the Vitraclad panels, covering aspects such as heat and fire resistance, and resistance to thermal shock. Vitraclad has always been a product of choice where fire considerations are important, such as in underground stations, oil rig installations and vehicular tunnels. The results of the tests again confirmed the product's status.
"We decided to submit light gauge Vitraclad panels for testing because the results could then be extrapolated to the company's heavy gauge panels in which the enamel steel facing is increased to 1.5mm," he adds.
The full test report by Firelab is available as a download from the Vitrex website.
cladding
enamelled steel cladding
fire safety and protection
fire-resistant cladding materials
Firelab tests
SANS 10177