Ultra steel roofing for Cape Town harbour depot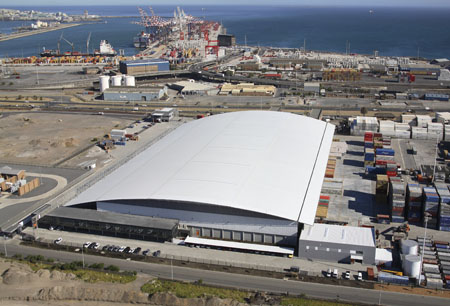 Clean Colorbond Ultra steel, from multinational coated steel roofing material supplier BlueScope Steel, was used recently in the finishing of the new South African Container Depot (SACD) at Cape Town harbour. With the worldwide swing to sustainable building practices, roofing systems should provide the owner with optimum levels of performance and lifespan.
BlueScope Steel defines sustainable – in respect of roofing systems – as: providing long life and being ultimately recyclable, using less material in the coating (a lower coating mass) but delivering better performance, and being heat reflective and thermally efficient. The product used on the SACD in Cape Town was pre-painted white – a colour that maximises the infrared reflective performance of the roof. As South Africa embraces green building, BlueScope Steel believes we can ill afford the ongoing cost of maintaining and replacing roofs that should give many years of service – provided that the materials used meet architects' and manufacturers' specifications. Head of the Southern Africa arm of the company, Wayne Miller, urges developers, project managers and architects to monitor what is happening on site. "Ensure that the materials used are the same as those specified," he says. "You will be doing the client a great service in the long run and making a contribution to sustainable building methods."
Under harsh climatic conditions, especially within the five-kilometre zone from the sea, Miller recommends the use of only premium grades of alloy-coated steel, such as Zincalume, and pre-painted steel, such as Clean Colorbond™. These products are manufactured with an AZ150 coating (55% aluminium, 43.5% zinc and 1.5% silicon). "They can also be used in less corrosive environments to gain much longer service life," he says. "If the project is within 100 to 400 metres of the water, we advise the use of Clean Colorbond Ultra – as in the case of the new SA Container Depot. This product has an AZ200 coating, that is, a coating with a mass of 200 g/m2 over the steel substrate. It is also recommended for projects in severe industrial environments where there are aggressive fumes or particulate fallout within a 200-metre radius."
Miller points out that the high performance paint system on Clean Colorbond incorporates additional sustainability features such as high reflection of solar radiation, exceptional colour retention, anti-chalking and dirt resistance. "Correctly applied, our product should give a lifespan up to four times longer than the standard galvanised steel," he says. BlueScope Steel's products are covered by a manufacturer's warranty of performance when correctly used. Miller says it's important for the project manager or designer to contact the BlueScope Steel office before laying the roof because the warranty is subject to terms and conditions – in the clients' own interests.
"Look for our product on site," he advises. "With products such as Clean Colorbond steel, Zincalume steel and TrueCore steel, each component is uniquely branded on the undersurface, to avoid any confusion."
alloy-coated steel roofing
anti-corrosive steel roofing
coated steel roofing
heat reflective steel roofing
roofing and cladding
steel roofing
steel roofing in coastal environments