Roll-Up Serranda provides roller shutters to suit any conditions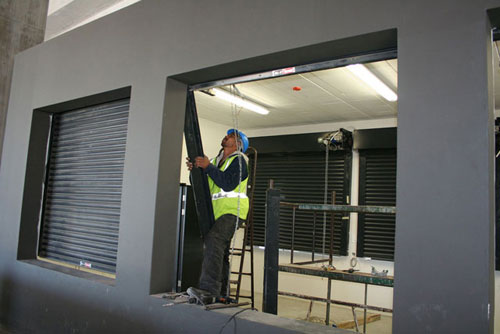 "The infrastructural projects currently being completed around South Africa, many of them for the Soccer World Cup, have given us an opportunity to showcase our product range and specialised services." We design, manufacture and install roller shutters that vary in function and style from simple utility steel security doors to high-end aluminium designs with aesthetic appeal to doors developed for extreme conditions such as fire protection or harsh coastal conditions.
Reliable contractor doors
Many of the projects have required 'work-horse' roller shutters, usually plain galvanised steel slatted designs that are expected to perform reliably at high frequency operating rates. These have ranged in size from small counter closures for food outlets to far larger openings for industrial workshops. One of the major advantages of roller shutters is that they can be automated, making them quick and easy to open and close and ideal when speed is crucial, such as when security is paramount.
These roller shutters have been installed at most of the airports around the country, currently being upgraded due to the expected influx of visitors next year. They can be found in retail outlets, delivery areas, baggage handling areas and in any area requiring security such as the conveyor systems.
"We can vary the curtain styles, combining plain steel slats with a section of perforated slats if visibility or ventilation is required."
Attractive architect designs
Where appearance is more important, such as retail outlets in shopping centres, specificators usually select designs from Roll-Up Serranda's range of perforated patterns in both steel and aluminium. These roller shutters can be powder coated to suit the building's finishes or the chain's corporate colours and can satisfy specific requirements such as air circulation, high visibility or no visibility at all.
Increasingly, our customers are using LED lighting inside their shops and this creates very interesting and attractive effects through our punched roller shutter designs after hours when the doors are closed. We're finding an increasing market for these roller shutters in the domestic arena too, particularly up-market homes where the owners travel frequently and want to lock their homes as securely as possible.
Apart from just looking good, roller shutters are the 'front door' of choice for retail outlets because they fulfil the dual functions of closing up the shop's entrance after hours as well as providing protection from theft and vandalism. During opening hours roller shutters roll up out of the way into a bulkhead, while at night they slide down to act as 'walls' to the shop, protecting stock.
Special doors for special conditions
Roll-Up Serranda's specialised doors are often developed in conjunction with a client's unique requirements. The Green Point Stadium, for example, required fire rated doors that could be linked to the fire detection system through the electronic control centre.
These doors close with a controlled descent in the event of an emergency, avoiding accidents and complying with the stringent health and safety requirements of this project. To date 180 doors have been supplied to the stadium through Roll-Up Serranda's Cape Town distributors, Hulsman Doors, now part of the company's new branch in the Mother City.
Tough weather conditions were the challenge for Roll-Up Serranda's Port Elizabeth distributor, franchise owner Mitchell Harrington of Cape Garage Doors, who installed specially designed wind and corrosion resistant roller shutters up to 5m high to a number of the workshops and commercial buildings at the Coega Industrial Development Zone.
The curtains of all large doors are in danger of acting as 'sails' in excessive winds, often blowing out of the frame and causing massive damage, even deaths. Roll-Up Serranda's unique roller shutter design with wind locks prevent the slats from pulling out of the guides, even under these conditions.
Guidelines to choosing roller shutters
Custom made roller shutters are designed to best suit the application. Roll-Up Serranda takes into consideration risk factors, usage frequency, location, type of operation, visibility and accessibility when recommending a product.
Retail and chain stores may require a choice of key holder options for the various managers.Roll-Up Serranda is happy to discuss the available options.
Automated roller shutters are quick and easy to open and close so staff don't struggle to operate them under pressure. This is an important consideration bearing in mind the number of shopping malls falling victim to violent crime.
Roller shutters can be electrically operated by remote control and linked to the alarm system, providing convenient integrated security. Settings can include automatic closing if the alarm goes off or opening them as an escape route should the fire alarm be activated.
Roller shutters that are exposed to the elements and other dangers are treated differently. One needs to look at tampering factors, weather conditions and ease of operation. Roll-Up Serranda manufactures roller shutters that can withstand extreme coastal winds, seal the premises if fire breaks out, protect against petrol bomb attack or gas leaks, cope with high frequency operation and/or be linked into sophisticated security systems.
Roll-Up Serranda has been manufacturing roller shutters for over 50 years, so we have a wealth of experience to share with clients. We have a network of consultants who are trained to specify the best products to suit individual requirements and provide reliable back-up service. We welcome challenges and are always willing to assist in the planning stage of a building so that our doors provide the best solution to clients' requirements.