Road rehabilitation on the N12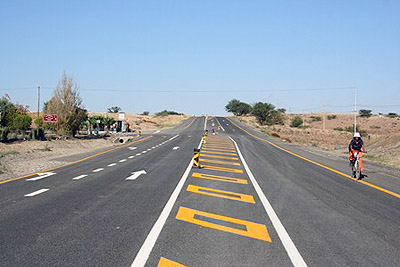 Colas SA www.colas.co.za supplied some 3 million litres of Colflex S, an elastomeric polymer modified binder, for all the reseal work that formed part of the road rehabilitation project on the N12 between Kimberley and Hopetown.
This national highway passes through the Northern Cape, close to the Free State border. A previous lack of appropriately timed periodic maintenance had resulted in crocodile cracking, pumping and rutting of the road surface. The required rehabilitation and reseal over 118km of the highway began in June last year and was completed after just more than a year's work in July 2010.
The South African National Roads Agency Limited (SANRAL) www.nra.co.za appointed consulting engineers, Aurecon www.aurecongroup.com and Tau Pele Construction was the appointed contractor for the project. The broad scope of work called for various pre-treatments of the existing surface and an appropriate bituminous surfacing seal.
Gordon Robertson of Aurecon says, "The existing surface types and condition varied greatly, with predominant distresses being bleeding and, to a lesser extent, ravelling and surface delamination."
The pre-treatment and intermediate remedial work included: light rehabilitation or in-situ stabilisation of the base layer; patching and crack sealing; asphalt inlays; and slurry surface texture correction, before the final reseal work was done.
For the final wearing course, various chip seal combinations were applied to different sections of the road, using Colflex S throughout as it met the specification for an S-E2 type modified binder. To ensure effective adhesion between the stone and the binder, Colflex S is heated to 180°C before being applied to the road at an ambient temperature of 25°C or above.
Colflex S offers excellent elastic recovery and a high softening point, so the seal will be less susceptible to reflective cracking and bleeding under heavy traffic at the expected high in-service road temperatures. This means the rehabilitated road surface should deliver a longer life in-service, targeted at 10 years.
infrastructure development
polymer modified bitumen technologies in road construction
road construction
road maintenance and repairs
road rehabilitation