A previously underrated aspect in décor, lighting is now getting worthwhile recognition for its functional and aesthetic impact on design. To showcase the diverse nature of interior and exterior lighting, Decorex Durban has brought in leading lighting suppliers, Springlights, who will be putting together an illuminating feature at this year's show, taking place at the Durban Exhibition Centre from 21 to 24 March.
"All décor elements are essentially reliant on the installation of ideal lighting solutions, but often we realise this too late in the design process," explained Sian Cullingworth, Portfolio Director at Reed Exhibitions. "Various elements such as natural light, paint colour and the direction of the property will drastically impact the lighting requirements for a particular space. Modern lighting solutions are incredibly dynamic and exciting, but it can be quite overwhelming knowing what will work and where. Visitors to Decorex Durban will benefit by interacting with experts from Springlights and taking a walk through this year's feature – Lighting Project by Springlights."
Hayden Dowdall of Springlights has shared some of the leading lighting trends you can expect from the innovative Decorex Durban feature – Lighting Project by Springlights.
1. Organic Lighting
As smart appliances and smart homes gain popularity, we're looking for some connection with nature through our décor. When it comes to lighting, the organic option is the ultimate solution. There are now handmade shades, natural textures and a range of earthy tones to give off a warm light.
  2. Orbital Lighting
Circular shapes are trending in décor, and lighting is leading the way with orbital lighting. These popular lighting fixtures boast a modern look and feel and can be used in a combination of glass and metal.
 3. Hanging Vintage Lights
Finding its place in restaurants and cafes, the hanging vintage bulbs create a soft, warm ambience with just a hint of nostalgia. Available in a range of shapes and sizes, the cables connected to these bulbs can be wrapped around a piece of wood for a more organic feel. The bulbs are also available in an LED option which uses less electricity and emits less heat.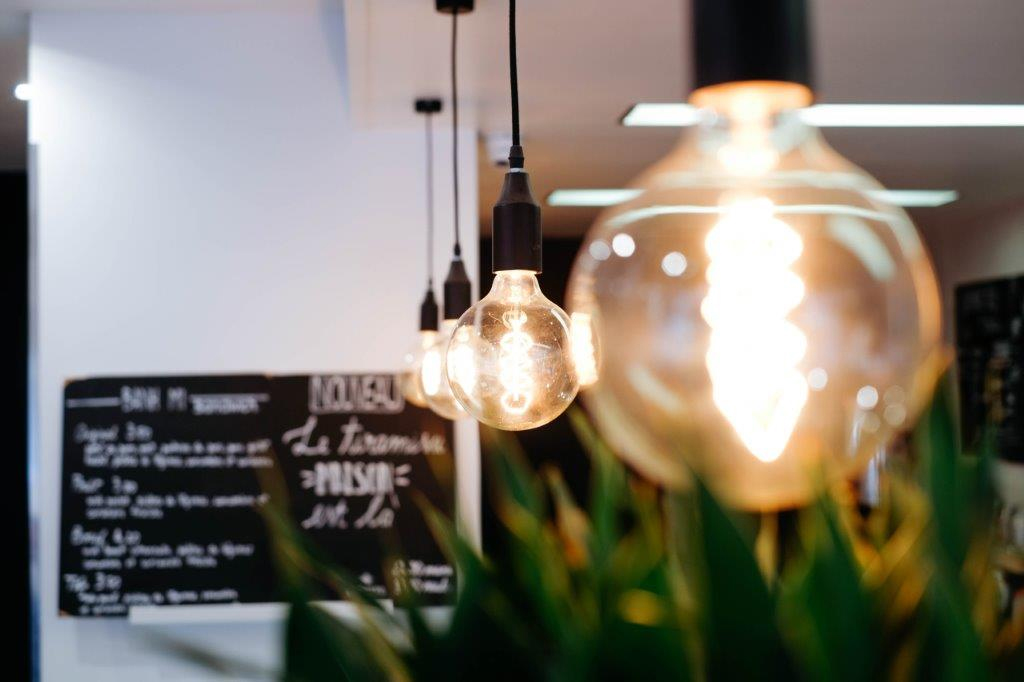 4. Bedside Pendants
A space-saving lighting trend is the use of bedside pendants instead of lamps on the bedside table. This can be a single pendant or several at different lengths for a more eclectic style. This not only frees up space but also means you don't have to worry about knocking over your table lamp.
5. LED filament-style globe
The most energy-efficient lighting technology is LED (light-emitting diode) – perfect for residential, commercial or industrial purposes. The creation of a filament-style globe, which is dimmable, has made LED a much more popular option for restaurants as the lighting creates a warm ambience. 
From LED and hanging lights to pendants and vintage lighting, the Lighting Project by Springlights will highlight all the possible lighting solutions for any décor requirement. Chat to experts from Springlights about which products will best illuminate décor pieces and rooms, both for aesthetics and functionality.
 Alongside this bright feature is a range of dynamic décor installations, including:
•                 The Playroom Children's Decor Project
•                 Decorex Urban Living Trend House with SHF
•                 #withlovefromdecorex with Ashley Furniture Homestore
•                 Instudio Trend Theatre by ABSA
•                 The Bathroom Project
•                 Bedroom Project
•                 Decorex International
•                 Wine & Bubbly Bar furnished by Homewood
•                 Gourmet Cooking Theatre by KitchenCo
•                 Rummery
•                 Gin Garden
•                 The Illy Experience
•                 Mint Treat Café
•                 Fudart StrEATARY
•                 The Library by EFAM
DECOREX SA 2019 DETAILS
Decorex Durban
21 – 24 March 2019
Friday 10am – 8pm
Thursday, Saturday & Sunday 10am – 6pm
Durban Exhibition Centre
Trade-focused day: 22 March 2019
Ticket Prices:      Adults – R95
                           Student/Pensioners – R85
                           Kids U12 – R20
                           Trade – R85
                           Exhibitor – R85
Decorex Cape Town
1 – 5 May 2019
10am – 6pm daily
Cape Town International Convention Centre
Trade-focused day: 2 – 3 May 2019
Ticket Prices:      Adults – R110
                           Student/Pensioners – R100
                           Kids U12 – R20
                           Trade – R100
                           Exhibitor – R100
Decorex Joburg
7 – 11 August 2019
10am – 6pm daily
Gallagher Convention Centre
Public holiday: 9 August
Trade-focused days: 7 – 8 August 2019
Ticket Prices:      Adults – R120
                           Student/Pensioners – R100
                           Kids U12 – R20
                           Trade – R100
                           Exhibitor – R100
For more information, email decorexinfo@reedexpoafrica.co.za
Visit: www.decorex.co.za         
Facebook: Decorex SA
Twitter: @decorexSA  
Instagram: @decorex_sa
LinkedIn: Decorex SA