Energy-saving industrial lighting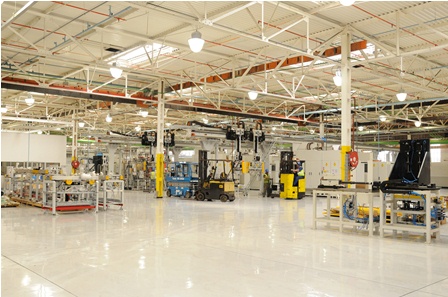 Ford Motor Company South Africa (FMCSA) has selected luminaires of the highest quality for lighting at its engine plant in Struandale, Port Elizabeth.
A total of 504 Versabeam 400W metal halide high-bay luminaires, manufactured by international lighting specialists GE Lighting http://www.gelighting.com/na/ of Europe and supplied locally by Actom Electrical Products www.actom.co.za, have been installed in the refurbished and new sections of the engine plant. This installation is in line with the practice of Ford Motor Company in the United States, the local company's principal, which uses this product exclusively in its US factories because of its superior characteristics over other fittings on offer.
Prior to the order being placed with Actom Electrical Products in October 2009, FMCSA http://www.ford.co.za conducted comparative tests on the Versabeam and a selection of alternative high-bay luminaires to confirm the Versabeam's superior lighting, durability and safety features. The tests included photometrics and thermal imaging using infrared photographs to check lighting efficiency and thermal management within the control gear and lamp compartments.
Neil Stander, the company's manufacturing engineering manager, said, "In all aspects the Versabeam proved to be far superior to the others, fully justifying its premium pricing. It offers exceptional light control, excellent illumination and no glare. It is also by far the coolest running luminaire among all those that we tested."
Jack Carne, Actom Electrical Products marketing specialist for lighting products, pointed out further features of the Versabeam. "The combination of reflection and refraction prisms in the acrylic diffuser results in optimal control of light and guarantees a high level of efficiency and illumination of vertical surfaces with great visual comfort due to minimal glare. The Versabeam is designed to focus all useable light onto the floor area and disperse the light as evenly as possible to ensure that there aren't light and dark spots.
"The enclosed design of the Versabeam makes it suitable for use in damp environments and areas with high dust levels. In addition, Ford has selected the best available IP seal for the lamp compartment, ensuring maximum protection against ingress of dust as well as against moisture, including splashing and direct water spray.
"Another important characteristic of the Versabeam which contributes to its reliability and long life is that its large die-cast aluminium control box acts as an efficient heat sink, drawing the heat from source and emitting it to atmosphere," Carne concluded.
Actom Electrical Products represents the Actom group nationally and supplies and supports a range of other electrical products in addition to many produced by group companies. It has an extensive distribution network with 11 branches located around South Africa.
electrical products
energy-saving lighting
industrial lighting
lighting