Kaytech drainage solutions for domestic basement garage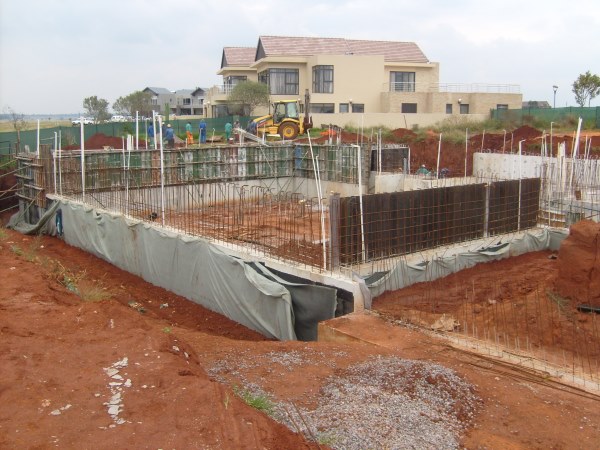 Construction of underground premises can be tricky when there is excess subsurface water.  Kaytech's Flo-Drain provides a purpose-made, cost-effective solution to this type of subsoil drainage situation. 
This problem presented itself when a basement garage was under construction for a Kempton Park home owner's private car collection. On excavating the site, ground water was exposed that needed to be collected and drained in a controlled manner. 
Merely waterproofing the basement walls would not suffice and a subsurface drain would be necessary.  Main contractor Greenstone Civils opted for Kaytech's  Flo-Drain as opposed to a conventional stone drain as this provides the added benefit of protecting the waterproofing. 
Flo-Drain is a prefabricated geocomposite comprising a Flownet geospacer wrapped in a bidim* filter jacket, into which a Geopipe is easily inserted. The 70% open area of the Geopipe allows for a significant increase in the infiltration rate of water into the pipes. The pipe accommodates high-localised flows and as a result this high infiltration capacity allows for a smaller diameter Geopipe to be used.  The Geopipe is ideally suited to fin drains like Flo-Drain as there is the added benefit of reducing the cost of the system; the high infiltration capacity of Geopipe reduces the need for the pipe to be totally surrounded by the Flownet core. 
Flo-Drain is easy to install, lightweight and flexible enough for use in confined spaces. The cost benefits of Flo-Drain are significant in comparison to aggregate drainage systems in terms of materials, transport and installation. There is less excavation required and following the Flo-Drain installation, the excavated material can be used as backfill and then compacted. 
This domestic installation of 150m of 2m high Flo-Drain  took just one day, once the walls were waterproofed, one of the key reasons the contractor used Flo-Drain. The ease of installation helped save on labour costs, another consideration for the construction industry.  
*Bidim is made from 100% rPET (recycled polyester). "Kaytech continues to provide innovative, engineering solutions using recycled PET (rPET) in their products. By doing so they support the recycling sector by assuring an end use market for rPET in South Africa" said Cheri Scholtz, CEO of PETCO, the industry body for recycling of PET plastic in South Africa. "We appreciate Kaytech's ongoing support and their pioneering approach to developing their product range further- using rPET as a vital technical nutrient in their product and showing that plastic bottles are not trash", she added.
Flo-Drain
Kaytech
subsoil drainage
waterproofing