Gravity drainage means the flat roof is drained via drains using an inclined pipe system. The pipes are partly filled with water. The maximum filling level may not be exceeded: h/d=0.7 for collecting and mains pipes and f=0.33 for downpipes.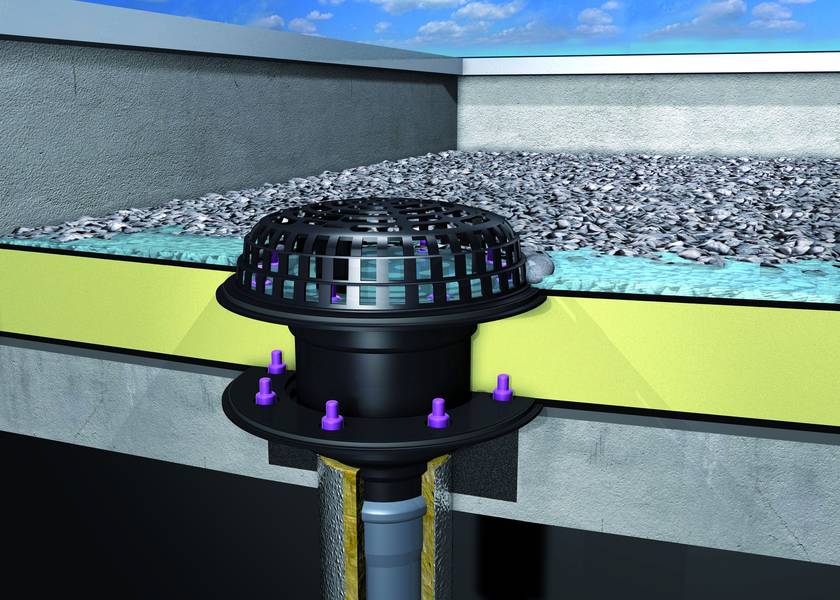 The main characteristic of gravity drainage is the discharge of rainwater in a gravity system. The incline of the pipes towards the bottom serves to transport water. The outflow performance of a gravity drainage system is determined by this incline and the design of the roof drains. The shape of the drain inlet funnel leads to a corresponding increase in drainage.
Conventional internal drainage for flat roofs with gravity drainage is regulated by EN 12056 Part 3 and DIN 1986 Part 100.
Characteristics of a gravity drainage system
Sloped pipe system
Partly filled pipe system
Extensive network of mains pipes
High level of drainage due to funnel-shaped discharge pieces
Complete drainage from the lowest point
Inclusion of a drainage safety system
KESSEL has expanded its successful Ecoguss® drain range. In addition to parking deck, yard and roof drains the range now includes flat roof drains. Ecoguss®, a high-performance composite material based on metal, combines the advantages of cast iron and plastic without the corrosion and weight problems associated with grey cast iron.
Ecoguss® is a corrosion-free, high-performance composite material. Ecoguss® roof drains are up to 85% lighter in weight than a standard cast iron roof drain which reduces construction and installation costs. The material Ecoguss® is high temperature resistant making it ideal for use with hot asphalt / bituminous waterproof membrane installations. The shatter resistant and UV-proof material provides a long life expectancy.
KESSEL has developed a compact range of products with Ecoguss® flat-roof drains in Ø 75, Ø 110 and Ø 125. Any fitting requirements can be covered with the system accessories. There is a leaf trap and a damming ring for drainage safety. The damming ring can be retrofitted to existing drains. The spacer ring fitted with the toolless Lock & Lift system allows height adjustment of the pebble trap for the level of pebbles – as well as a retrofit for reconstruction, for example. Corresponding insulating or extension pieces for variable fitted depths are also available. The odour and rodent protection KESSEL Multistop System 200 can also be retrofitted.
Request a Quote
Contact EDT EuroDrain-KESSEL for the perfect solution