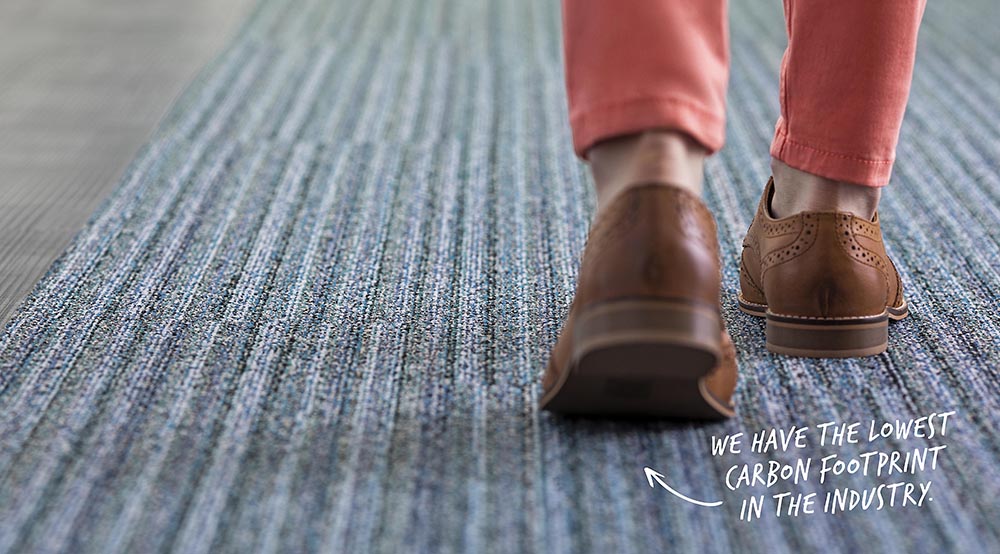 Interface, the world's leading modular flooring producer, has announced that all its products – including all carpet tiles and luxury vinyl tiles (LVT) – are now carbon-neutral across the entire product lifecycle. The company has also introduced a system whereby any specified Interface floor's "environmental credentials" can be assessed.
KBAC Flooring, currently in its 50th year of operations, as the SA distributor of Interface products, can now on request advise designers and customers about the extent of carbon emission reductions for each Interface sale – valuable information as demands for greener building grow. Interface offers the "environmental credentials" service to help consumers meet sustainability goals while reducing the polluting impact of their projects.
And the statistics are convincing. For example, every 1 000m2 of Interface flooring sold will offset carbon emissions equivalent to a car traveling 43 000 kilometres, or a trip around the earth, or 11 return flights between New York and Paris.
Erin Meezan, Interface's Chief Sustainability Officer, says Interface has spent the last 25 years focusing on eliminating its environmental impact and has reduced the carbon impact of its products by 60%. "We now want to involve customers to reverse global warming. Architects and designers, flooring contractors and end-users realise that the products they specify and buy have a direct impact on the global climate. When specifying Interface products, they can now provide proof of the effect this has on reducing embodied carbon – an important marketing opportunity," Meezan adds.
To mark the 25th anniversary of its "Mission Zero" commitment to sustainability, Interface has taken a holistic approach to carbon neutrality, looking beyond carbon emissions from manufacturing to include emissions across the entire product lifecycle including transportation, maintenance, and end-of-life recycling. Interface calculates all remaining greenhouse gas emissions for the entire lifecycle of its products and invests in verified emission reduction projects all over the world to offset them.