Unique floor jacking system for soundproofing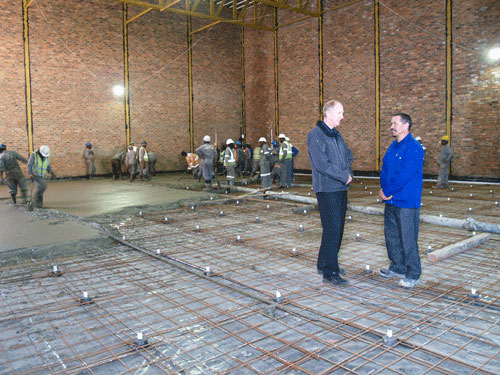 The Mason jack-up floor slab system, unique in South Africa, was used recently to soundproof the floors in two state-of-the-art TV studios built at the new Randburg headquarters of television production house Stark Studios. The mechanical jack-up system serves to establish a permanent air gap between the structural floor and floating floor of an internal space.
It is used in facilities such as production studios, conference rooms or laboratories where similar air-gap soundproofing is applied in the walls and ceilings to ensure that no external sound or vibration can penetrate the internal space.
Actom Mechanical Equipment's Arnot product group manufactures the jack-up mounts and installed a total of 797 units for the two studios – 522 for the larger studio, which has a floor area of 768 m2, and 275 for the other studio with a 515 m2 floor area.
The Arnot team was subcontracted by Bastion Construction, the main contractor for the R80-million Stark Studios head office project. Arnot operations manager Trevor Davis, says, "There is no other system like it available in the country and the alternative soundproofing systems that are sometimes used for floors – usually consisting of solid timber laid between the structural floor and the floating floor – don't come close to it in effectiveness.
"The 75 mm air gap that the Mason jacking system creates between the structural and floating floors has been shown to be as effective in keeping sound out as a 600 mm thick, solid inter-floor layer, which wouldn't be very practical in modern buildings," he adds.
In installation the jack-up mounts are placed at regular intervals on top of plastic sheeting laid across the entire surface of the structural floor. The plastic sheeting is used to isolate the floating and structural floors from each other, as they would otherwise bond together.
The steel reinforcing for the concrete floating floor is placed so that the reinforcing is supported on the jacks throughout – the housing of the jacks being designed with projecting supports for the reinforcing rods to rest on. The concrete is then poured, with care being taken to ensure that the upper portions of the jacks are left exposed.
Three or four weeks later, once the floating floor is cured, the jack-up mounts are progressively and gradually lifted, one row at a time, by a crew of workmen using T-spanners. The jacks are raised simultaneously, with one full turn of the T-spanners, before the team moves on to the next row – and this process is repeated across the whole floor. With each complete round of T-spanner turns the floating floor is raised by 2 mm. This process is repeated until the jacks are fully extended and the required air gap of 75 mm between the structural and floating floors is achieved.
concrete floors
floating concrete floors
flooring
insulated flooring
jack-up floor slab system
mechanical systems
sound insulation in floors
soundproof floors
soundproof studios