Be sure that insulation is working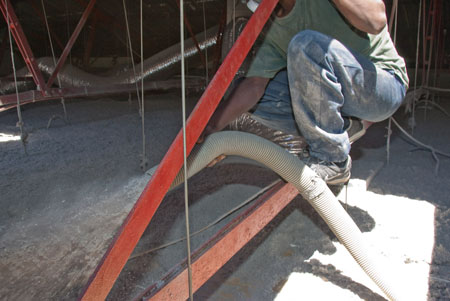 Cellulose thermal ceiling insulations, such as Eco-Insulation, form a seamless blanket of natural fibres that provide outstanding protection from temperature extremes. According to the founder of SA Energy Efficiency Association award winner Eco-Insulation,Cecil Homan, "The chances are good that the average home or office would benefit enormously from adding cellulose ceiling insulation, even where there is an existing layer of insulation present."
Homan explains that many existing insulation systems compress over time with the load of dust and humidity in the roofspace, becoming much less effective in trapping dormant air and thus losing R-values. "Then there is the matter of coverage," says Homan. "The best product is one that distributes itself naturally into every corner, recess and cavity above the ceiling and so ensures that there are no uncovered sections of the ceiling through which heat may enter or escape. Eco-Insulation is excellent in this regard, due to our unique delivery system."
Hidden air passageways – or ceiling bypasses – lead from the heated space into the attic. Because warm air rises, it continuously moves up these passageways and escapes into the attic during winter. These bypasses can make the roofspace above the ceiling a semi-heated space, wasting energy.
According to Eco-Insulation, adding insulation alone without sealing air leaks does not help much. In addition, water vapour carried with the escaping warm air can condense and build up in the insulation, reducing R-values and causing structural damage. When moisture problems appear in the roof after it has been insulated, ceiling bypasses are often the cause.
"To avoid these types of water problems and to receive full benefit from the insulation, attic leaks or bypasses need to be plugged. They need to be located before they can be sealed," says Homan, "and the signs to look for are obviously wet insulation, dirty insulation, dust build-up underneath the insulation and water staining under the insulation."
Homan advocates that architects and project managers should give more consideration to using cellulose insulation. The product is fully approved by the SABS and is fire rated as "no spread of flame" above the ceiling. "It also has sound-insulating benefits, which are especially important in hotels and retail outlets, where levels of noise need to be controlled and sound absorption is required for effective acoustics inside the building. This is what we mean by ultimate climate comfort," adds Homan.
Eco-Insulation has recently launched a new website and building owners, designers and architects can obtain further product information and contact details of installers nationwide from the site.
For more interesting facts on insulation, refer to The ABC of Insulation.
ceiling insulation
cellulose fibre insulation
climate control
energy efficiency
energy savings
fire-rated insulation
green buildings
insulation
recyclable insulation
recycled materials
retrofitting insulation
sound insulation
sustainability
thermal insulation