{nomultithumb}
With the design success of Soccer City and the recent announcement that it was the winner in the 2010 World Architecture Awards in the category for sports buildings we thought it appropriate to look at some other stadia in the world.
Sports stadia host some of the world's most exciting events and are often among the most massive structures in any given city – so why are stadiums themselves usually bland and boring? These 13 stadium designs shake things up with unexpected architectural details, surprising shapes and breathtaking surroundings from cliffs overlooking the city to helipads hovering hundreds of feet above the ground.
Janguito Malucelli, Brazil is to be admired as a genuinely eco-friendly stadium. It may not be as stunning and visually powerful as some of the other stadia featured here but it is certainly a lot more environmentally conscious. No hard metal bleachers but rather seats embedded in the grassy hillside. All of the wood used in the stadium was reclaimed to prevent deforestation, and not a drop of concrete was used in the stadium's construction.
(images via: jmalucellifutebol.com.br)
Solar Stadium, Taiwan is another stadium to admire in that it generates 100% of its own power and is located on a tract of undeveloped land that is also home to public green spaces and an ecological pond.
(image via: inhabitat)
Sapporo Dome, Japan where so much snow falls every year that that engineers faced a dilemma in designing a stadium for the city: how could they ensure that the grass playing field would get enough sunlight without using a retractable roof, which would not hold up to 20 feet of frozen precipitation? Their solution was an 8,300-ton field that slides in and out of the flying saucer-like stadium, allowing it access to fresh air and sunlight on nice days. This moving field also enables the stadium to switch between baseball and soccer.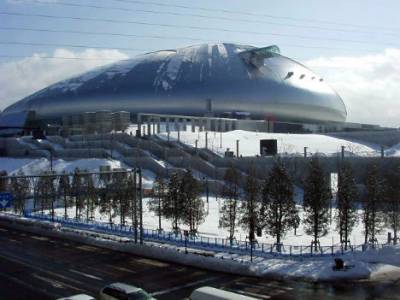 (images via: wikipedia)
Burj Al Arab Hotel Helipad, Dubai: When photos of a sky-high tennis match appeared online, many people assumed they were a hoax. But the photos are real. The Burj Al Arab skyscraper in Dubai converted its helipad to a tennis court and held a match between Roger Federer and Andre Agassi in preparation for the 2005 Dubai Championships.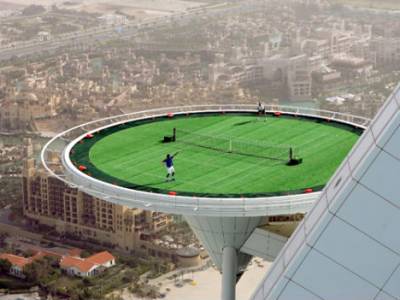 (image via: greenroofs.com)
Source: Web Urbanist: Score! 13 of the World's Coolest and Craziest Stadiums Click here to read about 9 more unusual and amazing stadia.