An engineering challenge presented itself when SANRAL undertook to upgrade Section 3 of the busy R72 between Port Alfred and the Fish River, by providing continuous two-way traffic at all times. A seven-metre wide road was constructed at an elevated level on the existing alignment as a temporary measure. However, this new width meant there would be no space for diversions during the construction of culverts and providing temporary access over new culverts, prior to the finished level being constructed, would result in unnecessary extra work.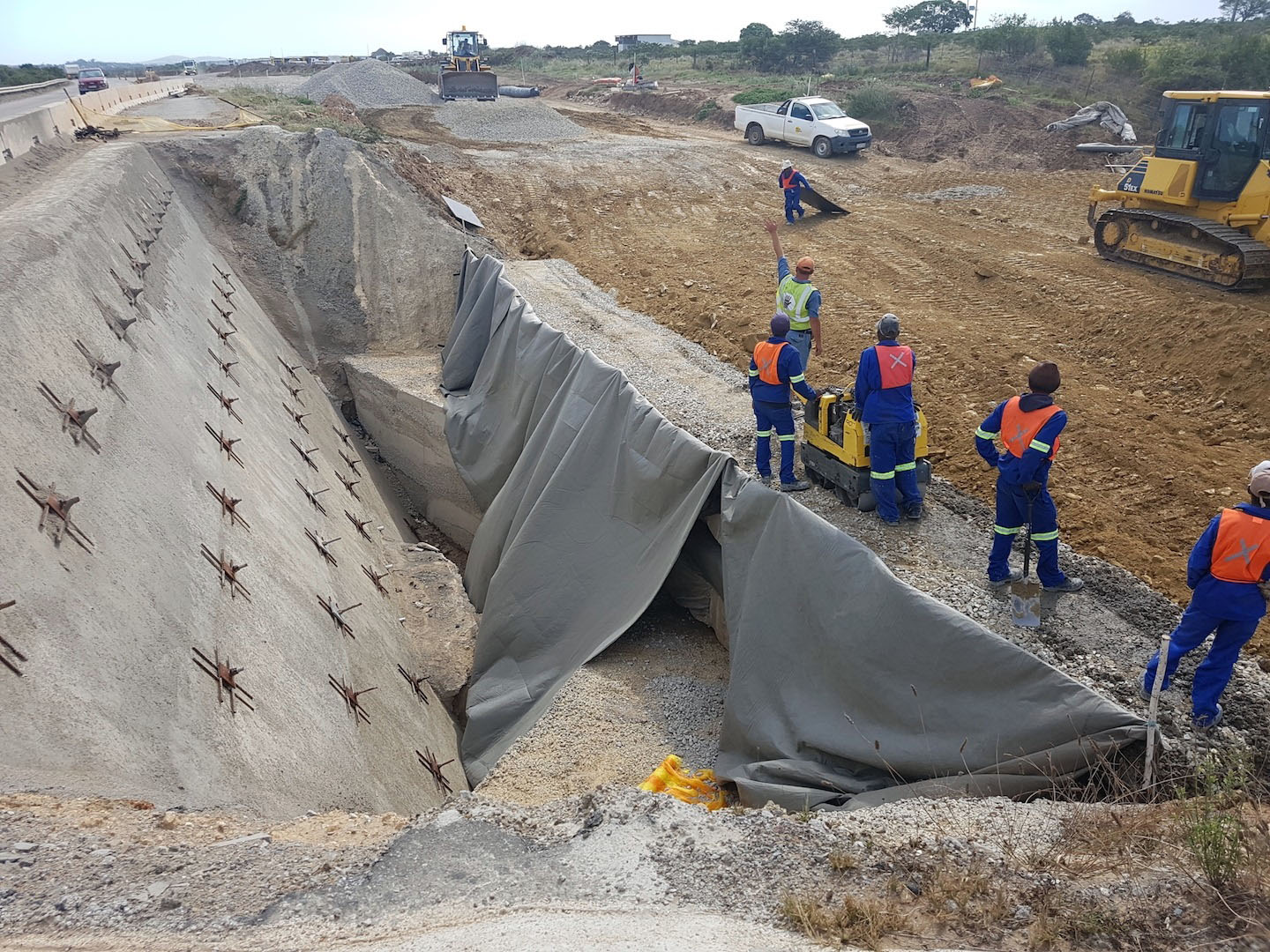 To remedy the situation, consulting firm Gibb Africa approached Kaytech's Regional Manager in East London, Julian Maastrecht, who had no hesitation in specifying RockGrid PC and bidim, to be used as geosynthetic wrap-around reinforced shoring around new culverts for in-line construction on the new road.
RockGrid PC consists of a nonwoven layer in conjunction with high tenacity, bi-axially orientated, multifilament polyester yarns, the combination of which guarantees the unique qualities of the product. Compared to polyethylene or polypropylene grids or woven fabrics, the high tensile strength of RockGrid PC provides unsurpassed reinforcement with minimum creep deformation.
Concor Construction commenced the project by cutting back existing culverts to the maximum to provide two-way traffic flow. Cut back road embankments were stabilised using soil nails and shotcrete. Once new culverts were placed, an 80o geosynthetic-reinforced wrapped soil wall was constructed adjacent and over the new culverts. Bidim A6 was used at 450 mm lifts by 0.7 x wall height tie back lengths for all shoring under six metres high.
Due to their high soil-geotextile friction coefficient and high tensile strength, heavier grades of bidim, such as A6, are ideally suited for reinforcement of steep earth structures. Bidim's high in-plane drainage capacity helps prevent build-up of pore water pressure within the soil structure thereby greatly improving stability. Kaytech's ISO 9001 registered production facility processes millions of discarded plastic cooldrink bottles to produce A-grade bidim, a continuous filament, nonwoven, needle-punched, polyester geotextile that meets the most stringent civil engineering and industrial specifications.
For shoring six metres and higher, alternating layers of bidim A6 were replaced with RockGrid PC 100/100 at 600 mm lifts. RockGrid PC 100/100 is a 100kN bi-directional composite geotextile offering high modulus characteristics for reinforcement applications and was required at 1.05 m lifts.
The nonwoven geotextile component of RockGrid PC is a special feature offering optimum hydraulic characteristics and high resistance to installation stresses. As with bidim, the high drainage capacity of RockGrid PC facilitates rapid removal of any pore pressure and improves shear characteristics, thereby providing excellent stability.
To ensure an accurate 80o front face finish, construction of each layer was supported with vertical formwork braced with removable brackets. All geosynthetics were installed with a one-metre horizontal re-embedment length and folded over formwork before selected fill was placed and compacted in 150 mm layers. To prevent bulging during compaction, 2% cement was added to all material placed within one metre of the front face. The geosynthetics were subsequently pulled back tight, perpendicular to the front face and secured with selected fill cover.
A total of 7 900 m2 of RockGrid PC 100/100 and 5 500 m2 of bidim A6 completed the wrap-around reinforced shoring. The geosynthetics provided high modulus characteristics, a stable front face and in-plane drainage to ensure rapid removal of any pore pressure.
Thanks to Kaytech, this proudly South African, economical geosynthetic system provided structurally stable steep fill embankments capable of carrying construction and public traffic for the duration of the contract.