Constructing houses with sandbags and a timber-frame is eco-friendly, creates solid virtually impregnable walls resistant to bad weather conditions and cost-effective alternative to conventional construction.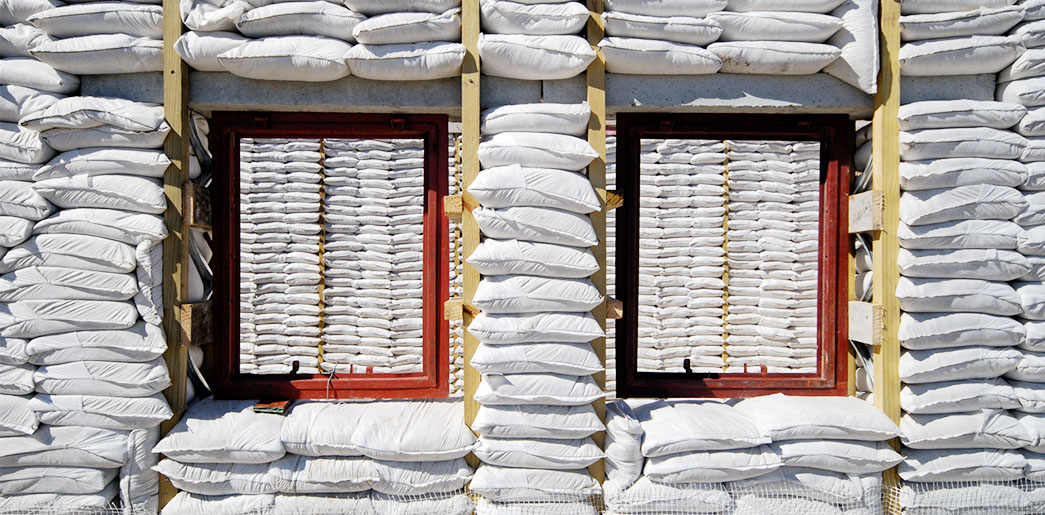 What are sandbag houses?
Bags filled with sand stacked to make a house. Resembling beehives or igloos these eco-build houses are environmentally friendly and offer an innovative solution to affordable housing.
What are sandbags filled with?
Sandbag building uses robust geo-textile bags filled with sand or insulation that is stacked like masonry and plastered over. Barbed wire between courses keeps bags from slipping and adds tensile strength. Once the walls are plastered it looks like an adobe structure.
Why build with sandbags?
Sandbag buildings provide a low carbon footprint and a thermally efficient building. The sandbag buildings are warm in winter and cool in summer. The use of sandbags in house building reduces CO2 emissions by 95% compared to the standard brick built walls because there is no processing of materials prior to use in the construction.
Are sandbag houses safe?
Sandbag houses are fire resistant, non-toxic, do not attract pests and can be built in any climate, earthquake safe, windproof, soundproof and waterproof.
How long do sandbag houses last?
Sandbags are damp-proof,  moisture and rot are not a concern, the mineral fill material will not decompose which means the building should last a century.
How much do these sandbags cost?
An advantage of building sandbag houses is the components are cheap, easily available and easily transferable. This building material is 40% cheaper than the cost of bricks.
How much sand is needed to fill a bag?
Depending on the density of the sand, each bag should contain 9kgs of sand.
What type of sand can be used?
Fill sand or river sand is best but any sand will do as long as it has a low clay content and no organic matter is found in the soil.
What are the sandbag construction tips and benefits?
A non-structural framework is required to place the sandbags within. Sandbag buildings are 40% heavier than a brick wall and construction is three times faster. Any type of window can be installed into the sandbag construction and securing cupboards and shelving onto the sandbag walls are done in the usual manner, however, special fasteners are used for heavy equipment mounting. A double storey can be built using this method, provided that the supportive concrete columns are placed strategically throughout. Any type of roofing material can be secured onto the sandbag walls. Minimal building waste and losses on site. Fantastic insulation benefits and superior acoustic benefits. This method of construction has been approved by the Agrément Board and the NHBRC.
Eco-building with sandbags will save energy, save money and provide a healthier building with a minimal negative impact on the environment.