Wooden floors for bistro dining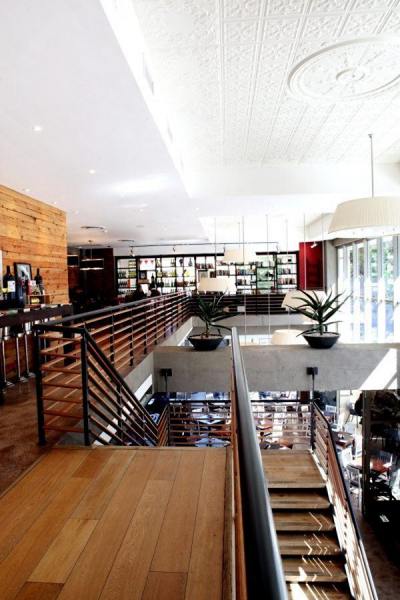 Floors Direct recently supplied and installed wooden floors to the new Doppio Zero restaurant in Rosebank, Johannesburg.
The Doppio Zero experience offers a morning café ritual for many, an all-day bistro environment as well as a bar and smoking lounge. "The interior decor had to match this bistro-café culture and the selected wooden floors were integral in achieving the desired effect," says Paul Christie, co-founder of the Doppio Zero concept and the Rosebank restaurant.
The new interior design for the restaurant group makes use of lighter colours and natural materials like bamboo and wood panelling.
Callie van der Merwe, director at Design Partnership, the firm responsible for the interior design of the restaurant, says, "We took our inspiration from the street corner bistros in New York. These are usually in premises that were built at the turn of the previous century and therefore have a beautiful, natural, wooden palette as the base that transforms any design layered over it.
"The wooden surfaces have a patina enriched by generations of people walking over them, spilling and pulling chairs in and out from tables. It was this quality in finish that we were looking for in all the products we chose for the restaurant. The Floors Direct products fitted the bill perfectly," says van der Merwe.
With only four days to install 250m² of wooden floors and transform the staircase before the opening of the restaurant, the fitting process proved challenging. "We had to accommodate the other contractors on site who were also under time pressure to complete their work," says Jose Dos Passos, managing director of Floors Direct. "Our fitting team rose to the occasion finishing the job with quality workmanship."
A distressed oak wood finish is used on the stairs, dining and retail floors. Floors Direct installed Grand Plank engineered wooden floors in Brushed Nougat over 45m² in the retail and bar area and BKB Vintage engineered wood in Vintage Arctic in the 98m² dining area. In the smoking lounge, with a floor area of 73m², a darker, coffee coloured Suede Matt bamboo floor was installed.
The staircase was particularly tricky as the architect had specified a wooden staircase, but the structure was already built in steel. Custom-made caps were especially manufactured from engineered French oak in Brushed Nougat to cover each stair tread and Sika adhesives were used to ensure these stay in place in this high traffic area.
Floors Direct caters for the domestic and contract markets and supplies laminate, engineered, solid wood and bamboo flooring.
bamboo flooring
engineered wooden flooring
flooring
flooring contracts
laminate flooring
restaurants
solid wood flooring
wooden stair treads