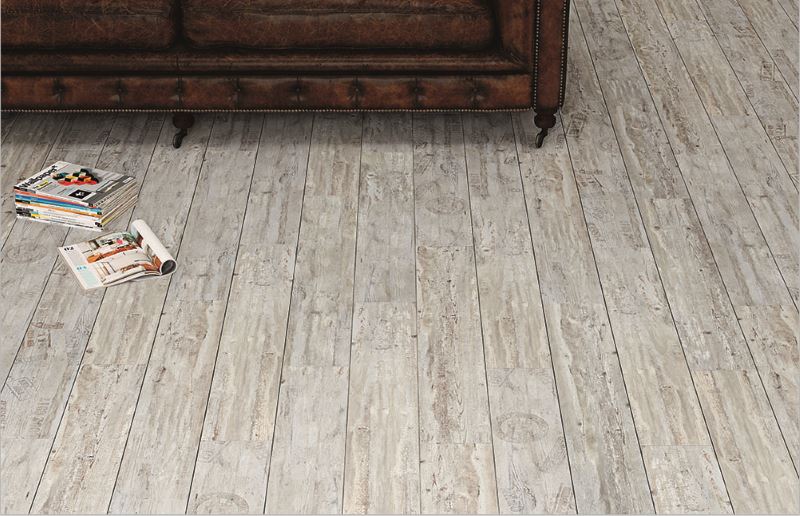 Wood and concrete designs on tiles are taking centre stage and making inroads into the local commercial market. To address this need Tile Africa Contracts has added the Vintage Wood-Look and the Concrete glazed porcelain tile ranges to its core product offering.
The arrival of inkjet technology makes beautiful layered designs possible and this trend was evident at Cersaie 2013 and Cevisama 2014.
Inkjet technology allows for photo-realistic tiles that replicate natural products such as wood and stone. Multiple prints or faces are now possible and therefore a pattern repeating is a thing of the past. Inkjet tiles are long lasting and minimal maintenance is required compared to wooden floors or even natural stone that has to be treated and maintained.
The Vintage Wood-Look glazed porcelain range is imported from Europe and the range is currently available in a 160mm x 1000mm size, in a variety of colours with matching décor pieces and is suitable for light and medium to high traffic areas.
Neutral colours remain popular including the colour grey, which has been a constant feature over the past five years. Concrete-looking tiles are gaining ground in the commercial market and the Concrete glazed porcelain range, another inkjet technology product, has a very high MOHS rating and can be used for high traffic areas such as shopping centre floors. Its R10 texture offers a fair amount of slip resistance, but is still easy to clean.
There are four different grey tones in this range, from a very light grey, almost off white, to a rather dark grey, bordering charcoal. This product with its unique features is extremely popular in Europe and is available in a Lapato (semi-polished finish) as well as a variety of décor finishes to complete this range. Currently the 600mm x 600mm size is available but a 450mm x 900mm size is also available on request.