Tough concrete paver meets rural roads challenge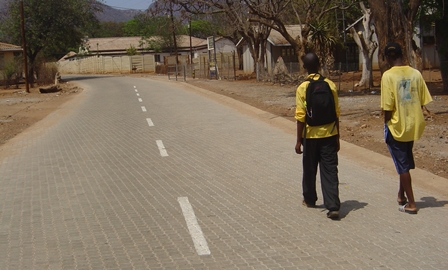 Technicrete's interlocking Double Zig-Zag concrete paving block offers a long-term solution to the challenge of upgrading hundreds of kilometres of South Africa's rural roads.
"Because of its reputation for durability and economy, an increasing number of local authorities are specifying the paver to meet the demand for sustainable solutions," says Technicrete commercial product manager Taco Voogt. "Engineers and contractors working on road upgrading projects are not looking for short-term solutions – they want something that will last."
Technicrete, a member of the Murray & Roberts Building Products unit, produces the Double Zig-Zag blocks at plants in Gauteng, Mpumalanga, Free State, Northwest, Limpopo and Eastern Cape. This network of manufacturing plants provides for ready supplies to rural districts around the country.
In the province of Limpopo, for example, local authorities in the Chaneng, Kanana, Gravelotte and Giyani areas are among the latest to specify the pavers for rural road improvement projects. Production at Technicrete's Polokwane plant in Limpopo is running high to meet the demand, not only for roads but also for industrial and commercial areas, trade depots, retail centres, residential developments and car parks.
In the Eastern Cape, the Double Zig-Zag blocks were put to use in the R30-million upgrading of the Ocean View area of Jeffrey's Bay where four kilometres of rough gravel roads and footpaths were replaced with paved roads and walkways. The pavers were also used in the construction of a taxi station, parking areas and a community braai area.
The blocks are manufactured in six colours to a standard length of 220mm and width of 97mm. Thicknesses range from 50mm to 100mm to suit applications ranging from light-duty pedestrian pavements to ultra-heavy duty loading bays and container terminals.
A key feature in the interlocking design of the Double Zig-Zag concrete paving block is that it enables paving contractors to deliver a continuous, even, hard-wearing surface finish, avoiding the problem of 'highs and lows' commonly encountered when paving large areas.
A technical brochure on the Double Zig-Zag concrete paving block can be viewed here.
concrete
concrete paved roads
concrete paving blocks
infrastructure development
infrastructure upgrading
paving
precast concrete products
roads