The highlight of the structural steel industry calendar, the 35th Annual Steel Awards hosted by the Southern African Institute of Steel Construction in partnership with BSi Steel, took place on 15 September 2016 in Johannesburg, Cape Town and KwaZulu-Natal concurrently. Attended by over 1000 people, the event showcased projects completed in the previous year that demonstrated excellence in the use of structural steel. Sponsors for the event were: Main – Bsi Steel, Popular Vote Feature – Macsteel, Photo competition – Cadex Systems SA, Tubular category – The Association of Steel Tube and Pipe Manufacturers, Light steel frame category – Saint-Gobain, Metal Cladding Category – Global Roofing Solutions, Factory and Warehouse category: Safintra, Partner Sponsors – ArcelorMIttal SA, Genrec Engineering, NJR Steel and Aveng Steel.
The cladding to the New Head Office for Statistics SA, winner of the Global Roofing Solutions Metal Cladding Category at Steel Awards 2016, accentuates the strong geometric lines of the building.
The Stats SA project consists of new offices and an archive building. Roof and side cladding is 0.58mm thick Galvanized Z200 GRS Brownbuilt 406 profiled sheeting with standard Chromadek finish one side and standard backing coat to other side. Sheeting colours include Dove Grey, Dark Dolphin and Charcoal. Insulation used over purlin on roof and sides was 40mm thick white faced Lambdaboard and Sisalation 405.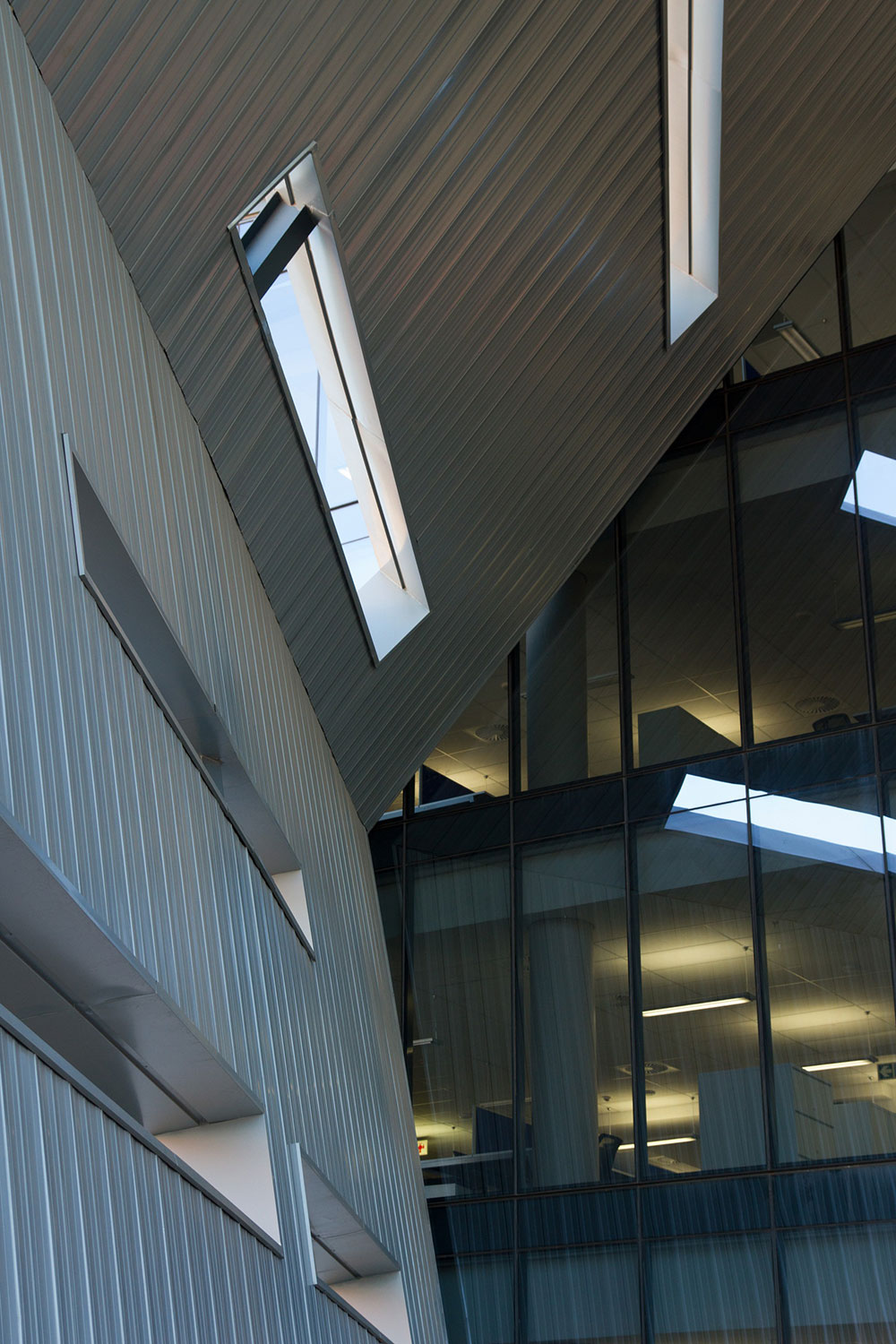 The site was extremely congested and the installation programme duration very short. The buildings were high, with lots of angles and direction changes on sides. Underslung sheeting in long lengths in Brownbuilt 406 profile tapered with angles. The Architect requested concealed-fix flashings. In order to address these challenges, the main contractor assisted with cranage and special scaffolding. Another solution included the design of special clip-on flashings.
What makes this project special is that all roof sheeting, side cladding and soffit sheeting is concealed-fix sheeting. The majority of flashings were concealed-fix or designed to hide fasteners. The most impressive technical aspect of this project is the underslung Brownbuilt 406 profiled sheeting and special flashings.
For a video case study of this project visit: http://ow.ly/NCkr303PJQp
Project teams
Client / Owner / Developer:
Dipalopalo
Architect:
GLH Architects – Terra Ether JV
Structural Engineer:
Pure Consulting
Quantity Surveyor:
RLB / Pentad
Project Manager:
GLH Project Manager
Main Contractor:
STATS SA JV
Steelwork Contractor and Nominator: Cadcon (Pty) Ltd
Structural Steel Detailer / Detailing Company:
Mondo Cané
Roofing Installer:
RJ Southey
Cladding Contractor:
Tate and Nicholson
Metal Cladding Supplier:
Global Roofing Solutions
Paintwork:
Dram Industrial Painter