Architects and designers use Aluminium Composite Panels (ACP) mainly as external cladding for façades of buildings and for insulation and signage. However, its uses and applications in commercial projects, buildings and houses are varied. Most shopping malls, shop fronts and shop signs use ACP. It is increasingly being used for internal partition walls, lobby and foyer decorative walls and kitchen cabinets.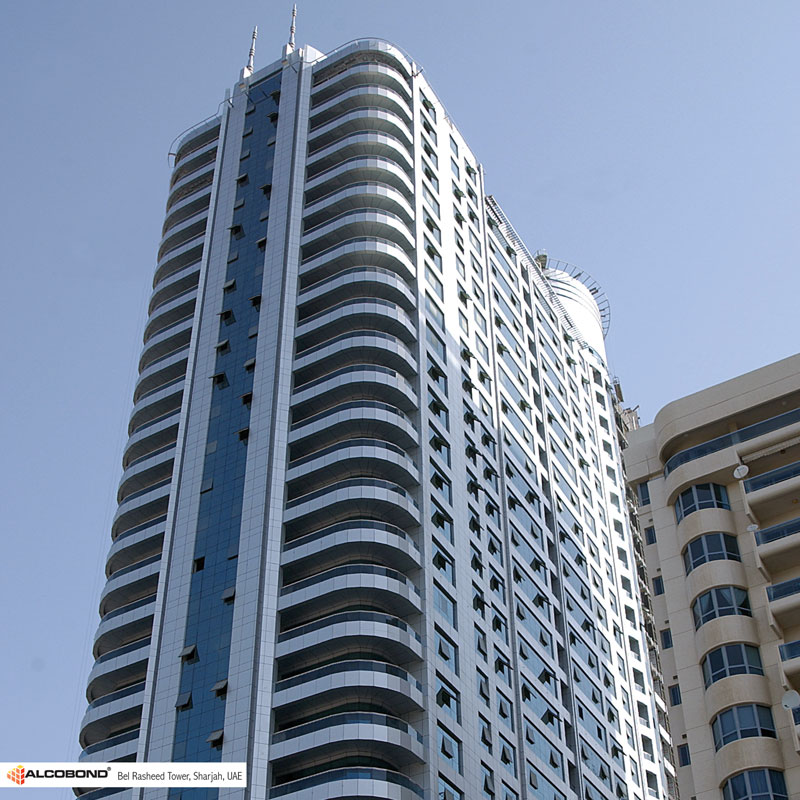 Alcofort aluminium composite panel is a composite comprising a skin of two aluminium sheets sandwiching a thermoplastic core, in a continuous and integrated co-extrusion process.

The Alcofort™ Solid Collection
Alcobond Industries South Africa (Pty) Ltd is the sole South African importer and distributor of Alcofort™ Aluminium Composite panels which are manufactured by Alcobond Composite Industries LLC located in the UAE. Its core business is the supply of Alcofort™ Aluminium Composite Panels, extruded aluminium edging and aluminium substructures into the high-end architectural fascia markets.

The Alcofort™ Metallic Collection
The designer, applicator or façade contractor may bend ACP sheets easily with other façade materials to form curves and other shapes in accordance with the building design requirements. The aluminium material is easy to maintain and gives a neat look, unlike paint, which tends to fade or peel in a couple of years. The negative effects of extreme climatic conditions on ACP are miniscule. The fabrication and installation is easy and needs very few basic tools.

The Alcofort™ Natural and Iridia Collection
The colour range is exceptionally varied and includes:
Alcofort™ Solid Collection
Alcofort™ Metallic and Sparkling Collection
Alcofort™ Wood Collection
Alcofort™ Natural and Iridia Collection
Applications include:
External Wall Cladding
Curtain Walls & Internal Wall Finishes
Building Arches, Fascias & Soffits
Circular Columns, Spandrels & Beam Wraps
Dados & Wall Canopies
Any other high stress use
Balustrades & Elevators
Interior Partitions, Internal Doors & Ceiling Panels
Kitchen Cabinets, Countertops, Cupboards and Benchtops
Public & Commercial Display Walls & Advertisement Billboards
Shop Signboards & Showroom Finishes
Kiosk Panels, Display Cases & Exhibition Stands
Hospital, School and Shopping Mall Interiors
Alcobond also offers technical assistance to architects, quantity surveyors, shop-front fabricators, shop fitting fabricators, signage companies, installers and aluminium letter cut out companies. The company also has a database of recommended fabricators and installers of Alcofort™ aluminium composite panelling. The company is committed to providing superior aluminium composite panels through custom design recommendations, both in the domestic and international markets.
Internationally tested & certified Alcofort™ panels are manufactured in compliance with ISO 9001:2008, CE Certified and meet with the most exacting international standards, such as ASTM (USA), NCCA, AAMA, BS (UK), DIN & EN (EU & Germany) and AS/NZS (Australia/New Zealand).

The Alcofort™ Wood Collection
Alcofort™ panel features
Excellent torsion strength: Manufactured using the most advanced equipment and strict quality control. Alcofort™ panels feature excellent torsion strength and bending strength under heavy loads.
Superb impact resistance: Alcofort™ panels have good impact resistance, toughness and bending rigidity. It will not be damaged or abraded by sand.
Easy processing and installation: Manufactured using the most advanced equipment and strict quality control.
Outstanding fire retardant characteristics: The Alcofort™ FIRESHIELD fire retardant (FR) Aluminium Panel, tested by Exova Warringtonfire Canada and certified by BM Trada, meets the ASTM E84 Grade A/1 standard due to the usage of a modified mineral core sandwiched between aluminium skins.
Exceptional weather resistance: The Alcofort™ panels are coated with fluorocarbon (PVDF) resin. It has strong adhesion, alkali resistance, pollution and chalking resistance to ultraviolet light. It has a 20-year life span. For interior usage and for signage the polyester coating has a guarantee of 10 years.
Even coating and numerous colours: The application of the latest American and European coating technology enables Alcobond to produce a variety of colours of the specifier's choice.
Easy maintenance: Alcofort™ panels can be easily cleaned with water.