Corobrik-SAIA Awards of Merit and Awards for Excellence in Architecture
The Corobrik-SAIA Awards of Merit and Awards for Excellence 2010 were presented recently at a ceremony at the City Hall in Johannesburg, as part of the architectural festival AZA 2010.
Since 1990, the biennial Awards for Excellence programme has signalled the highest accolades from the South African Institute of Architects (SAIA), acknowledging the achievements of its members in the design and delivery of projects that
are considered exemplary in the practice of architecture.
This year, 36 projects were submitted for adjudication for the Awards of Merit from eight SAIA regions. All projects which receive Awards of Merit are automatically considered for an Award for Excellence.
In the 2010 round, merit was considered in terms of how successfully projects performed in various arenas, with emphasis on:
South African contextual sustainability,
Giving prominence to the process of making architecture,
Regional relevance – entries were required to have made a contribution to their immediate society, environment and the profession.
The adjudication panel, chaired by SAIA president at the time, Al Stratford, comprised retired Justice Albie Sachs, architects Amira Osman and Malcolm Campbell and Corobrik's marketing director Peter Kidger.
Awards for Excellence
This is the first time that a book has been submitted for the SAIA awards. Its intention was to recognise that architectural knowledge is encapsulated in forms other than buildings. The book is a compendium of South African architecture of the past 10 years and features more than 100 architectural projects as well as contributions from some of the leading academics and practitioners in the field of architecture in South Africa.
This building containing new premises for the designing architects, together with five apartments and a high-end furniture and decor store, was constructed on the site of a 1950s church. It is located on a fairly flat expanse in the central bowl of Cape Town in an area that consists largely of Victorian houses, many converted into office spaces. The building represents an elegant intervention and links well with the distinguished architecture on the other side of the street – the South African National Gallery, the Jewish Museum, Gardens Commercial College and Cape Town High School.
This project arose out of a unique combination of a painful past, an existing cohesive school community and external funding, leading the architects from the start to secure a high degree of community involvement in the processes of design, decision-making, construction and use. The agreed objective was to move away from the one-size-fits-all practice of parachuting blueprint-based structures into rural areas; instead it was to allow for the architecturally-guided emergence of a school organically connected to the community that built it and which it serves.
The new Taxi Terminus on the campus of UFS was established in response to a request from the Congress of South African Students for a dignified drop-off and collection point for taxi commuters, to replace the chaotic situation then existing. The building is conveniently located close to an adjacent main road and facilitates quick entry and exit, with minimal intrusion on the life of the campus. It comprises arrival and departure nodes with two roof elements that create a pavilion surrounded by trees.
Awards of Merit
All the projects that received Awards for Excellence also received Awards of Merit. Additional Awards of Merit were presented for:
Centenary Building, University of Pretoria, for University of Pretoria, by Earthworld Architects.
House Wolff, Observatory, Cape Town, for Heinrich Wolff, by Noero Wolff Architects with Ilze Wolff.
Liliesleaf Legacy Project, Rivonia, Johannesburg, for Liliesleaf Trust, by Mashabane Rose Associates.
New Shops in Parkhurst, Johannesburg, for Fourth Avenue Investments, by Kate Otten Architects.
Restoration of 22 Landsdowne Place, Richmond Hill, Port Elizabeth, Architects Studio for Matrix, by Matrix.
Selosesha Library, Thaba Nchu, for Free State Provincial Government, by Bannie Britz Architect & Urban Designer.
The Energy Works, Parkwood, Johannesburg, for Rupert and Sarah McKerron, by Enrico Daffonchio & Rashma Patel.
Tricircle Pavilion, Gqunube Green Ecovillage, East London, for DT Hudson Christian Ecovillage Trust, by Smale & Partners.
At the same occasion, the SAIA presented the first Honorary Fellowship of the Institute to architect Vassilis Sgoutas who was in Johannesburg at the invitation of the SAIA to participate in AZA 2010. Sgoutas, a former president of the International Union of Architects (UIA), lives and practices in Greece but is a long-time friend of South Africa, having graduated at the University of Cape Town. Sgoutas played an instrumental role in South Africa's winning the bid to host the 2014 UIA Congress in Durban.
The SAIA also presented two Gold Medals for Architecture – to Peter Rich and to Jo Noero – in recognition of the invaluable contribution that each of them has made to the profession in South Africa, both in teaching and in practice. The SAIA Writers and Critics Award was presented to Professor Roger Fisher of the University of Pretoria.
South African Institute of Architects
T +27 (0)11 782 1315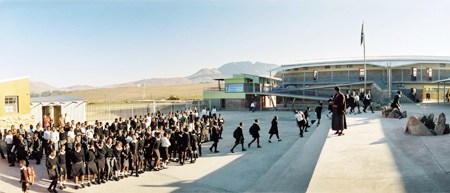 architectural books
Corobrik
East Coast Architects
Jo Noero
Peter Rich
SAIA
SAOTA
South African Institute of Architects
Typology Architects