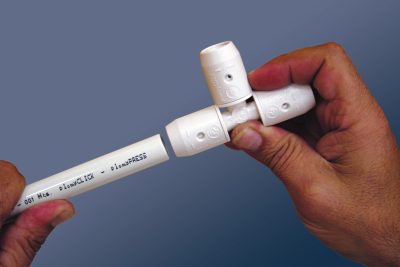 A new pipe-fitting system that substantially simplifies plumbing installations has been introduced to the South African market by DPI Plastics, a leading manufacturer of water reticulation, drainage and pipe-fitting systems.
The new Plomyclick polyphenylsufone (PPSU) Push-Fit Connection System for cross-linked polyethylene (PE-Xa) and multilayer PEX/AL/PEX (MLP) pipes replaces the need for the more costly and time-consuming plumbing installations using traditional copper piping, which has remained the local industry standard.
Plomyclick fittings are made from 100% PPSU – a high performance plastic that can take temperatures of up to 180ºC. This new system featured on the DPI Plastics' display at the 2010 Plumbdrain Africa Exhibition which was staged as part of Interbuild at the MTN Expo Centre, Nasrec.
According to DPI Plastics product manager Leonardo Steffano, the Plomyclick system can be installed up to 80% quicker than conventional piping systems as it requires only cutting and bevelling to the pipe before it is pushed into the fitting. Each Plomyclick fitting consists of only four elements: body, grip ring, sleeve, and a specially designed ethylene propylene-diene monomer (EPDM) sealing element.
Steffano adds: "The flexibility of the Plomyclick system makes it the perfect option for residential and industrial buildings, or public buildings like schools. The product is well-suited to the South African market because on-site copper theft is a major problem. This can be avoided by using Plomyclick.
"Overhead costs can also be reduced, as mechanical tools – which are expensive – are no longer required. This also saves on electricity bills."
Steffano stresses that DPI Plastics places a high priority on top quality products in an industry that is exposed to cheaper, low quality products. He points out that the Plomyclick system meets SANS ISO 15875 for PE-X standards and carries a 10-year product guarantee, as well as offering a service lifespan of 50 years.