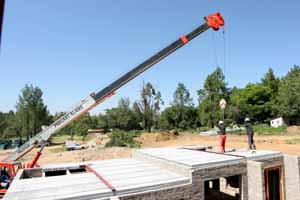 The case studies recently conducted to compare the costs of pre-cast hollow-core concrete flooring systems against cast in-situ concrete floor slabs in medium-rise structures have been completed.
The comparative studies were undertaken by a panel of built industry professionals. They looked at the costs associated with the construction of two separate medium-rise residential buildings where precast flooring was used and compared them with the costs that would have been incurred had traditional cast in-situ flooring methods been used.
On this basis, the findings show that construction cost savings of 30.76% were achieved on the Pretoria building and 23.7% on the Johannesburg building. In addition, the research indicates that time-savings of six weeks on one of the buildings and eight weeks on the other were achieved. In effect, this allowed for earlier occupation by tenants and a quicker return on investment for the developers.
The report is available from the Concrete Manufacturers Association (CMA) or Echo Group.
At the same time, as South Africa's biggest manufacturer of hollow-core concrete flooring slabs, Echo Group reports that despite the impact of the economic downturn, it is seeing signs emerging of a slow revival in the construction industry early in 2010.
Nonetheless, Echo group marketing director Melinda Louw, says, "Trimming construction budgets is critical and precast floor slab systems offer a time- and money-saving alternative to conventional in-situ concrete construction methods."
Echo Prestress
T +27 (0)11 589 8800