True performance from lightweight steel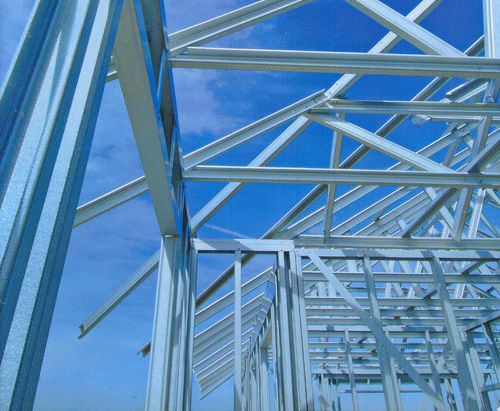 Multinational steel supplier, BlueScope Steel, notes that few elements in the construction process are as important as the core structure of the building. Trusses and structural frames are critical to the security, value and service life of a building. The company highlights the fact that steel frames can be pre-punched to allow electrical and plumbing services to be installed quickly and efficiently. Furthermore, waste is minimised by taking advantage of off-site fabrication of steel building frames.
"This is entirely in line with the philosophy of sustainable building practice," says Wayne Miller, general manager for BlueScope Steel in South Africa. Lightweight steel frames and trusses are quick to erect on site, requiring less energy and saving time. Having a lower mass than heavy steel they are also more economical to transport to site and they leave a lower carbon footprint than heavy steel.
BlueScope Steel has now introduced TrueCore™ to South Africa. The elements of this lightweight structural steel frame system are coated with a metallic coating, similar to Zincalume® Steel – one of the company's roof sheeting products. The coating, which incorporates 55% aluminium, 43.5% zinc and 1.5% silicon, makes the steel highly corrosion resistant and durable and is easily identified by its slightly blue tinge.
Miller points out that light structural steel frames are impervious to insect infestations and will not burn, so reducing the risk of fire spreading through the structure of the building. He adds that because lightweight steel frame buildings are quick and easy to erect they can assist with expediting the country's growth and development imperatives.
As with its coated steel roofing products, the company has found a concerning lack of information and knowledge in SA about what it terms "the true advantages of quality, hi-tech, modern coated steel products" among practitioners in the built environment, as well as building material suppliers.
Miller says that with the new building standards and green building codes emerging, there will be a definite role for lightweight steel frame structures to play because the products, like TrueCore, are well positioned to meet environmental and building design regulations and guidelines.
fast track construction
lightweight steel frames and trusses
lightweight structural steel frames
steel building systems
steel frame building
steel structures
steel trusses
structural frames
structural steel
sustainable building practice
waste minimisation