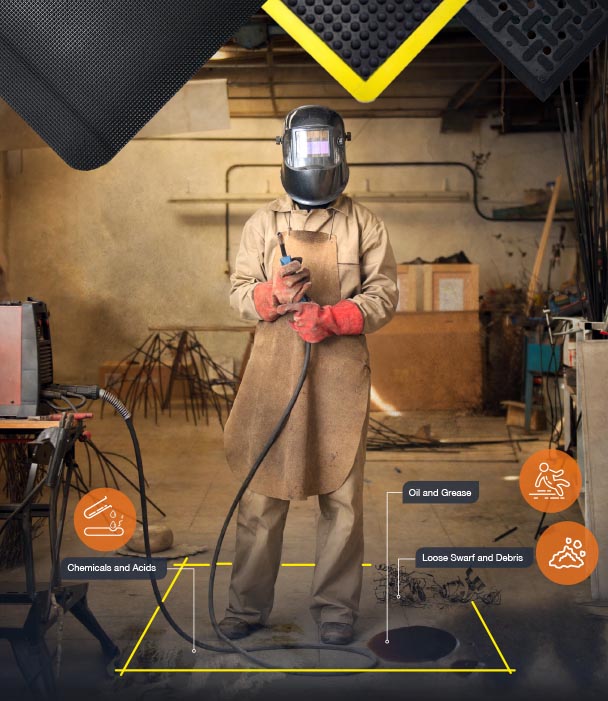 Just like you, we are passionate about safety solutions too. This is why we've spared no expense in getting many of our safety mats tested to the latest standards in Fire, Slip, and ESD resistance. We did this in partnership with SATRA, independent research, and testing organisation who are based in the UK but serves clients worldwide. They have their own laboratories and testing facilities and we will share these test results with you soon.
As you're aware, slips and trips cost business billions of Rands each year
Our Floor Level Safety range reduces the risk of slips and trips caused by wet and slippery conditions and is proven to increase safety and comfort. Slipping is especially dangerous if the individual falls onto a sharp or moving object falls from height or comes into contact with hot surfaces, or chemicals.
View the Floor Level Safety Range

What exactly are MSDs? Musculoskeletal Disorders are injuries or conditions affecting the movement of the human body or the locomotor apparatus. They are problems that affect the muscles, tendons, ligaments, vascular system, nerves, soft tissues, bones, and joints.
MSDs are currently the most common work-related condition in South Africa and are expected to affect some 50% of the population by 20301.  An average of 14 days are lost due to each MSD case – a substantial amount considering over 45% of workers complain of standing in tiring positions at work.
Anti-Fatigue Matting has been scientifically proven to reduce discomfort and fatigue2  and studies show that 86% of workers found Anti-Fatigue matting helped reduce pain or serious health complaints and 82% considered Anti-Fatigue matting to have a positive effect on increasing productivity in their company.
Source: 1Konz S, Johnson S, Work Design 1-629,2000; 2HSE
Find out more about Anti-Fatigue Matting
Have you heard the secret to safer cutting?
It's all about the ergonomically designed Moving Edge Safety Knives making light work out of cutting stubborn packaging and other materials. Following a long heritage within the UK market, we now have pleasure in introducing the Moving Edge range to the African safety market.
From fully Enclosed Blade options offering the ultimate in hand safety, to lightweight Disposable products for safe and easy cutting, as well as more conventional Utility Style knives with retractable open blades and specialist 'Food Safety' metal detectable designs.
What are they used for? Most are designed for the safe and efficient cutting of packaging materials, such as shrink-wrap, cardboard, webbing, and plastic strapping, but some knives can be used for general purposes too. Moving Edge safety knives are the 'product of choice' for many warehouse environments where goods have to be removed from packaging. There is a real sales potential.
We also supply a range of accessories, as well as replacement blades, and Sharps Disposal bins.