Products supplied by a.b.e. Construction Chemicals used for the waterproofing of several new projects in KZN.
Rafique Hoosen, Technical Sales Consultant for a.b.e. in KZN, says these products were selected:
· The waterproofing of over 200 balconies and bathrooms at Skye Mud, residential development in Umhlanga Rocks
Scheduled for completion early next year, the waterproofing contractor Industrial Linings used duraflex. The coating is super laykold rubberised bitumen emulsion and is applied prior to new tiling.
Duraflex is a flexible slurry with special synthetic resin dispersion and a blend of cement and aggregates. "This excellent waterproof barrier has been widely used for the protection and repair of balconies, terraces, and haunching of concrete on roads and bridges," Hoosen explains. Duraflex will be used for the waterproofing of areas of about 1 050m2 and super laykold for 9 000m2.
· Three large balconies (600m2 in total) at the Mount Edgecombe office block
Accord House received double duraflex protection by waterproofing contractor, BKV Holdings. Ecofelt was also applied, it is renowned internationally as one of the best saturation membranes for waterproofing.
"ecofelt is a polypropylene continuous filament membrane with a porous 3D fibre structure, produced by needle-punching the fibres to form a homogenous sheet. It has excellent alkali resistance," Hoosen states.
· VIS membranes in both 3mm and 4mm thicknesses
Applied by waterproofing contractor, Classicote, to protect about 1 400m2 flat roofs at one of the student residences at the University of KZN's Howard College Campus in Glenwood, Durban. "The product – which comprises reinforced polymer-modified bitumen – has high elongation and stability to cope with a wide range of temperatures," according to Hoosen.
Other highlighted waterproofing projects
His colleague at a.b.e.'s operations in KZN, Darryl Laycock, handled the provision of waterproofing products for two other projects in the province: the recently completed waterproofing of the tops of the silos at Richards Bay harbour, and balcony waterproofing at Newcastle High School.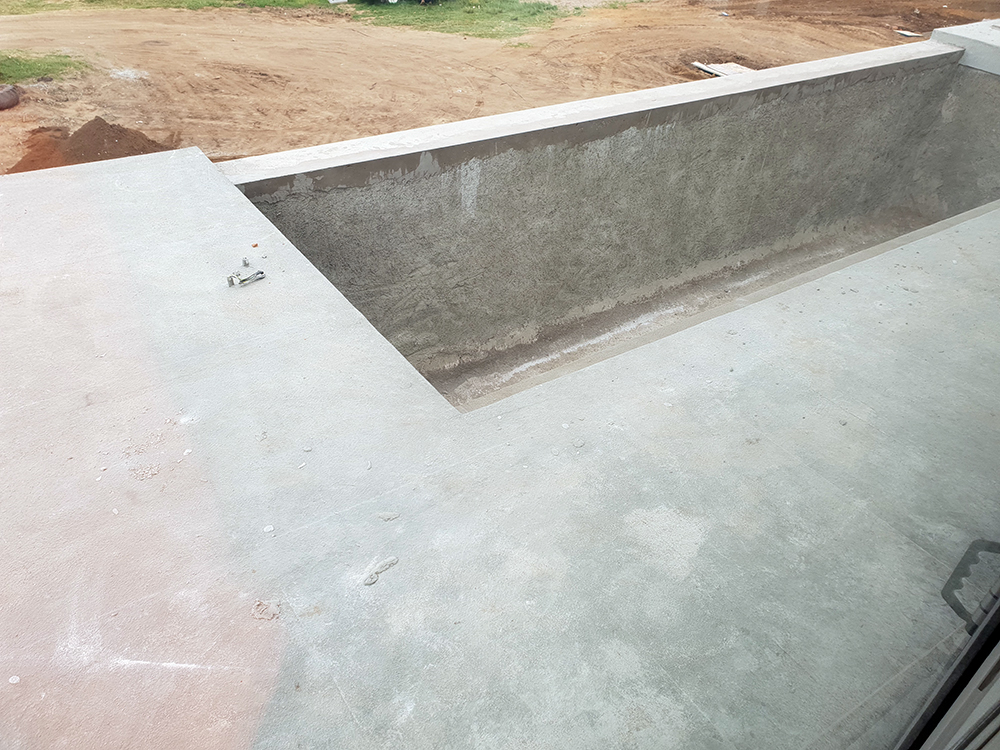 For silo waterproofing, Kevin Byleveld of Power Reitz used unigum 4mm. This membrane contains modified bitumen reinforced with a polyester fabric and fibreglass mat. It has exceptional durability and dimensional stability and has been successfully used for several "problem" waterproofing projects all over South Africa.
abe VIS membranes, in 4mm thickness, applied by Northern Natal Civils over balconies covering 900m2 at Newcastle High School.