Mom blogger Lauren Hodoul decided during lockdown that 2020 was the year she would give her old kitchen a completely new look. With her natural sense of style, her hours of research on Pinterest and her passion for creating a beautiful home for her family, she decided not to gut and to a full rebuild, but to focus on updating the paint colour, lighting and hardware.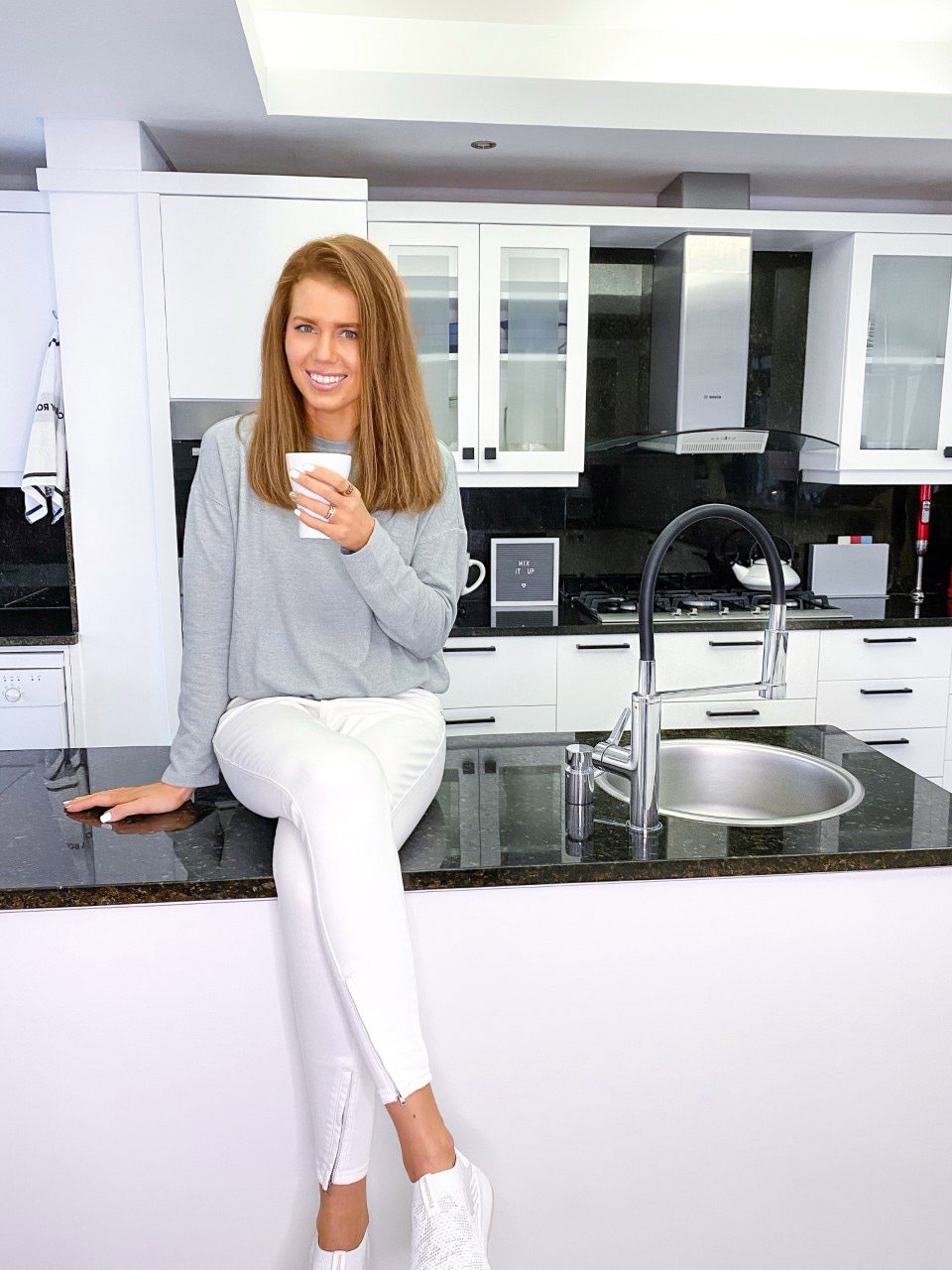 When interviewed by Marcia Margolius of SA Décor & Design, she shares details of her kitchen renovation and the Franke products she installed on her kitchen island – a Franke Mirus Professional Mixer with SD80 Soap Dispenser.
Tell us what brought about your kitchen makeover?
Now that we are spending more time than ever at home, I thought it would be great to freshen up our family's favourite gathering place in our house, the kitchen. I didn't want the expense or lengthy hassle of a full renovation though, so I decided on a few quick & clever change-ups that would leave my kitchen feeling & looking like new. I'm just so happy with the results.
BEFORE
AFTER
Why did you select Franke products for your prep area?
Initially, I only could look online as we were in lockdown & I found 3 mixers I liked (one of them being a FRANKE) I then presented my selection to my followers to help me decide, they quickly sent me many DM's telling me to choose FRANKE, which I did & wow were they right!
Tell us more about the Franke Mirus sink mixer compared to other brands on the market?
When I finally got a chance to go and look and feel at stores after lockdown eased up, I was immediately sold on the FRANKE range. The eye-catching design and quality along with the value put them in a class of their own. Compared to other brands I still could only find what I really liked & wanted from the FRANKE selection.
What features do you like about the kitchen mixer?
Firstly, it comes wonderfully packaged, I felt like I was opening a beautiful piece of jewellery for my kitchen. Then the purely aesthetic, quality & multiple use options of this mixer are exactly what I wanted. Being able to fill a pot on my counter with the flexible hose or using the holder and swivelling it completely out of the way if needed. It also took only minutes to install & instantly updated my prep bowl and surrounds. It's amazing the visual impact a mixer can have on a space.
Have you used your new products and what did you love about it?
Is it weird that I'm wanting to use my prep bowl more than my main sink now that it got a FRANKE glow-up?
I'm finding new joy in washing veggies with my mixer & built-in soap dispenser. I've always wanted a built-in dispenser from the many hours spent scrolling kitchens on Pinterest & I'm so happy with my FRANKE one, everything just works and it's so shiny!!!
Which Franke product would you still like to add to your collection?
Well, a sink of course! As FRANKE is sink masters & the new range is just inspiring. Hopefully, it will inspire more dishwashing too. But seriously a double sink is definitely next on my list. My main sink area is totally jealous & I need to fix that.
PRODUCT DETAILS:
FRANKE MIRUS PROFESSIONAL MIXER
· Ceramic disk cartridge with anti-scold
· Solid DZR brass construction
· Smart lime cleaning aerator
· Chrome plate
· SABS Approved
· Height: 460mm
· Width: 221mm
Product Code: 1150023 https://www.franke.com/za/en/ks/products/sink-mixers/mirus-professional/115-0432-855_detail.html
FRANKE SD80 SOAP DISPENSER.
· For mounting onto worktops with max. 45 mm thickness
· Manufactured from high polished chromium plated brass
· Incorporates a refillable 1-liter soap tank for liquid soaps and lotions
· Tamper-resistant top fill locking spout
· Capacity: 1L
· Provide 22mm diameter hole in basin (or countertop) for mounting of soap dispenser and comply to local codes for barrier-free requirements.
Product Code: 2120059 https://www.franke.com/main/en/ws/products/accessories/soap-dispensers/sd80_detail.html
To get a quote, please fill in the form below: