With hold-open systems, fire protection doors in your building can be used for barrier-free accessibility. Like a door hold-open device, they keep doors open. In an emergency, they close fire protection doors automatically and safely. The fire protection doors, equipped with a corresponding door closer, are kept open electrically.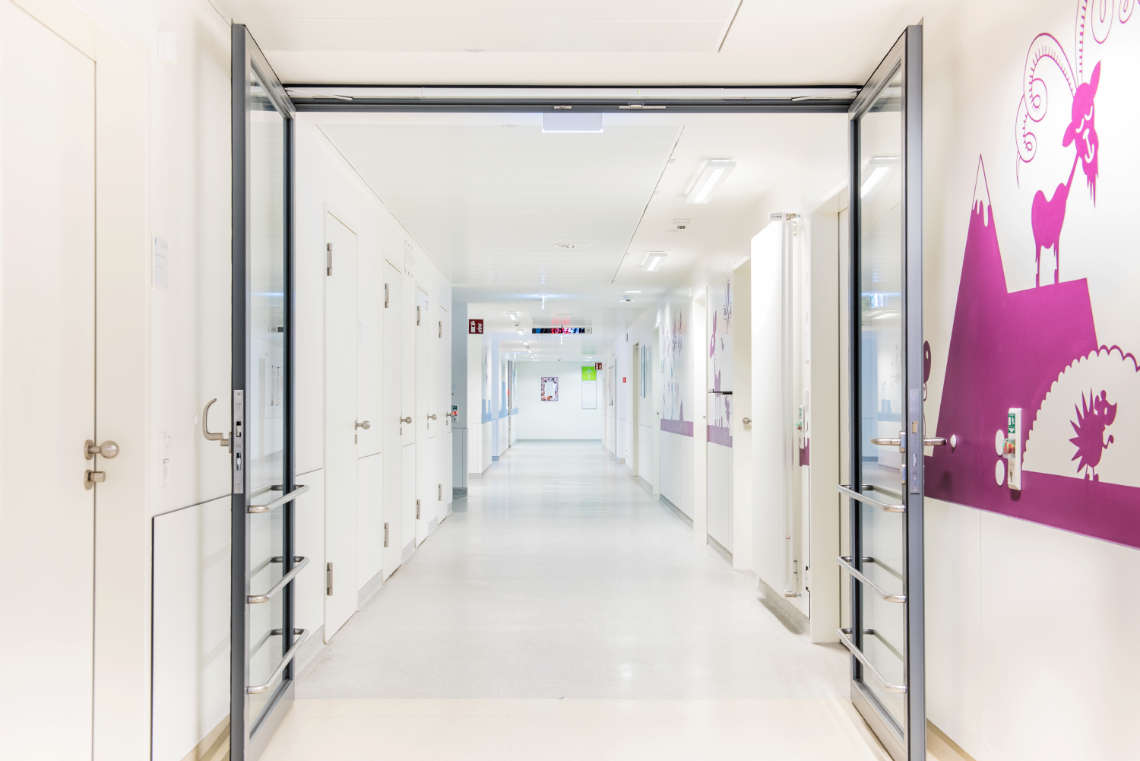 This remains like this until such time as they are closed manually or (in case of fire) are closed by triggering the smoke switch. GEZE offers complete hold-open systems from a single source for preventive fire protection.
The GEZE FA GC 170 wireless extension connects the ceiling-mounted detector and manual trigger switch wirelessly with the lintel-mounted detector of GEZE hold-open systems. There's no more laying of separate cables. This facilitates planning, in particular in listed buildings. In addition, the solution can easily be retrofit tt ed. The system has been tested in accordance with the European DIN EN 54-25 standard for fire alarm systems. The long battery life of five years ensures low maintenance costs.
Hold-open systems instead of wedges
Approved electric hold-open systems are more beneficial and suitable than wedges in terms of fire protection technology. They disable the self-closing function of a fire protection door in a controlled way. This means that they keep fire protection doors open, but automatically release them in the event of a fire so that door closers can do their job.
Hold-open systems are complicated technical systems. They consist of at least one fire detector, one power supply, one hold-open device and one trigger mechanism. Hold-open devices are often electromagnetic systems such as hold-open magnets, magnet valves and magnet couplings. Hold-open magnets require magnetic counter plates to be mounted on the wall. The other systems are already integrated into the door closer or the guide rail.
All types of hold-open device have one thing in common: they are activated by the fire detector in the event of an alarm or the trigger mechanism in the event of a power failure. They release the door, and it is then brought to a close by the door closer. If the door is a double-leaf door, an integrated closing sequence control feature makes sure the leaves close correctly. This means that the protective aim of the fire protection door has been achieved: it prevents the spread of fire and fire smoke.
Double award-winner: The expert jury of the German Design Award 2019 honoured the wireless extension with a "Special Mention" in the Building & Elements category. At the ICONIC AWARDS 2018 Innovative Architecture, FA GC 170 received the "Selection" award in the Product category.
COMPACT
— Wireless connection of ceiling-mounted detector and manual trigger switch with the lintel-mounted detector
— Opti missed for all GEZE hold-open systems
— Simple planning and uncomplicated retrofit tt ing
— Quick and easy connection with the DIP switch
— Low servicing costs, thanks to a long battery life of 5 years
EXAMPLE OF A HOLD-OPEN SYSTEM WITH WIRELESS OR WIRED COMPONENTS


1a Power supply for hold-open device/
the trigger mechanism, e.g. R guide rail
1b TS 5000 ECline door closer
1c GC 171 wireless module
2 GC 172/GC 173 wireless ceiling-mounted detector
3 Manual trigger switch with GC 175 wireless input module
To get a quote, please fill in the form below: