Kerbtech A
Kerbtech is an enhanced security traffic barrier, effectively used to protect targeted locations. The blocker is designed for simple and quick installation and is constructed to withstand harsh environmental conditions.
To enhance the blocker's reliability, all the electrical controls and the hydraulic units are remotely sited above the ground in the vandal resistant, weather proof control cabinet.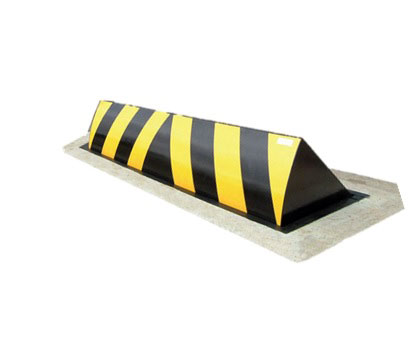 Kerbtech A – Surestop Blockers
Kerbtech A – Surestop Blocker with Boom Barrier
Application
Car Parks
Commercial & Residential Estates
Government Sites
Industrial Sites
Logistics Centres
Mines
Secure Compounds
Security Checkpoints
Available configurations
Recess mounted rising curb blocker available in 2000mm standard length and up to 4000mm.
Technical Features
Approximate weight of curb blocker  850 kg to 1 250 kg
Hydraulic enclosure unit (1 100 mm x 850 mm x 520 mm)
Electrical data & conditions of use
Power

          

Power Supply: 220Vac/50Hz

          

Power Consumption: 1.5Kw

Logic Voltage

Operating Temperatures

           

-10?C

 to +55?C

           

RH 95% no condensing

EMC Compliance
Systems integration & access specifications
Logic

KB400 PLC combined logic and loop detector

System Integration

Integrates with any access control and time & attendance systems
with 0 voltage input

0V inputs provided for entry and exit directions of passage

0V latching input provided for control of both simultaneous and
individual entry and exit direction

Speed of Operation

4.0s  5.0s rise and lowers in 3.0s  4.0s dependent length

Flow Rates (Guideline only dependent on access control system)

Insertion Type Reader: 12 Passages/mn

Swipe Type Reader: 15 Passages/mn

Proximity Type Reader: 17 Passages/mn

Power Failure

In the event of power failure or emergency the KERBTECH will lock in a raised position by the solenoid control valve

Hydraulic pump can be used for manual override
Installation & maintenance
Product Overview

Site Preparation

Flat and leveled concrete (or paved surface +/- 5mm, with reasonable
level resistance)
Pit needs to be dug to retain the Curb Blocker housing, as well as
trenches for PVC sleeves 50mm/100mm leading from the pit to enclosure housing

2000mm  L 2250mm x W 1370mm x D 687mm

4000mm  L 4550mm x W 1370mm x D 687mm

Control Cabinet: L 950mm x W 620mm x D 200mm

Cabling & Conduit

Logic Access

Housed in the barrier housing, access via lockable service hatch door

Maintenance Access

Barrier housing via lockable service hatch door

MTTR (Mean Time To Repair)

MCBF (Mean Cycle Between Failure)
Design options & accessories
Drive

Electro motorised, electronically controlled

Logic Controller

KB400 PLC combined logic and loop detector

Selector switch relay control panel

Barrier Options

Hot dipped galvanised steel (main housing section and housing lid black).

Other choice of colour available on request. Not recommended for corrosive environment application

Cabinet Finished Options

Powder coated 3CR12 stainless steel (main housing section and lid black).

 

Other choice of colour available on request. Suitable for low corrosive environment applications

Safety & Operating Accessories

Loop detector

IR safety beam transmitter and receiver/reflector

Green/Red dual traffic light (incandescent light or LED)

Single/dual push button

Key-fob transmitter (one- or three-button) and receiver

Application Accessories

Car gooseneck options

Dual car/truck gooseneck options

Boom pole barrier

Gravity fed card drop box options

Rain covers

Mounted box for camera and readers
Dimensions & weight
Barrier X Length (mm)

Curb Blocker Dimensions (mm)

500mm curb = W = L x H620 x D970

650mm curb = W = L x H760 x D1200

Control Cabinet Dimensions (mm)

Blocking Height (mm)

Net Weight

L2000 = 850Kg

L4000= 1250Kg